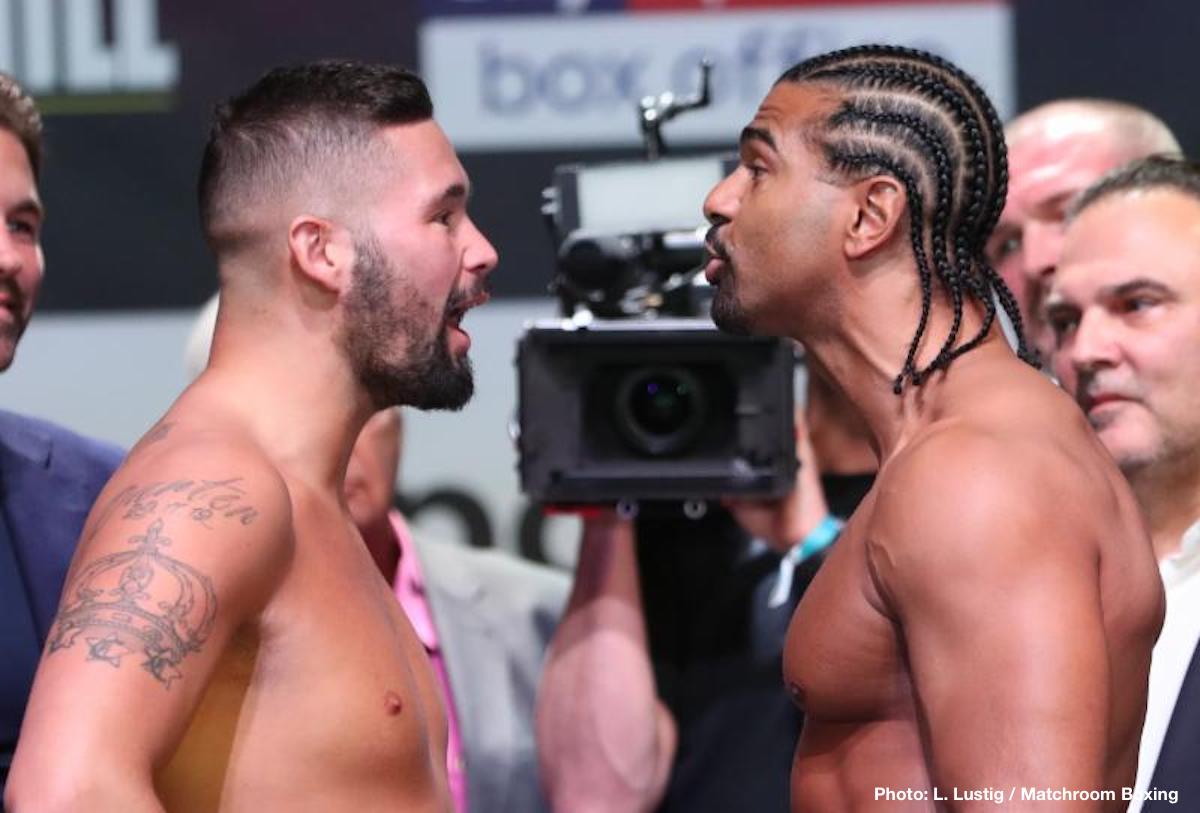 Tony Bellew has made it clear: it's big, big fights for him from here on in, until his retirement. And the way the cruiserweight/heavyweight tells it, he is in no way short of big-fight options. Writing in his column for BBC Sport, Bellew listed possible big fights against Andre Ward ("He's not retired properly, he's still in the gym"), Adonis Stevenson ("If I face him and win, I'd have beaten every man I have ever fought"), Tyson Fury and the winner of this Saturday night's WBSS final between Murat Gassiev and Oleksandr Usyk.
Either of these fights would be big, no doubt, and Bellew would have to be given at least a shot at winning either of them. Write Bellew off at your peril. Bellew explained that, if all of these fights brought in the same amount of money, he would take the Usyk-Gassiev winner "in a heartbeat." Bellew likes the idea of making boxing history.
"That bout, with all the world cruiserweight belts on the line, would be my number-one choice in a heartbeat if all of the options paid the same pot of money," Bellew said. "The sad fact is they don't. And this is where you come back to Rachael (his wife) and the people advising me. We weigh up risk and reward. In this game, you'd be mad not to. If I fight Usyk or Gassiev I could be the only British fighter ever to hold all four world belts at once. Lennox Lewis didn't even do it and I love the sound of it. But that would be a very hard, damaging fight. It would have to be the last fight of my career. If it's Gassiev I envisage having to get up off the floor, if it's Usyk I have to ride through a storm at some stage."
Many fans are anticipating a great fight between Gassiev and Usyk, possibly a Fight of The Year candidate. Bellew would be an underdog against either man, but again, write him off at your peril. As for the possibility of a big fight with the big man himself, Fury, Bellew says this would be an "easy fight" for him.
"If I fight Fury, I could fight again as I don't think it will be hard to beat him and that one fight could potentially earn five times more than Usyk or Gassiev. It's just plain stupid to not think about that," he stated. "Fury is a perfect opponent for me. I still think he's a brilliant fighter and a good bloke. But he has never faced someone quicker, stronger and who has this much to his game. Wladimir Klitschko got involved in a mind game with him and was beaten before he got in there. With someone like me, Fury knows he will never get to me mentally. He knows he can't fiddle me. The only things he has over me are height, reach and weight. I can combat those."
Let's see which fight of these, if any, Bellew actually gets. If YOU were advising "Bomber," which fight would you suggest he take? It would really be an achievement, history-wise, if Bellew could win all four world titles at 200 pounds; but there is also something special about the idea of his bringing a mountain down. Could Bellew actually topple Fury?