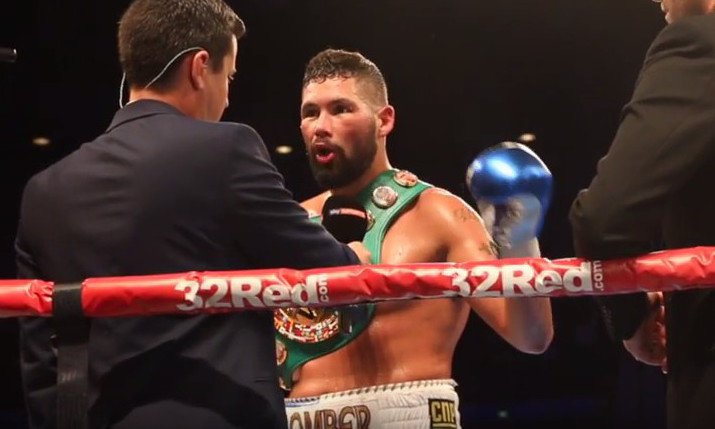 A whole lot has happened to Liverpool's Tony Bellew since his 2013 stoppage loss to defending WBC light-heavyweight champ Adonis Stevenson – most of it good. Shortly after the painful loss, the sole stoppage loss "Bomber" has suffered as a pro, he moved up, Bellew subsequently capturing the WBC cruiserweight belt and even having some odds-defying success as a heavyweight.
Bellew, after his March stoppage win over (an injured) David Haye went as far as to realistically suggest there could be a world heavyweight title shot in his future (and there still could be.) However, Bellew, 29-2-1(19) has never forgotten that 6th round loss to "Superman," and he still craves revenge today.
Writing in his column for Sky Sports, Bellew said he would love to see Stevenson, 28-1(23) move up in weight to cruiserweight where he would "absolutely" accommodate him. Stevenson isn't likely to do this, not right now anyway, as he faces Andrzej Fonfara in a rematch on Saturday night and has spoken of his desire to then fight the winner of the Andre Ward-Sergey Kovalev rematch – a fight Bellew says Stevenson should naturally go for.
But you never know in boxing: if Stevenson is struggling at the weight, or if he cannot for whatever reason get the Ward-Kovalev winner, he might look at Bellew, in a return at 200 pounds, as a nice attractive big payday. Maybe after Stevenson has done all he wants to do at 175, either beating the Ward-Kovalev winner to unify the belts, or lose trying, he might think about moving up.
Tall for a light-heavy, Stevenson, with his withering punching power, might make a very good cruiserweight, maybe a great one. Certainly Bellew, a decent if not exceptional light-heavy, became a far better fighter up a weight class (or two!).
Who would win if Bellew and Stevenson met again at the higher weight? Who knows. But it would almost certainly be a great action fight. While if it took place in the UK it could be another huge event outdoors.