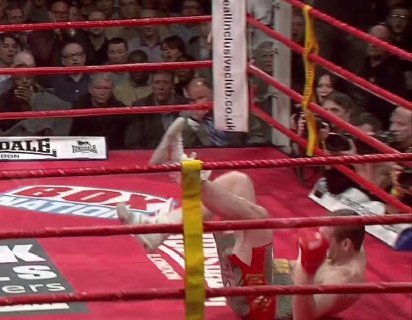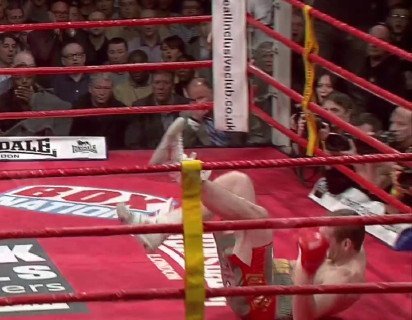 By Michael Collins: American heavyweight Tony Thompson (37-3, 25 KO's) ended the David Price (15-1, 13 KO's) hype machine by taking him out in a 2nd round TKO on Saturday night at the Echo Arena, in Liverpool, United Kingdom. The win for Thompson affirmed in the minds of some fans that the 29-year-old Price simply doesn't have the chin to succeed at the highest levels in the pro game.
Up until this fight, Price had been carefully matched by his promoter Frank Maloney against weak opposition without a punch. Even Thompson isn't what you would call a puncher, but he definitely was a step up from the guys that Price had been fighting, and Price failed the test miserably.
Thompson connected with a right hook in the second round after dodging a clumsily thrown right uppercut by Price. The shot by Thompson connected to the left ear of Price, and it was enough to put him on the canvas. Price beat the count, but he was still badly hurt and the referee Steve Gray chose to stop the fight at 2:17 of the round.
After the fight it was learned that Price suffered a perforated eardrum from the right hand shot from Thompson. What was odd about the knockout punch was that it wasn't thrown with a great deal of power.
Price simply couldn't handle what little power there was in the shot. It could be that he wasn't expecting the punch because Thompson did a quick move to get on the blind side of Price before nailing him. Price being too slow couldn't react in time to block the shot or brace for the effects.
After the fight, Thompson called out unbeaten British heavyweight Tyson Fury saying he wants to face him next. It's still unknown now if Price's promoter will push for a rematch with Thompson. It's likely he won't risk it because a second loss for Price would be a huge blow to his career. He simply wasn't ready for this big jump up in competition by facing someone that actually fights back instead of just taking shots and then falling over like Price's other opposition.
Undercard results
Kevin Satchell UD 12 Luke Wilton
Steven Lewis pts 4 Craig Kelly
Louis Cuddy TKO 1 Ferenc Zsalek
Dean Mills TKO 4 David Burke