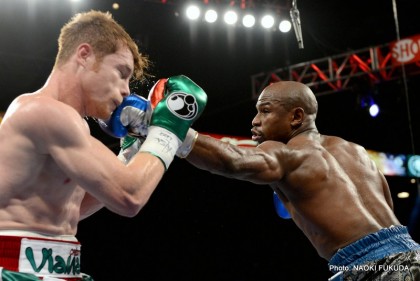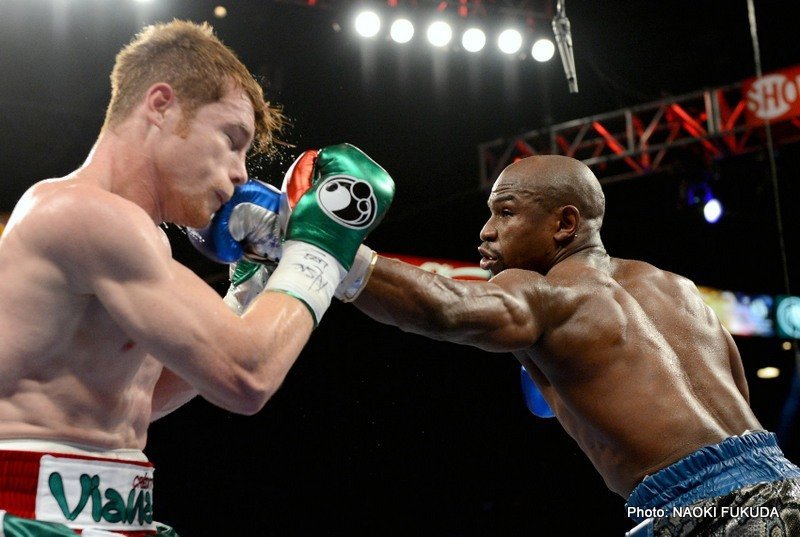 NEW YORK (Sept. 19, 2013) — Last Saturday's blockbuster boxing event — THE ONE: MAYWEATHER VS. CANELO — ranked as the highest-grossing pay-per-view of all time, with nearly $150 million in U.S. pay-per-view revenue reported to date. The news was announced today by Showtime Networks Inc., a division of CBS Corporation (NYSE: CBS.A and CBS), in conjunction with event promoters Mayweather Promotions and Golden Boy Promotions. The SHOWTIME PPV presentation of THE ONE surpassed the previous record of $136 million generated by Oscar De La Hoya vs. Floyd Mayweather boxing event in 2007.
Preliminary reports from distributors show pay-per-view buys projected to be 2.2 million. While not fully reported from all distributors, the total buys could challenge the existing record of 2.48 million pay-per-view buys set by De La Hoya vs. Mayweather. The initial report immediately following the De La Hoya vs. Mayweather event in 2007 was 2.15. THE ONE has already exceeded the previous #2 event, the infamous World Heavyweight Championship bout between Evander Holyfield vs. Mike Tyson II (1.95 million, 1997).
The Saturday, Sept. 14, 2013 event, held at the MGM Grand Garden Arena in Las Vegas, was headlined by the #1-ranked pound-for-pound fighter in the world, Floyd "Money" Mayweather, who already holds the all-time record in gross pay-per-view receipts, and wildly popular Mexican challenger Saul "Canelo" Alvarez in a super welterweight world championship bout. Mayweather dominated the exciting fight and won by decision to remain undefeated with 45 wins in his 17 years as a professional. Also on the pay-per-view boxing card was Philadelphia's Danny "Swift" Garcia who emerged as the #1 boxer in the world at 140 pounds with an action-packed decision win over Lucas "The Machine" Matthysse of Argentina. Both of these bouts will premiere on SHOWTIME® on Saturday, Sept. 21 at 9:00 PM, ET/PT. The telecast will include never-before-seen ALL ACCESS: MAYWEATHER VS. CANELO footage from fight night. Then, on Wednesday, Sept. 25, SHOWTIME will conclude the ALL ACCESS series devoted to this event with "Epilogue," premiering on SHOWTIME at 10:00 PM, ET/PT.
What had been called the biggest boxing event in years during the build-up proved worthy of the hype. Tickets for the event sold out within 24 hours of going on sale and set a new boxing record for live gate revenue at more than $20 million. Mayweather Promotions and Golden Boy Promotions reported earlier a record number of sponsorship and sponsor activation for a boxing event and additional distribution records for live closed circuit viewing (over 26,000 tickets sold in Las Vegas alone) and live movie theatre screenings at more than 500 theatres nationwide. On Friday, before fight night, the crowd at the official
Showtime…2
weigh-in was believed to be the largest on record, featuring an announced attendance of more than 12,000 excited fans.