Stephen A. Smith says he sees the Terence Crawford vs. Errol Spence Jr fight as potentially the biggest fight in boxing, not the heavyweight match between champions Anthony Joshua and Tyson Fury.
Joshua's promoter Eddie Hearn has been sounding like a broken record in the last 12 months, repeatedly saying that the Joshua-Fury fight is the best one in all of boxing.
It's as if Hearn is saying just so that he can plant the idea into the heads of impressionable fans, who might mindlessly parrot what he says and spread the word like a virus.
Smith doesn't see the Joshua vs. Fury fight as the #1 in all of boxing, and neither does this writer.
I mean, it's a good basic UK fight between British heavyweights, but these guys aren't popular in the United States.
Joshua (24-1, 22 KOs) and WBC champion Fury (30-0-1, 21 KOs) are probably never going to be massive stars in the U.S because they're held back by several things, starting with the fact that they don't fight in the States often enough.
The match that Americans want to see is IBF/WBC welterweight champion Spence (27-0, 21 KOs) and WBO champion 'Bud' Crawford (37-0, 28 KOs).
This is the modern era's version of Floyd Mayweather Jr vs. Manny Pacquiao level fight, and the U.S fans want to see it now.
We don't want to wait until they're over-the-hill and not what they used to be like we saw with the Mayweather-Pacquiao fight, which came six years too late.
Joshua-Fury NOT the biggest fight in boxing
"Hell to the NO, hell to the no," said Stephen A. Smith to ESPN when asked if Fury vs. Joshua is 'The biggest fight in combat sports.' "Absolutely not.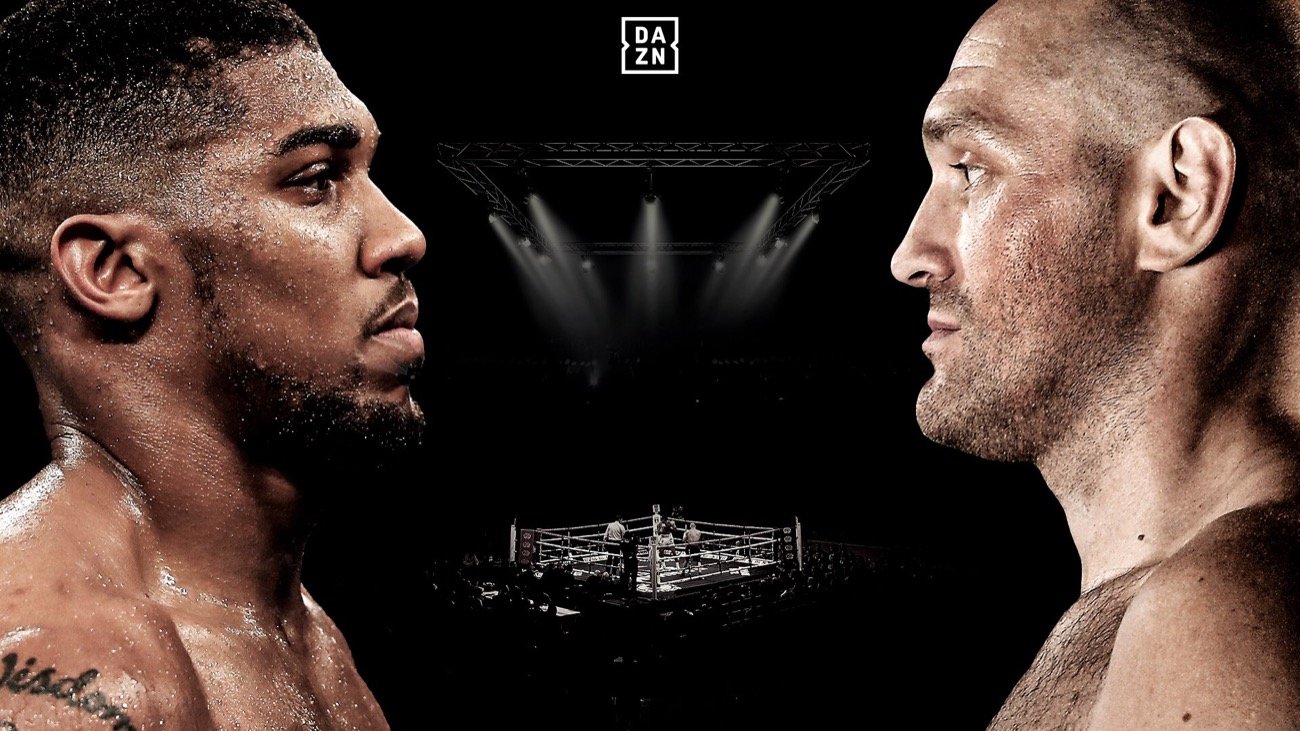 "I like the fight; it's a big fight; I appreciate it because I think Anthony Joshua can box and punch. We all know that Tyson Fury is the best boxer in the heavyweight division.
"I don't think there's any debate about that. He's the best boxer in the heavyweight division, but I question his punching power.
"Yeah, you can beat up fighters when you're 40 pounds heavier than them. That wouldn't be the case with Anthony Joshua, even though I question his chin.
"The fight that everybody should want is Terence Crawford vs. Errol Spence, period. That is the fight that everybody should want.
"That is the number one desirable fight in all of combat sports. There is no other fight that anyone should want more than Terence Crawford, and the only reason the momentum for that has died down is because Errol Spence got in that nasty car crash.
"So even though he came back to the ring, we needed to see that because he could have died. I mean, my Lord," said Smith.
Spence showed in his last fight against Danny Garcia that he's recovered from his car crash in 2019, and he's fully back. However, there's no movement as far as making the fight between Spence and Crawford.
The global pandemic has a lot to do with why we probably won't see the Spence vs. Crawford fight this year because it needs to take place inside a stadium with 100% capacity.
No fight better than Crawford vs. Spence
"He beat the hell out of Danny Garcia when he came back," said Max Kellerman about Spence's first fight back last December from his car crash in 2019.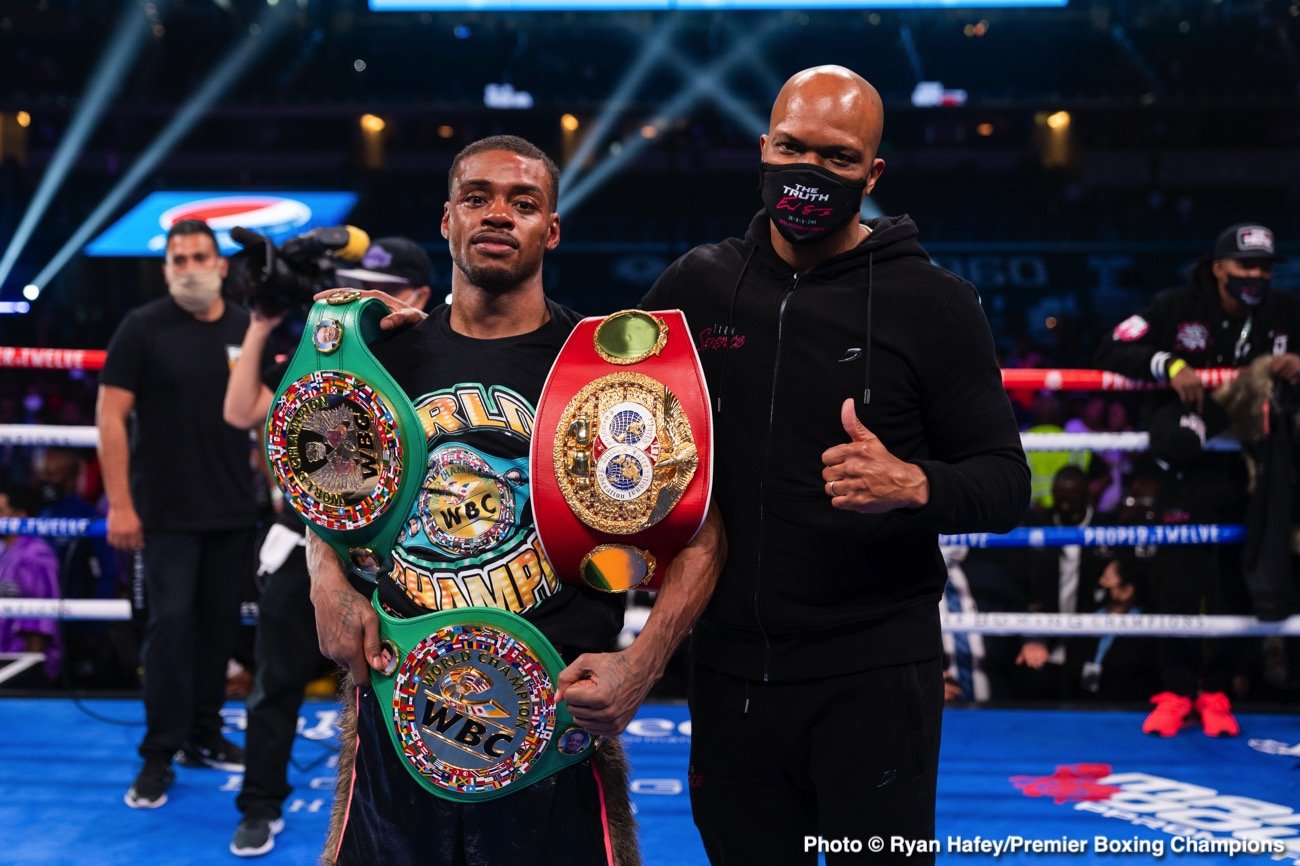 "What the hell are you doing driving like that?" said Smith about Spence's high-speed car crash in October 2019 in Dallas, Texas.
"He almost killed himself. Even though you came back and you won and all that other stuff, I needed to see that before I could even regain the momentum because you never know what kind of damage you could have incurred."
"And Crawford can't get any of the other welterweights to fight him, so it stalled a little bit," Kellerman said.
"That's right, the promoters controlling the sport, that's the damn problem," Stephen A said. "They need to get over it, but anybody, let me be very clear.
"There is no fight out there that anybody should want more than Terence [vs. Spence], but don't get me wrong. I like the idea of Ryan Garcia against Gervonta 'Tank' Davis.
"I like that one, especially with Ryan came on my show. Ryan said he would take Gervonta out in two rounds, and the only reason it wouldn't be one is because he wants to make himself a little bit entertaining.
"He doesn't want to make it that quick. That's what he said," Stephen A. added.
I totally agree with Stephen A. about Spence-Crawford being the best fight in boxing, hands down, and it needs to happen. I'm sorry, but Joshua vs. Fury doesn't get it for me.
I don't want to see a poor substitute like that in place of the real thing in a fight between Errol and Crawford.
Spence vs. Crawford needs to happen now
"If Ryan or Tank hits you, you got to go," Kellerman said.
"Tank will remember that, so we'll see," said Smith. "In the end, despite that, nobody should want anything more in combat sports than Terence Crawford vs. Errol Spence.
"We are being robbed, and we are being denied one of the great, great fights in boxing history.
"It's a damn shame that we've got to wait, and it's a damn shame that we don't get to see Terence Crawford more because this brother is special, and we need to see more of him," said Smith.
"And you don't want to wait until that expiration date was passed like Mayweather – Pacquiao," said Kellerman.
"Mayweather-Pacquiao should have been the best fight in years, but they waited too long.
"When you say in boxing history, and this is not hyperbole and not an exaggeration, almost never in the history of boxing and combat sports, that you had two guys this evenly matched with Spence and Crawford, both in their primes, both in their best weight divisions."
"They want each other, but the promoters are holding them back," said Smith about Spence and Crawford wanting to fight each other.
"Both with excellent offenses, defenses, speed, punching power, both undefeated, both with belts, and it would be a unification fight," continued Kellerman about Spence vs. Crawford.
The age could be a factor soon for the Spence-Crawford fight if the match doesn't get made in the next year or two. Crawford is 33 and about to turn 34.
That's not young for a welterweight, and he's already starting to show signs of slippage.
Crawford took punishment from Kell Brook in his last fight in December. In his match before that, he was shockingly dropped by no-name contender Egidijus Kavaliauskas, who some fans refer to as 'WIFI password.'
Crawford getting marked up and hurt in his recent fights indicates that father time is starting to creep in, slowing him down and making it likely that he will lose soon.
Money not there yet for Crawford-Spence
"It almost never happens, almost never. In a 50-50 fight? Bob Arum, I had on my radio show, and I asked him why isn't that fight [Crawford – Spence] fight being made. 'The money isn't there yet the way that there is for,'" said Kellerman.
"The question is, should, you're absolutely right to say, should, but in terms of the actual fights that are being made, Fury and Joshua are #1.
"Fury and Joshua at heavyweight and Fury is 6'9," and 260+ and Joshua is 6'6″ 250+. These two have claims to the title.
"Fury was the lineal champ and beat Wladimir Klitschko, but then he had all kinds of problems outside of the ring, and then he went away.
"Anthony Joshua knocked Klitschko out and developed a consensus around him.
"But then Fury came back and beat Deontay Wilder and drew with him in a fight that he should have won, and then beat the brakes off of him in the rematch.
"Joshua loses his title against Ruiz and then beats Ruiz in the rematch.
"The winner of this fight [Joshua vs. Fury], as in no one in the world, can dispute the claim that they are the heavyweight champ.
"And while Fury will be favored, he's bigger, faster, slicker; you're right to point out that Joshua can box, Joshua is an Olympic super heavyweight gold medalist, Joshua has a deep resume, and he can punch.
"It's [Joshua – Fury] the best fight that IS being made in combat sports right now," said Kellerman.
Bob Arum of Top Rank has to make the fight between Spence and Crawford soon because Terence's contract with his promotional company expires in the fall.
Unless he knows something I don't know, Crawford will walk once his contract is up.
Instead of Arum wasting his time banging on about overseas investors coming up with the money to stage a fight between Crawford and Manny Pacquiao in a foreign country, he needs to make a fight between Terence and Spence while he still can.