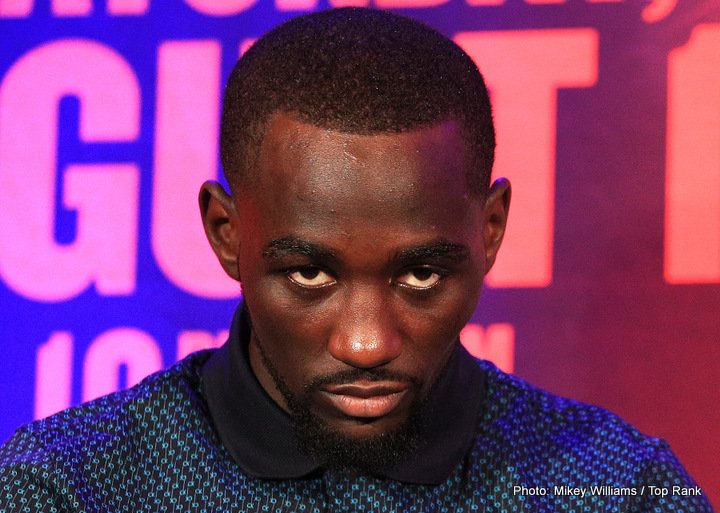 Terence Crawford just keeps getting better and better. The brand new unified, WBC/WBO/IBF/WBA super-lightweight ruler was expected to defeat Julius Indongo, but not too many people predicted a quick, brutal 3rd round KO win for him. Most had last night's fight down as either a distance fight or at least one that would go into the later rounds.
Crawford knew though. He had gone on record, his team and himself, saying before the fight that he would score a KO, and that he did, with one of the best body punch finishes you'll see all year. The scary part, though, is this – Crawford, at age 29, is not yet at his peak. How much better, or greater, can the two-weight champ become?
The answer lies above; at welterweight. Crawford says he is going to enjoy his victory, his history making victory (with his crushing of the dangerous and previously unbeaten Indongo, he became the first undisputed world champion since back in 2005) but that after that he will make his move to the 147 pound weight class.
"I'm on my way [to welterweight]," a victorious Crawford, 32-0(23) said post-fight. "Listen, at the end of the day there is only going to be one name [at welterweight] and that's going to be Terence Crawford."
It will take a brave fan to argue with Crawford. Having moved up the weight classes in a patient manner, not having rushed his body into adding the extra poundage (from 135 to 140 and now headed to 147), Crawford will not be making an unrealistic or overly ambitious move by adding a further seven-pounds to his frame. Tall enough at 5'8" to box at welterweight, Crawford, if he retains his speed and perhaps has even more power up there (now there's a thought) will be one enormous handful for even the very best 147 pounders.
Can Crawford win himself another world title; can he even unify another weight division? Fights against the likes of Keith Thurman, Errol Spence and the Jeff Horn-Manny Pacquiao rematch winner could prove to be among the hottest in the sport in 2018. And who's willing to bet against Crawford winning them all?