IBF/WBA/WBC Franchise/WBO lightweight champion Teofimo Lopez and George Kambosos Jr meet up tonight on DAZN in their highly anticipated contest at Madison Square Garden in New York. The action for the main portion of the Teofimo-Kamboso card begins at 8:00 p.m. ET.
Boxing 247 will be giving live updates below of the action on the Teofimo vs. Kambosos card.
Showing off his massive one-punch power in his right hand, knockout artist Kenichi Ogawa (26-1-1, 18 KOs) dropped Azinga Fuzile (15-2, 9 KOs) three times en route to winning a competitive 12 round unanimous decision to capture the vacant IBF super featherweight title in the chief support bout on the Teofimo Lopez vs. George Kambosos Jr. card tonight.
The scores were as follows:
Fuzile fought well through the first four rounds, but was dropped by a powerful right hand from the 33-year-old Ogawa in the fifth round. From that point on, Fuzile looked wary of getting nailed again by one of Ogawa's big right hands.
In the sixth round, Ogawa chased a constantly retreating Fuzile around the ring, trying to line him up for another right hand bomb. Amazingly, Fuzile was able to get out of the way of Ogawa's main weapon to get out of the round without getting dropped again.
In the ninth round, Fuzile suffered a small cut over his right eye. A round later in the tenth, Fuzile suffered a big cut over his left eye from a clash of heads with Ogawa. Despite the cut, Fuzile fought well in the round and in the eleventh as well.
In the 12th, Ogawa twice knocked Fuzile down with hard right hands to the head that causing him to take a knee.
Ogawa's one-punch power makes him an exciting one to watch. It'll be interesting to see him face one or both of the other champions at 130 in Oscar Valdez and Shakur Stevenson.
Former amateur standout Raymond Ford (10-0-1, 6 KOs) defeated Felix Caraballo (13-4-2, 9 KOs) by an eighth round stoppage in featherweight action in a fight scheduled for ten rounds.
Ford, 22, unloaded on Caraballo with a blizzard of punches in the eighth round that caused referee Ricky Gonzalez to stop the fight.
Although Caraballo, 34, didn't look hurt, the referee stopped it because he was taking too many shots. The time of the stoppage was at the 2:10 mark in round eight.
Ford looks like a major talent and someone to keep an eye on in the future. He's got speed, power, and the type of talent that could carry him far. He's a potential superstar.
Fresh off a draw against Jerry Forrest, super heavyweight contender Zhilei Zhang (23-0-1, 18 KOs) looked impressive in annihilating Craig Lewis (14-5-1, 8 KOs) in a second round stoppage.
The tough two-time Chinese Olympian Zhang came alive in the second round, twice putting Lewis on the canvas. After the second knockdown, the fight was halted. The time of the stoppage was at 2:10 of the round.
Other undercard results:
Ramla Ali UD 4 Isela Vera
Christina Cruz UD 6 Maryguenn Vellinga
Anthony Herrera TKO 2 Jonathan Tejeda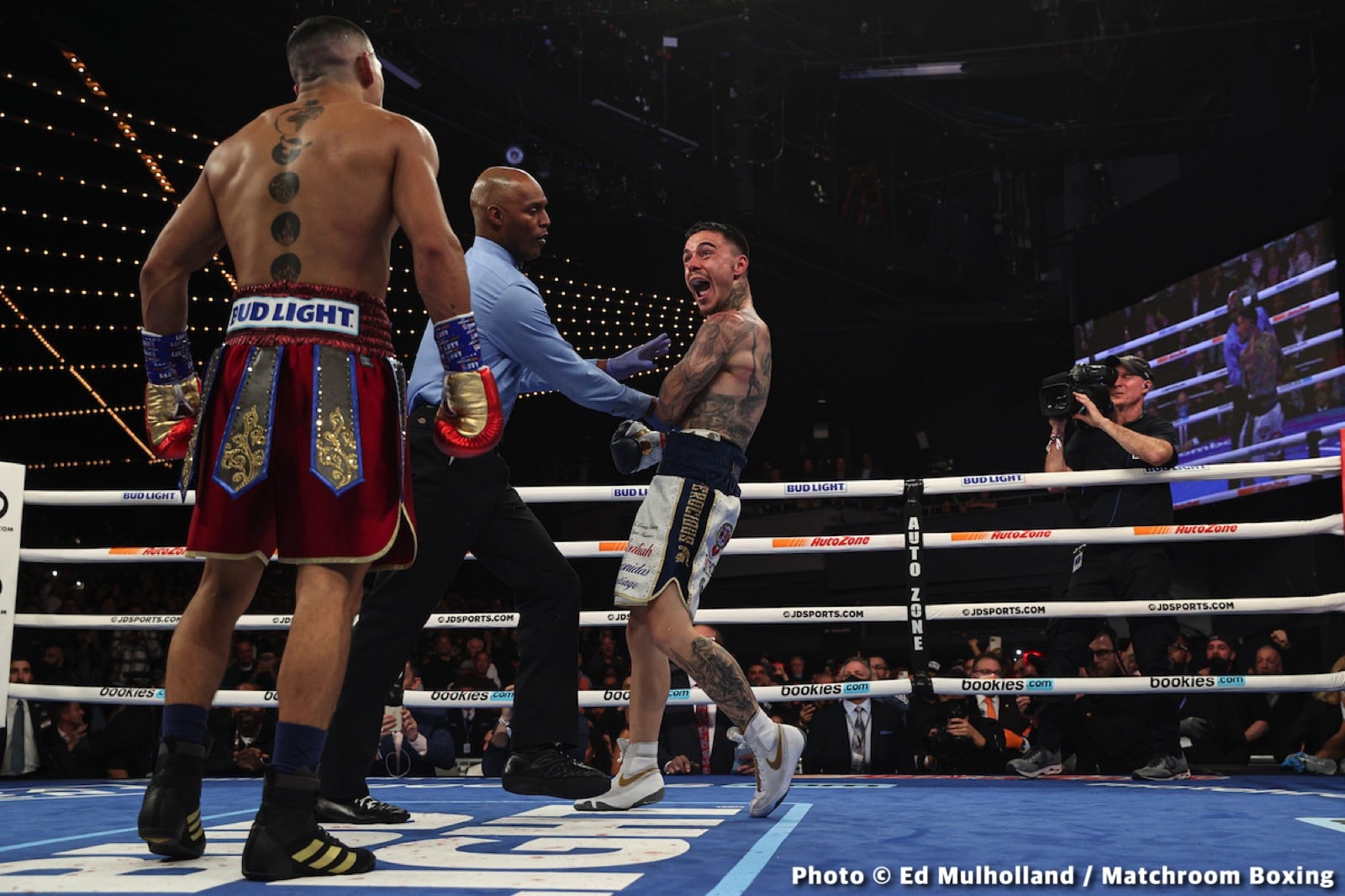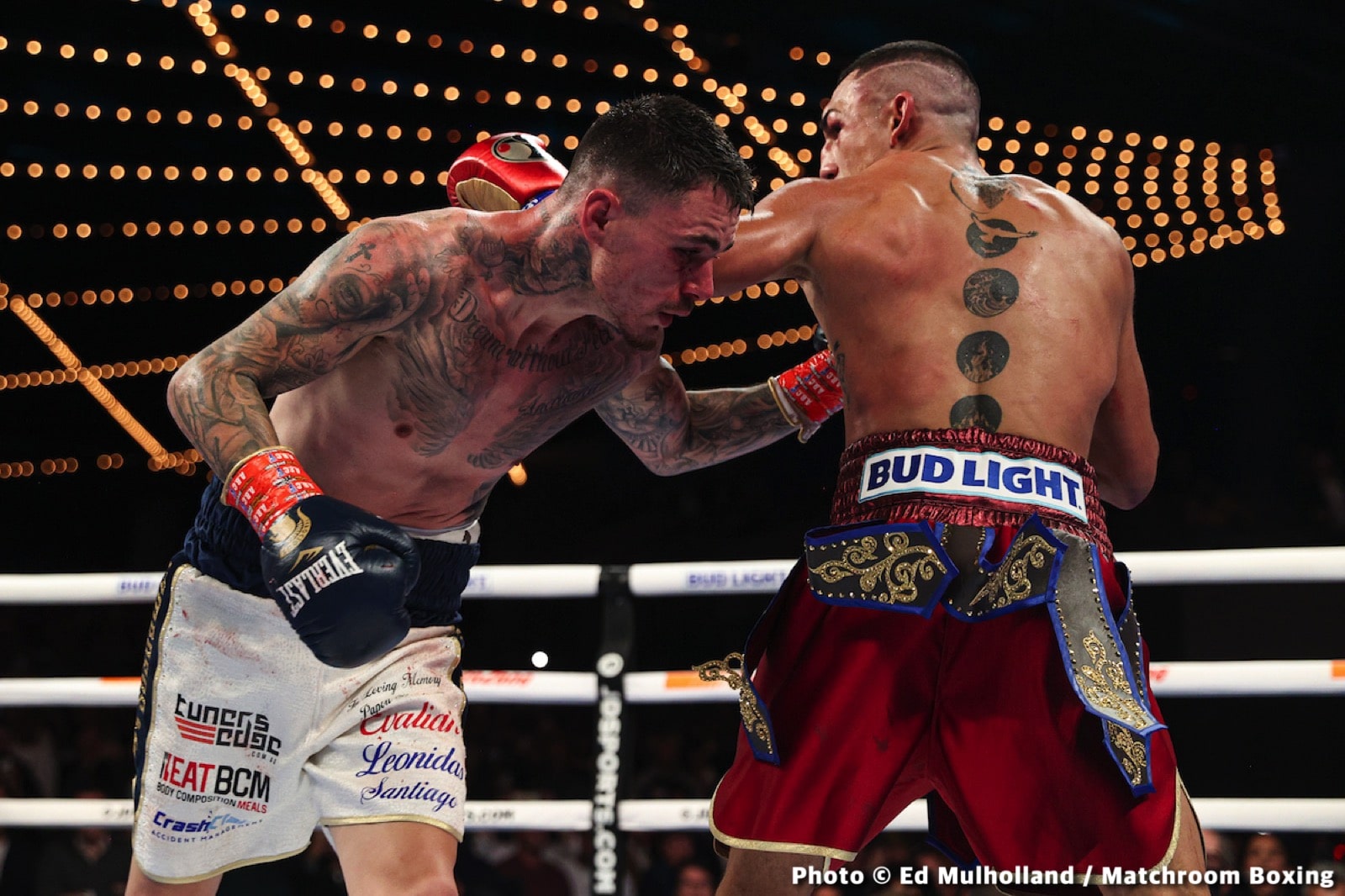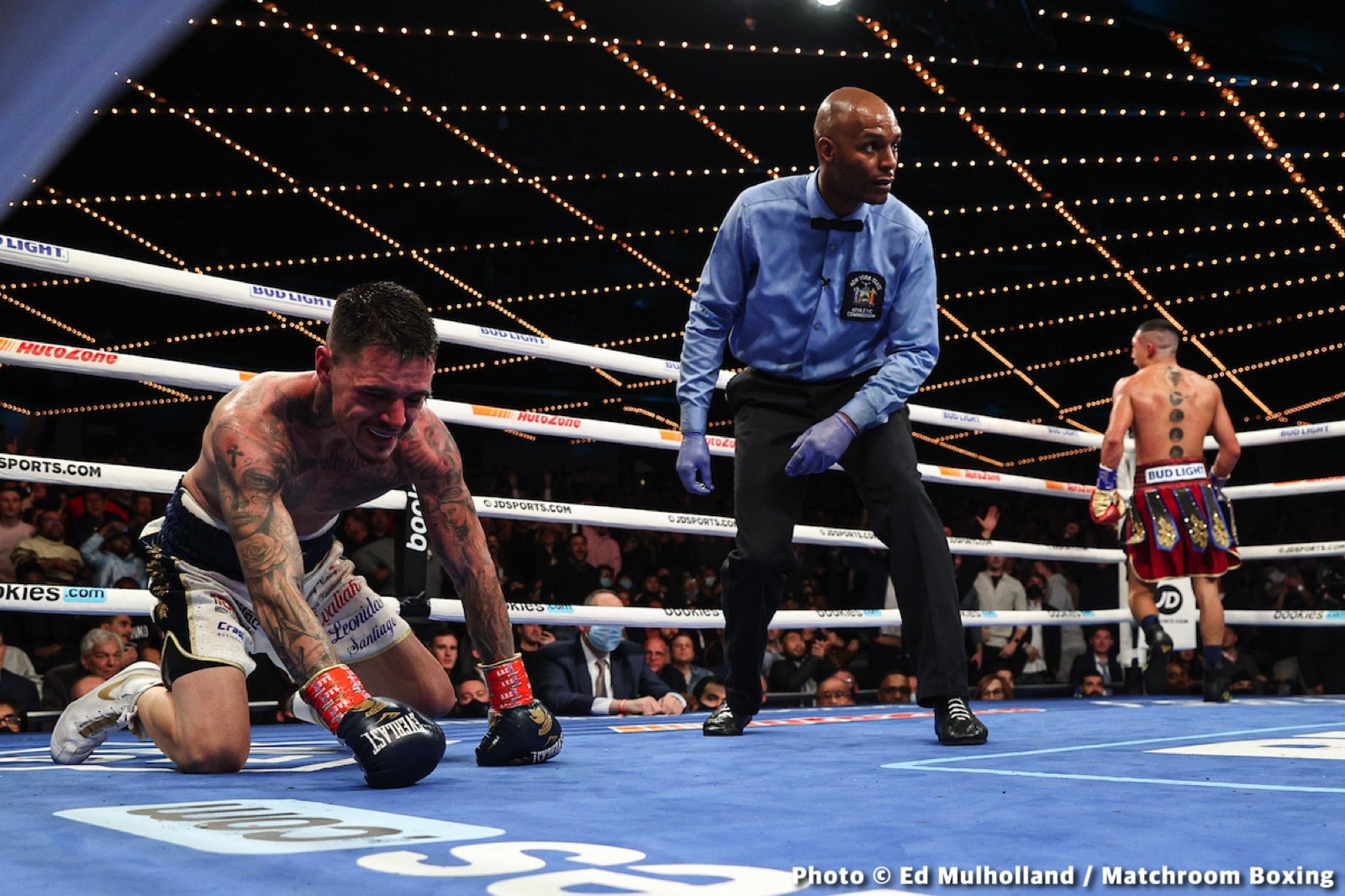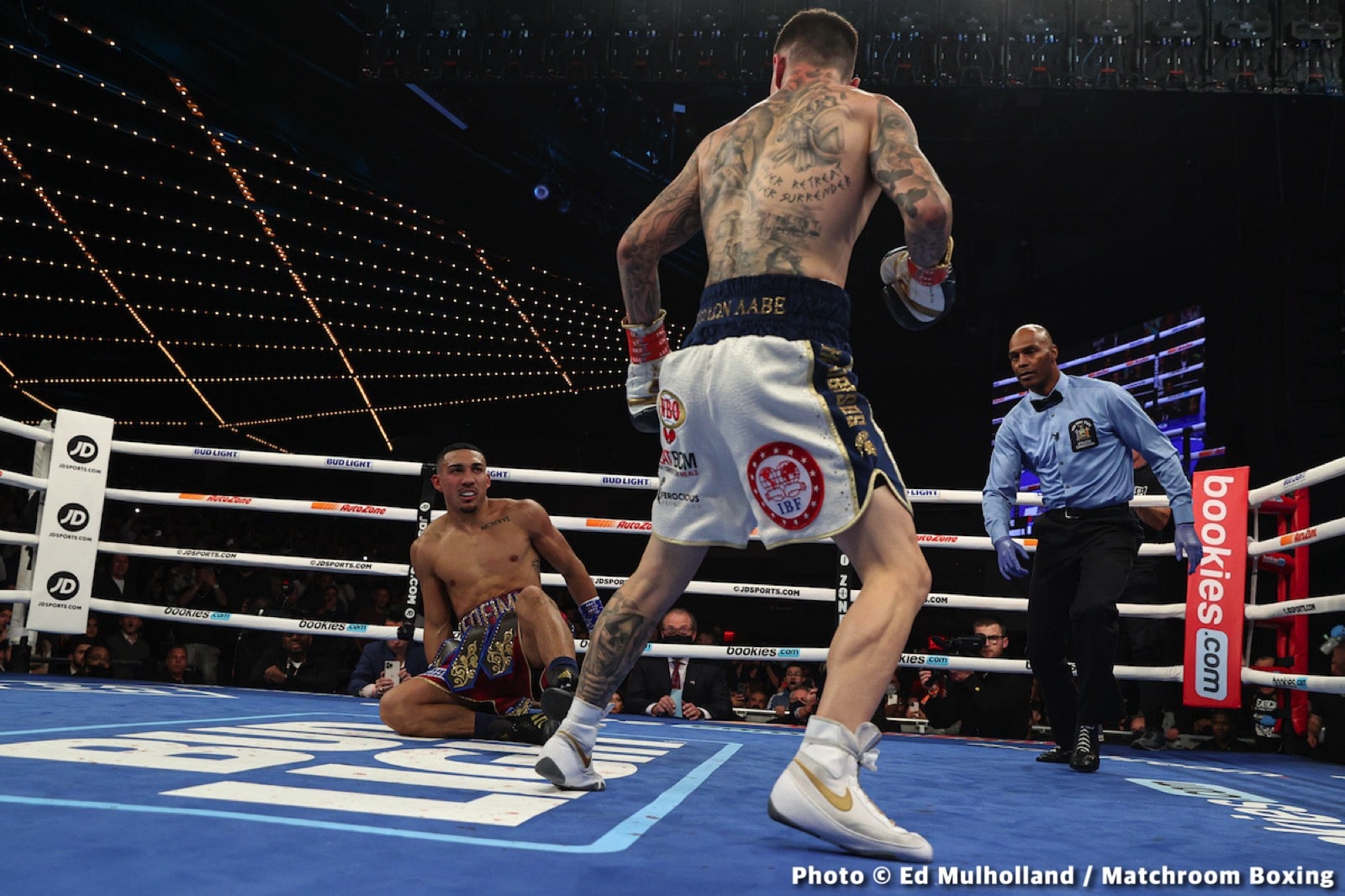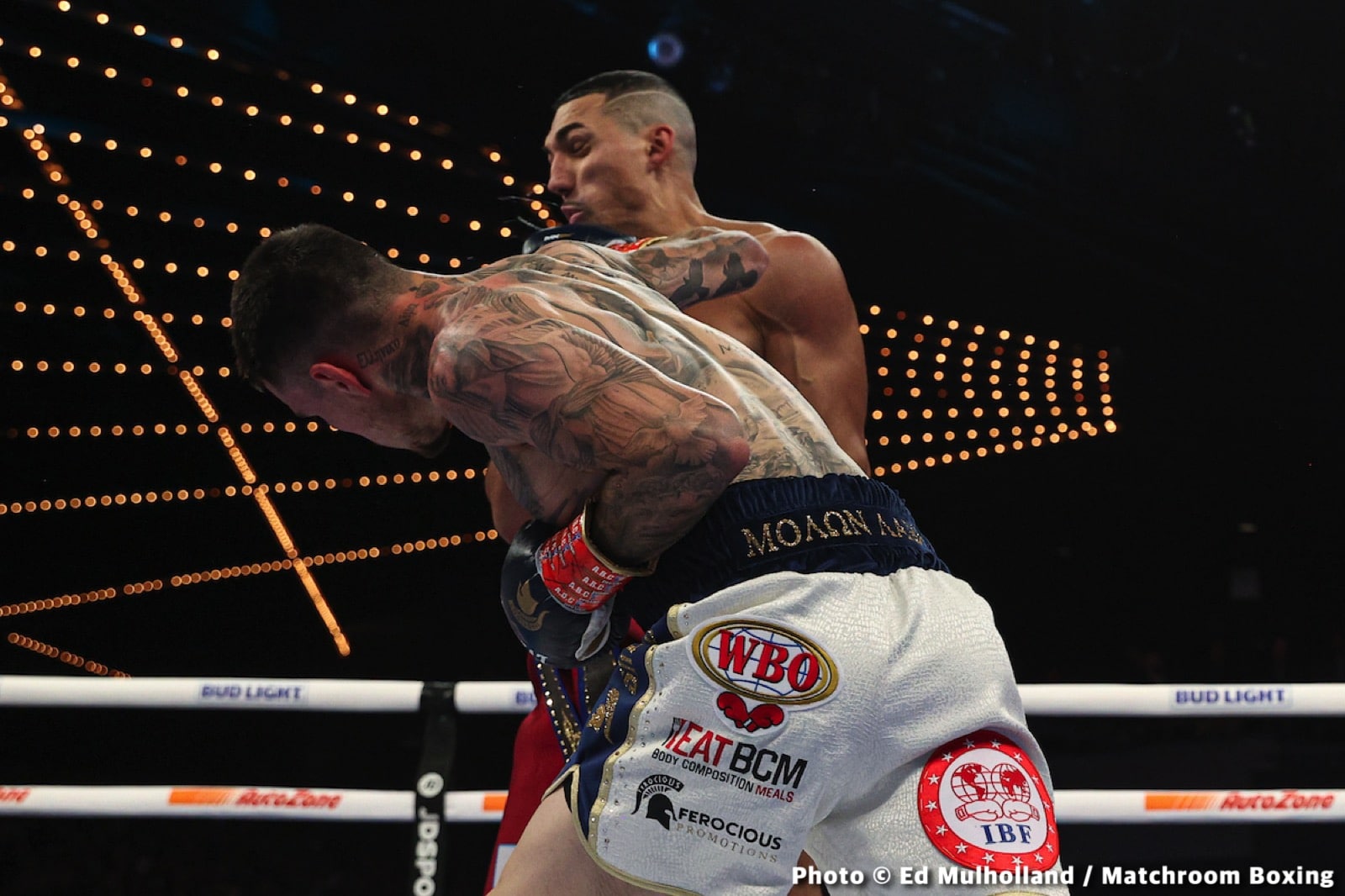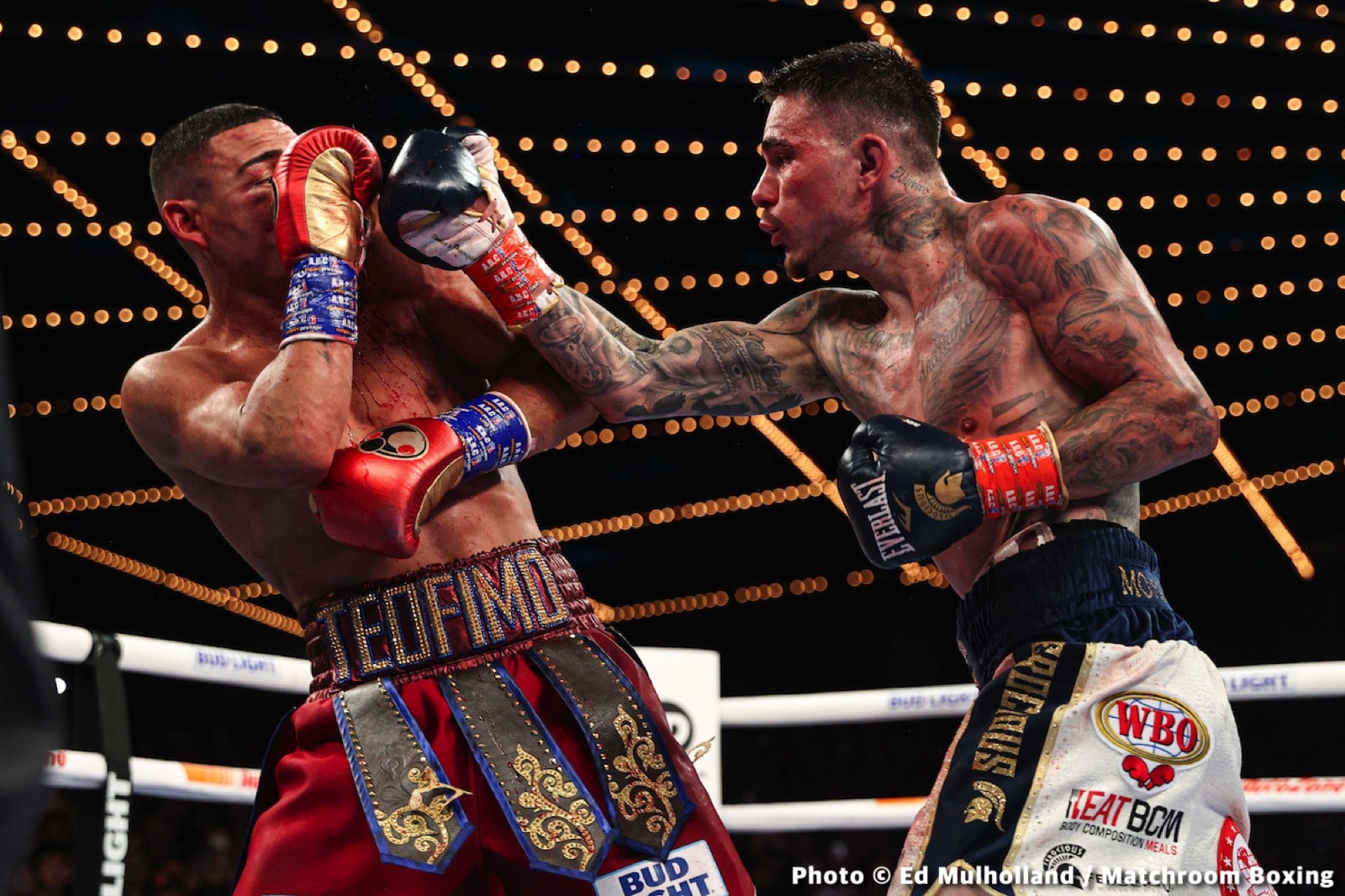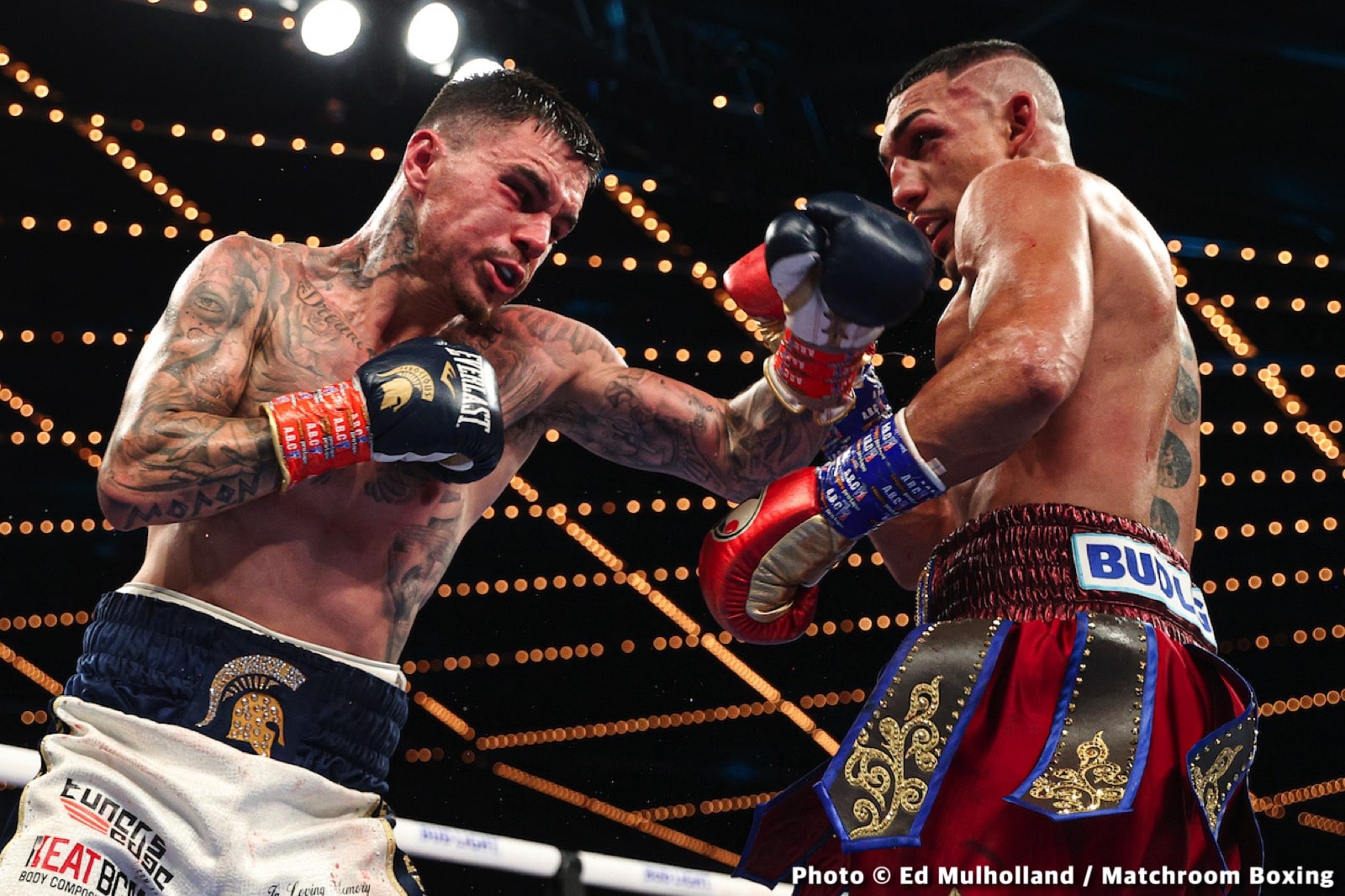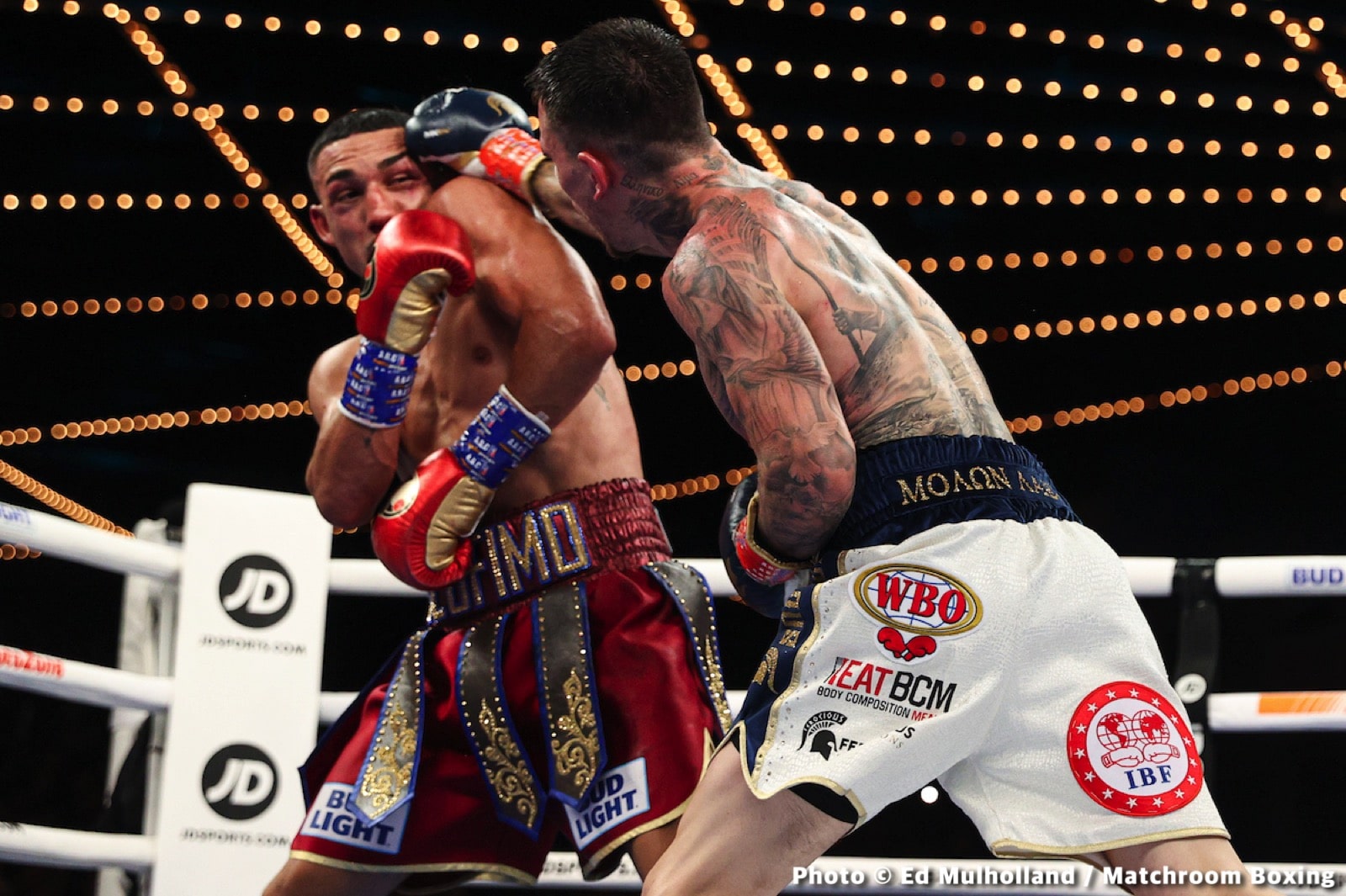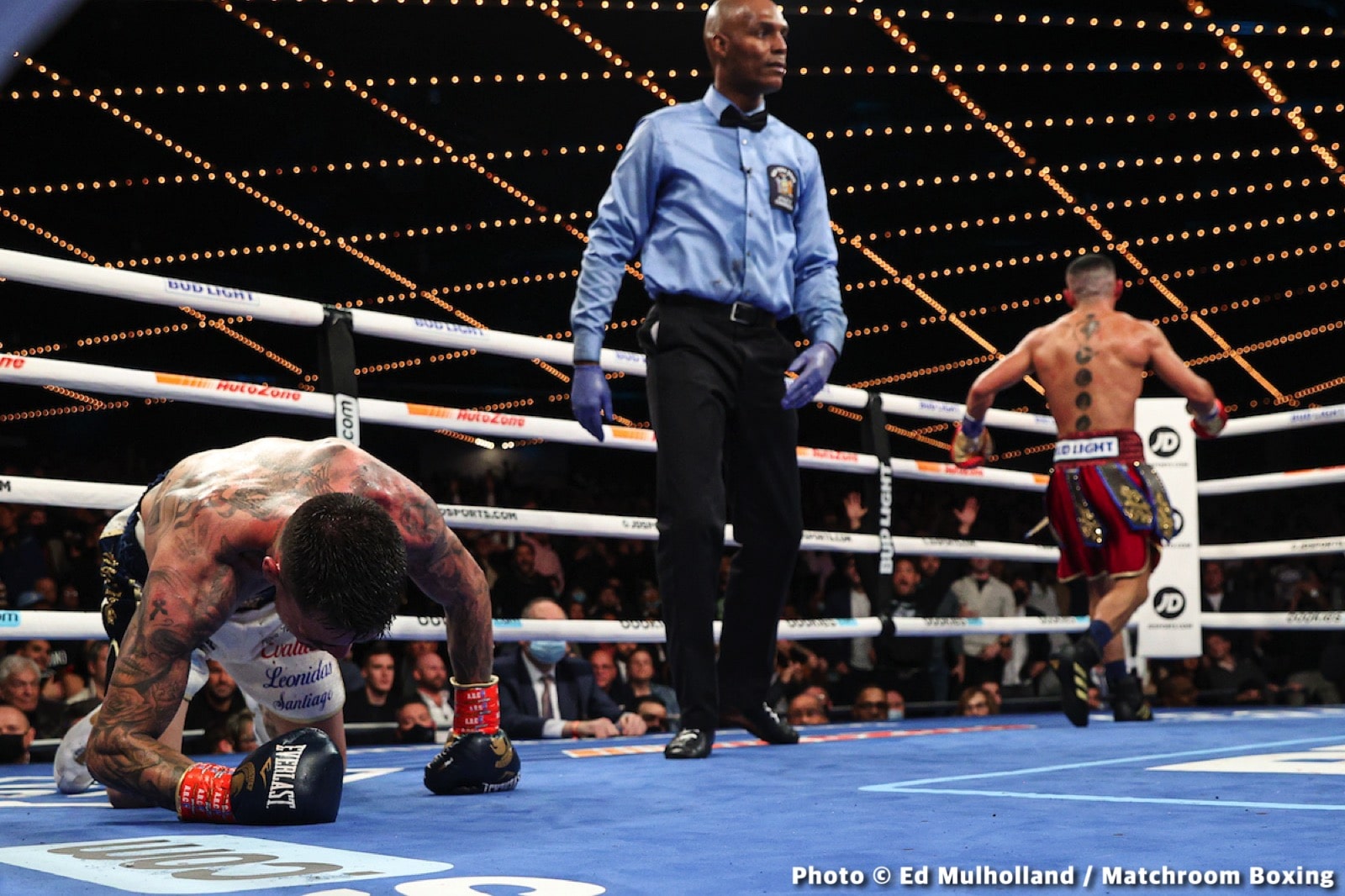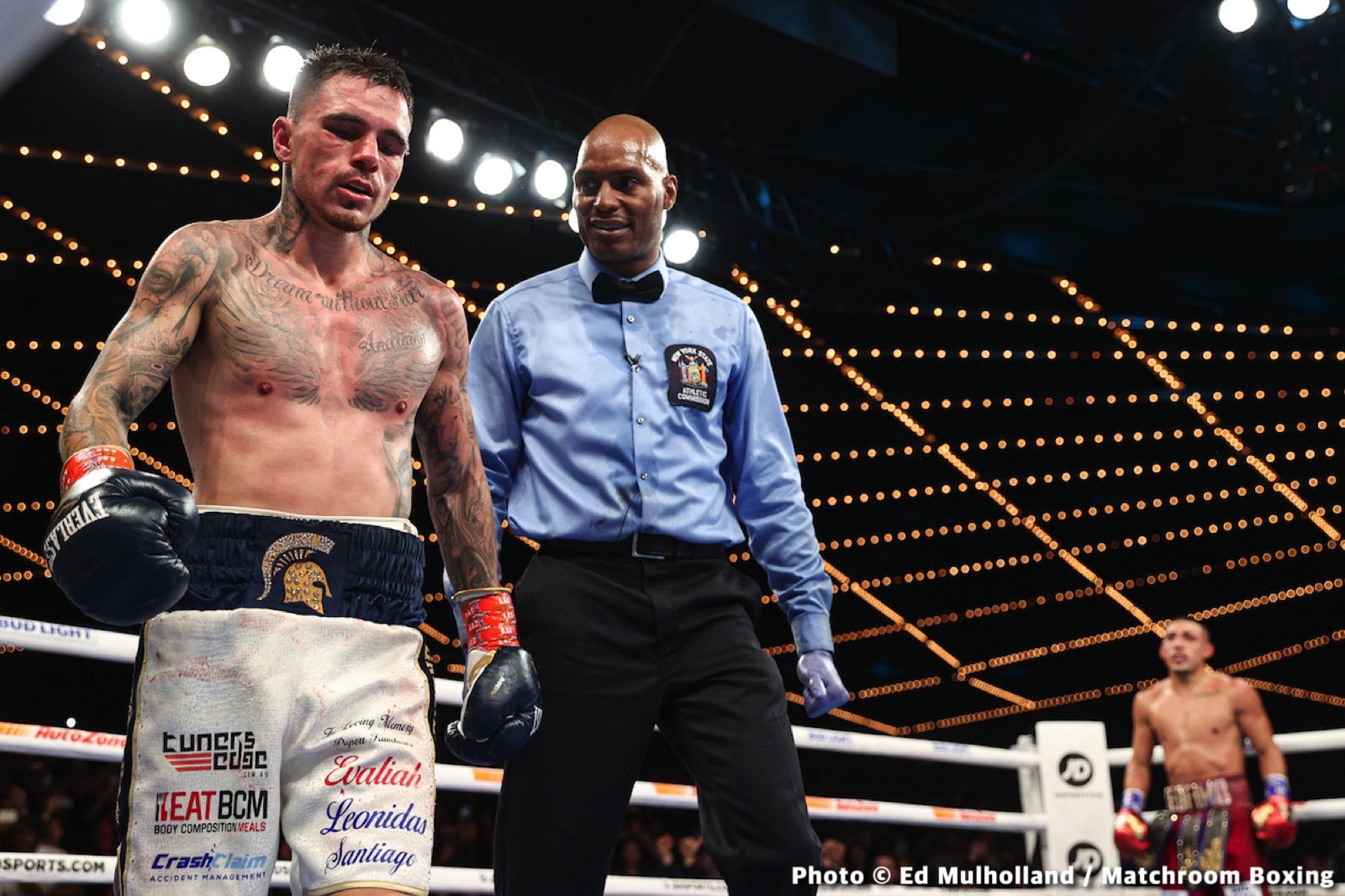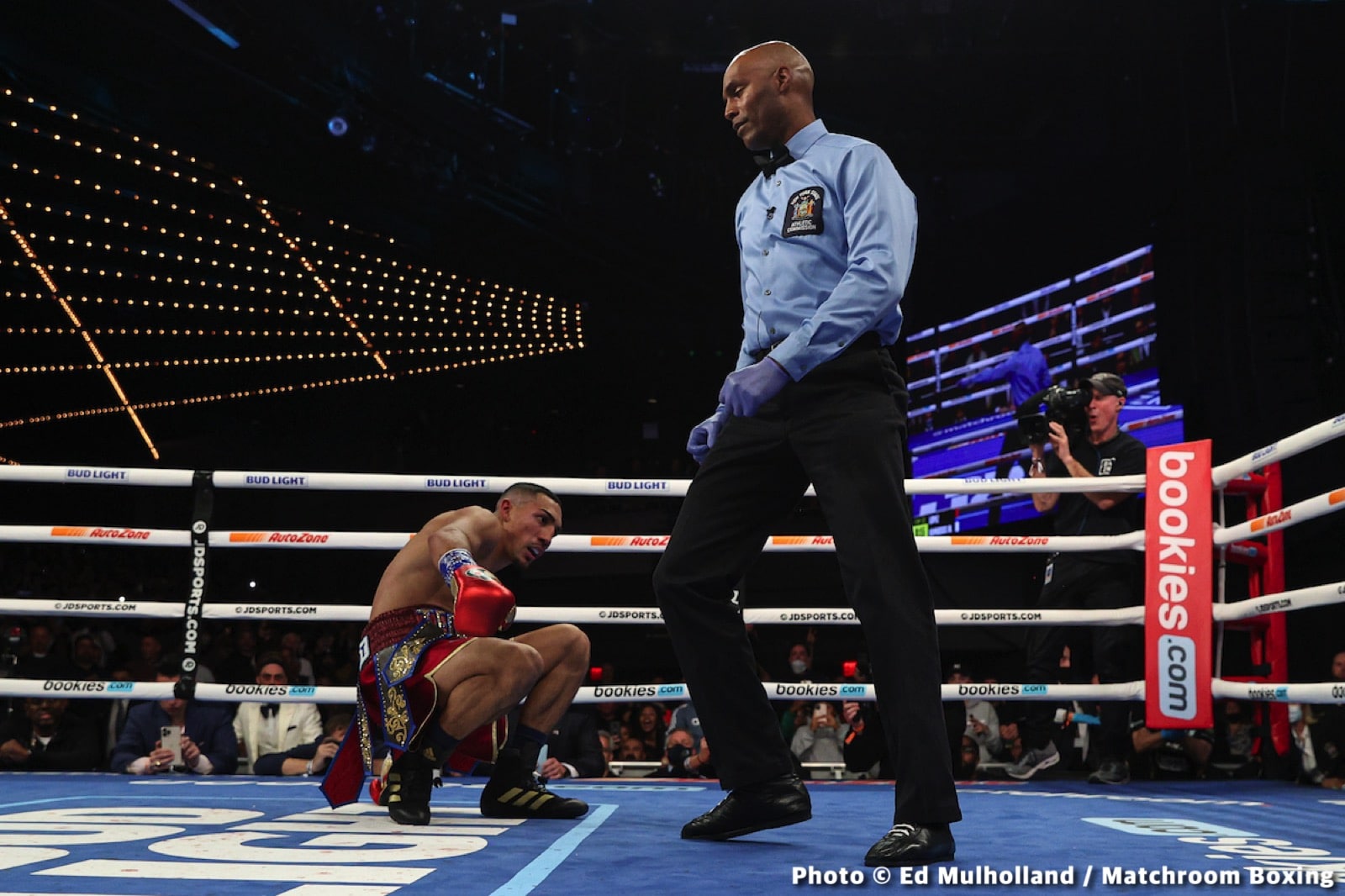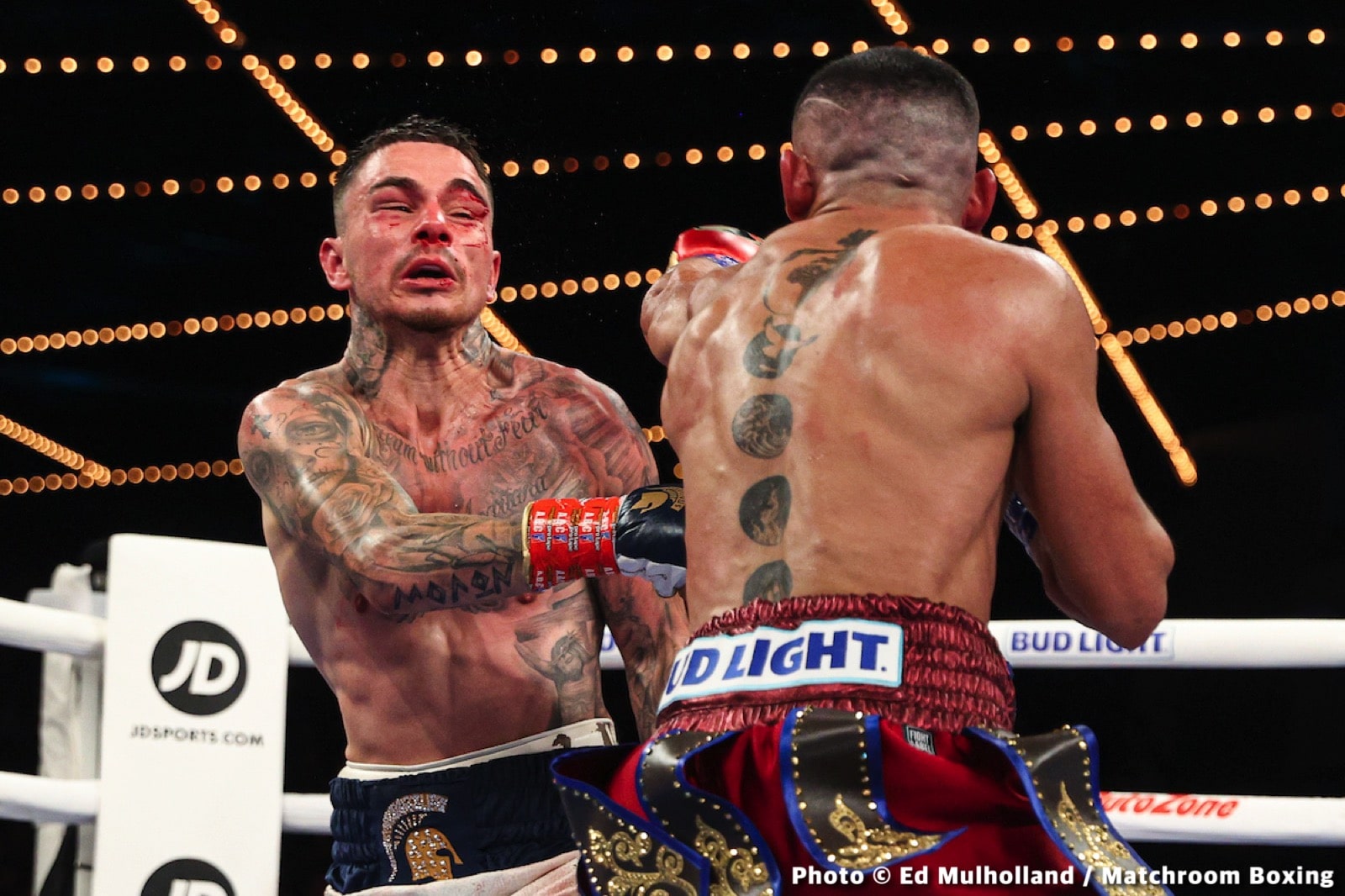 Preview:
Full Teofimo – Kamboso card for tonight:
Ramla Ali vs. Isela Vera
Christina Cruz vs. Maryguenn Vellinga
Anthony Herrera vs. Jonathan Herrera
Teofimo Lopez vs. George Kambosos Jr.
Azinga Fuzile vs. Kenichi Ogawa
Raymond Ford vs. Felix Caraballo
Zhilei Zhang vs. Craig Lewis
Kambosos focused
"I am so focused. My tunnel vision is unbreakable and I've been in the gym day in and day out," said Kambosos to The Volume. "You're fighting for the biggest fight in boxing, the pinnacle for the sport.
"I was never going to take my foot off the pedal. This means the world to me.
"The road that I've been on to be where I am today and to win all these belts has been a hard road. I've really had to warn it. In a testament to the fighter and warrior I am, two months ago, I had the birth of my child and also the passing of my grandfather.
"On that night, I trained, and since that date, I've not stopped. I never stopped because I'm so embedded in this fight. I want this more than anything.
"I'm really excited and happy it's here, and there have really been no distractions. Bring it on this Saturday night. I don't think I would have because that's the type of fighter I am," said Kambosos when asked if he would have taken time off given what he'd gone through.
"I still would have been in the gym. That's how my whole career has been. My life has been very strict. I've got that military mindset and that's how I am.
"This is my destiny, but this isn't what happened on one night. I've really had to earn it. If this situation hadn't happened in my life, I think I would have. That's the kind of person I am," said Kambosos.
Teofimo being hunted
"It's not personal for me," said Kambosos. "I don't know why he's getting personal with me. It's a fight. He's got what I want, and I'm coming to take it. He was the hunter against Lomachenko. Now he's being hunted. So he's got to understand how it feels.
"Lomachenko was dealing with it, and he was chasing him. Now I'm chasing him. He's got these delusional things in his head, and the people around him are not the right people.
"They're telling him things, and one of the things is there's something about his mother. He thinks I had a go about his mother, and that's not the case. I don't even know what his mother looks like.
"Whatever he believes and whatever lies they're telling this kid, that's on him. If he's the angriest kid in the world, bring it on this Saturday. I'm focused, cool, calm, and collected. You saw at the press conference yesterday how focused I am.
"The kid is jumping up and down and his dad is jumping up and down. For an undisputed champion to be acting like that, that's not a good champion. Your real champion is here ready to take the throne on Saturday night," Kambosos said.
Kambosos is hungry
"I'm extremely hungry," said Kambosos. "He's right, he is starving because he's struggling to make the weight. He's starving big time. He's not hungry. He doesn't have that desire and willpower.
"He did have it for Lomachenko, but he lost that because like I said at the press conference, those belts have been his curse. I know a lot about his life, and that's the kind of fighter I am. I learn a lot about them, and he has lost a lot.
"A lot of people have left him, and it's pretty much him and his father," Kambosos said about Teofimo. "Like I said, those belts are your curse, and I'm happy to take them on. I don't have to get under his skin because I've been under his skin for a very long time.
"I've been in his head for a very long time. I've been living in his brain of his rent-free for many months," said Kambosos.