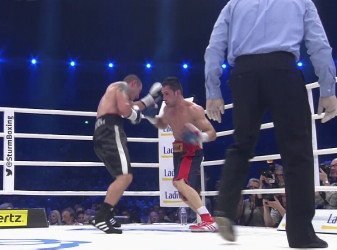 Former WBA/WBO middleweight champion Felix Sturm (38-3-2, 17 KO's) thinks he's one fight away from getting a rematch against IBF middleweight champion Daniel Geale later on this year. Sturm, 34, easily defeated #4 IBF, Predrag Radosevic (27-1, 9 KO's) last Saturday night by a 4th round TKO at the Westfalenhalle, Dortmund, Nordrhein-Westfalen, Germany.
Sturm knocked Radosevic down three times with body shots in the fight. The fight, if you want to call it that, was stopped in the 4th round after Sturm knocked Radosevic twice in the round.
Radosevic looked like someone that didn't deserve the high #4 ranking that the International Boxing Federation had given him. He looked more like a fighter that was 2nd tier, and not good enough to be ranked so highly. The IBF was the only sanctioning body that had him ranked in their top 15.
Sturm said to AFP "One more fight, then I'll be back on the throne. At the end of the year, I'll be champion again. I want Geale and I want revenge."
Beating a little known fighter like Radosevic with his inflated ranking and resume and beating a guy like Geale, it is a whole different story.
Sturm looked bad in losing to Geale last year in September, and he looked equally poor in getting beaten by Sam Soliman last February. The fight outcome was overturned, however, after Soliman tested positive for a banned substance, but there's no getting away from the reality that Sturm gassed out early in that fight and was clearly beaten.
Last night, Sturm didn't have to worry about fading or getting hit with hard shots because Radosevic looked like a welterweight fighting at middleweight and he no power to trouble Sturm. It was a mismatch in size, power and skill, and it was an advantage for Sturm that the IBF had someone like that ranked so highly.
I think Geale beats Sturm again when that gets made. The only unknown about that fight is the possibility of Geale losing a controversial decision if he faces Sturm in Germany. Sturm has a number of questionable wins fighting in Germany, and there's always that possibility if the fight takes place there.