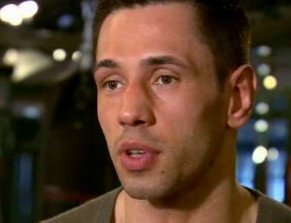 By Dwight Chittenden: WBA Super World middleweight champion Felix Sturm (37-2-2, 16 KO's) will meet up with IBF middleweight champion Daniel Geale (27-1, 15 KO's) in a unification bout tonight at the Koenig Pilsener Arena, Oberhausen, Nordrhein-Westfalen, Germany. According to the German news publication bild.de, Sturm is expected to vacate his WBA 160 pound title if he wins the IBF title off of Geale tonight. Sturm would then keep the IBF strap and defend that title rather than the WBA belt he's held for the past five years.
That move kind of makes a lot of sense for Sturm after the World Boxing Association came out yesterday ordering the winners of the Sturm-Geale and the Gennady Golokin vs. Grzegorz Proksa fights to face each other by December 31st of this year. This could potentially mean that Sturm would have to face the dangerous puncher Golovkin in a fight that Sturm would likely lose and lose badly. If Sturm vacates his WBA title, boxing fans are going to cry that he's ducking a fight against WBA champ Gennady Golovkin.
Golovkin has the power to not only beat Sturm but knock him out. At any rate, it would be a very tough fight for Sturm to take at this juncture of his career. He's not really had too many tough bouts since winning the WBA title back in a rematch with Javier Castillejo in April of 2007.
Through the five years that Sturm has held the WBA title, he's not faced anyone really dangerous. His toughest fights have come against Matthew Macklin and Martin Murray, and a lot of boxing fans felt that Sturm should have lost both of those fights. He got a win over Macklin that was highly controversial, and he fought to a draw against Murray.
Sturm makes a lot of money defending his WBA title against soft opposition. Why take any risks to fight Golovkin when Sturm can simply give up the WBA strap, and go on as before with the IBF title? There aren't any real threats to Sturm in the top 15 IBF rankings at this time, and he could in theory hang onto that strap for another three to five years against the current group of contenders listed. It makes a lot of sense for Sturm to give up the WBA title and just focus on the mostly weak opposition that the IBF have ranked in their top 15. To be sure, it wouldn't win Sturm any fans if he ducks the Golovkin fight, but looking at it from his perspective, it's a smart move to avoid the Golovkin fight and just focus on beating the weak contenders that the IBF has ranked.