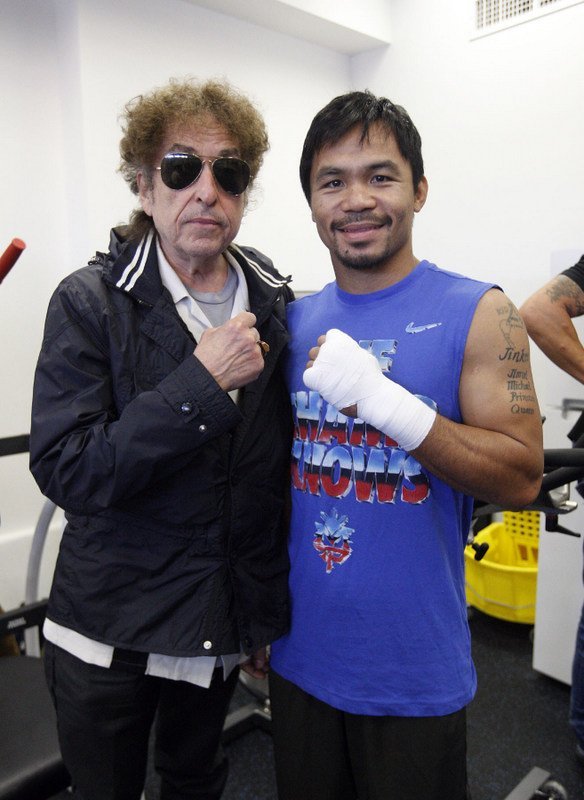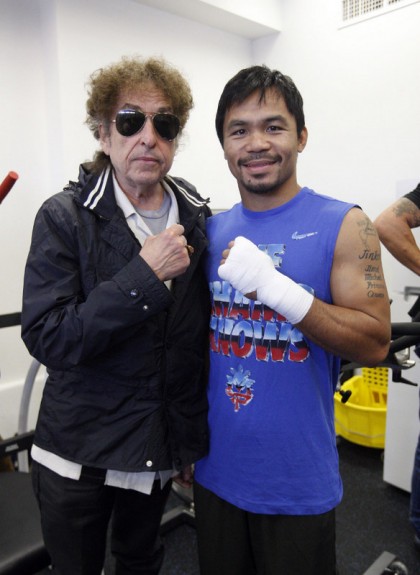 Photo: "FOREVER YOUNG" — Music legend and fight aficionado Bob Dylan(L) paid a visit to Wild Card Boxing Club in Hollywood, Calif. to watch Fighter of the Decade Manny Pacquiao's sparring session. Pacquiao is preparing for his eagerly-anticipated rematch against undefeated WBO World Welterweight champion Timothy Bradley. – Promoted by Top Rank®, in association with MP Promotions and Tecate, Pacquiao vs. Bradley 2 will take place, Saturday, April 12 at the MGM Grand Garden Arena in Las Vegas, Nevada. It will be produced and distributed live by HBO Pay-Per-View® beginning at 9:00 p.m. ET/6:00 p.m. PT. — Photo Credit : Team Pacquiao
In a recent trip to Freddie Roach's Wild Card Gym, I was pleasantly surprised to learn of some team changes. As I was talking to some of Manny Paquiao's fans from Texas, strength and conditioning, Cecilo Flores, walked right by me. I was naturally shocked! This is the man who had been working with Robert Garcia in Oxnard, California. Shocked because I saw him in my last two trips to Garcia's gym. Is he now working for the rival gym? He sure is.
It all made sense when Cecilio broke it down. The arrival of Alex Ariza in Robert Garcia's gym meant two strength and conditioning coaches under the same roof. It was time for Cecilio to look for a new challenge and move on. Alex Ariza is the former strength and conditioning coach for Freddie Roach and some of his fighters, including Manny Pacquiao. In a funny way, it was like the gyms traded each other's strength and conditioning coaches. I'm sure it's more complex than that as context is every bit important in a situation like this.
Good for Cecilio. He is a stand up guy and a professional. He had nothing but great things to say about Robert Garcia, Garcia's Boxing Academy, Alex Ariza, and the boxers in that stable. He looked happy, excited, and motivated to work with Freddie Roach and Manny. Blood Money Boxing wishes Cecilio Flores the best of luck in preparing Manny Pacquiao for his upcoming fight and in Cecilio's future training endeavors. He even gave Blood Money Boxing a quick shout out, check it out here:
Rudy Mondragón
Blood Money Boxing
bloodmoneyboxing.com
Twitter: @bloodmoneyboxin
Instagram: bloodmoneyboxing