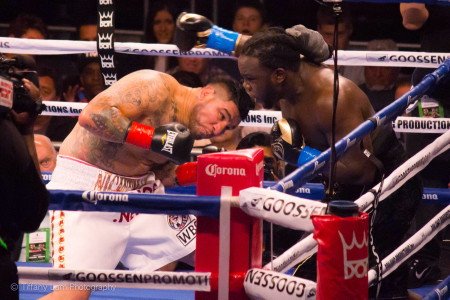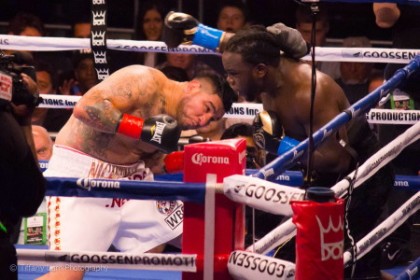 (Photo credit: Tiffany Lam) Bermane "B Ware" Stiverne's 24-1-1 (21KO) toughest task saturday night at USC Galen Center, Los Angeles, California seemed to be getting off the canvas himself. He put himself there collapsing, completely overjoyed with his 6th round stoppage of Chris "The Nightmare" Arreola 36-4-0 (31KO). The end came at 2:02 of the 6th round, when referee Jack Reiss stopped the fight.
The end came abruptly. Arreola had been doing a good job, winning rounds by being busier. Arreola was rocked in the early rounds by a left hook, but that seemed to wake him up, so he was a bit more cautious. But, it didn't stop the ongoing chatter between the two. At one point, Chris smiled and raised his eyebrows in a gesture of confidence. He seemed to be enjoying himself.
Why not? He was throwing more, and landing more, despite the fact that Stiverne was quicker, with the faster hands. Arreola was out jabbing Stiverne, and following it with some clean shots to Stiverne's body and head. He appeared his punches were having the desired effect. Stiverne wasn't punching as much, and was allowing Chris to back him up against the ropes. Initially Stiverne was sneaking an uppercut through Chris' guard, but "The Nightmare" seemed to be adjusting.
Unfortunately for him, though, he wasn't moving his head much, and when trying to work on Stiverne, he remained parked in the no parking zone. Stiverne threw some hard ones here and there, but missed ever so slightly. In the meantime, Chris grew more confident, and took even more chances.
Stiverne goaded on "The Nightmare"? He kept his guard down, and every so often half heartedly fired off and up jab. Some rattled Chris to a nugatory degree, but Stiverne was okay with it. He was working on something more significant. In order to do so, he needed to snooker Chris a bit more. He wanted the wool to come down a little bit more over "The Nightmare's" eyes.
Chris jabbered some more, and mid-gab, he failed to return his jab home in a timely manner. The door was open, and Stiverne entered with a big right hand that caromed off of Chris' left temple. A fraction of a second passed, and then Chris did the shilly shally, which occurs when the signals between the brain and the legs gets short circuited. When that happens, it's not a matter of shaking away the cobwebs. When the referee asks the all important question, "Can you continue?", the fighter finds it's easy to say yes. Then he trys to step forward, and his legs seem to have a mind of their own. The referee gives him the benefit of the doubt, but when the fighter gets pulverized, and almost hangs himself on the middle strand of rope, even referee Jack Reiss had to admit enough is enough. He waived things off at 2:02 of the 6th round.
That's when the fun started. Stiverne was so happy to be the first Haitian to win a portion of the heavyweight title (WBC in this case) that he did his own impression of Fainting Phil. He remained totally motionless for so long that people began to worry. Finally he came out of his stupor, thanking everyone he could think of. He felt the punch that started the beginning of the end was the same punch as he used in the first fight. That was correct in the sense that both punches were delivered with the right hand. However, in the first fight, came in head low, but the punch came over the top. Tonight's punch was more of a counter punch, delivered over Chris' slow jab. Instead of getting a broken schnozzola, Chris got served a case of the wobblies.
Stiverne was correct, saying working your butt off didn't matter. It was skill that was important. He must have been talking with James Toney.