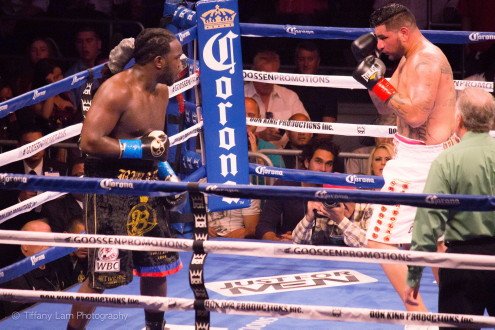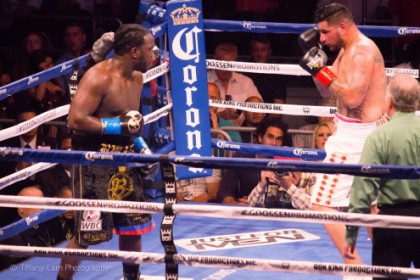 (Photo credit: Tiffany Lam) Chris Arreola (36-4, 31 KO's) made the mistake of standing directly in front of the big hitting Bermane Stiverne (24-1-1, 21 KO's) and he paid for it tonight by getting stopped in the 6th round for their fight for the vacant WBC heavyweight title strap at the USC Galen Center, in Los Angeles, California, USA. Arreola was put on the canvas twice in the 6th, and the fight was stopped after Stiverne hit a totally defenseless Arreola with a couple of more shots. Referee Jack Reiss had seen enough and stepped in and stopped the bout at 2:00 of the round.
In the first knockdown in the 6th, Stiverne clipped Arreola with a tremendous right hand to send him down. It was a looping shot that Arreola didn't seem to see until too late. As Arreola was picking himself off the canvas, Stiverne stood directly behind Reiss waiting to pounce on Arreola. Reiss turned around and gave Arreola a hard shove to get him to go to the neutral corner.
It's hard to believe that Stiverne didn't know that he's not supposed to stand over his opponents after he's knocked them down, and he wasted time with that amateur move. Once the action resumed, Arreola failed to clinch and tried to keep fighting. Stiverne then tore into him with some brutal head shots that dropped Arreola for a second time in the round. This time when Arreola got back to his feet, he was hurt enough to where the referee probably should have stopped it. Arreola was on weak legs when the action was resumed. Stiverne then nailed him with a couple of more shots resulting in the fight being stopped by Reiss.
Stiverne hurt Arreola in the 1st round with a 1-2 combination late in the round. Arreola was badly hurt from the shots, and he was fortunate that it took place at the end of the round because there's no way that Arreola would have made it out of the round had he been hurt earlier.
Arreola did a good job of coming back and fighting well in rounds 2-5, but he was still getting hit with an awful lot of heavy shots. Arreola was getting nailed with a lot of jabs, and wasn't using his boxing skills the way he needed to in order to have a chance to win the fight.
Stiverne could face either IBF/IBO/WBA/WBO heavyweight champion Wladimir Klitschko or WBC mandatory challenger Deontay Wilder next. Wilder was at ringside, and he wants the fight next but so does Wladimir.
***
Other boxing results on the card:
BJ Flores KO 1 Adam Collins
Razvan Cojanu TKO 5 Rodricka Ray
Caleb Hunter Plant KO 1 Travis Davidson