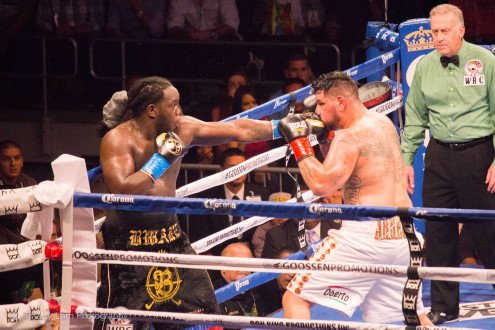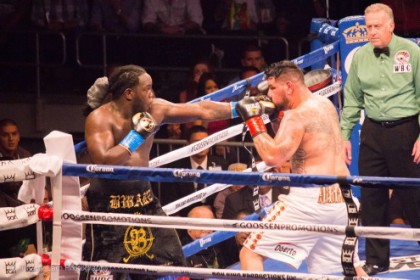 (Photo credit: Tiffany Lam) Tonight millions of boxing fans tuned into a heavyweight title fight live on primetime ESPN. A raucous crowd got their money's worth at the Galen Center on the University of Southern California campus, just a couple miles south of downtown Los Angeles. Haiti native Bermane "B WARE" Stiverne, who now trains out of Las Vegas, squared off against Mexican-American Chris "The Nightmare" Arreola in a rematch for the vacant WBC title. Stiverne won their first bout last April via decision, but not before shattering Arreola's nose at the end of the third round. As intense and bloody as the first contest was, fans eagerly anticipated the rematch.
The USC marching band played the national anthem in the ring, and then Chris Arreola made his ring walk, inciting a wild eruption from the partisan LA crowd. Next to the ring was Bermane Stiverne, who was serious as always as he shrugged off boos from Arreola supporters. Michael Buffer introduced the fighters and got the crowd pumped. The atmosphere was electric in anticipation for the opening bell.
Arreola went right to work with a big 1-2 only seconds into the fight, but Stiverne blocked it and smirked. B WARE landed a hard left hook – straight right counter combo while backed up on the ropes that got Arreola's attention, but overall Chris appeared to be busier throughout the opening round. It was a tough one to score, but Stiverne may have taken it via landing the harder punches.
The Nightmare had a nice started to the second round as he landed several flush combos after backing his opponent into the ropes. He was giving angles while working on the inside, getting off and then getting out. Bermane seemed to take the punches well, but they definitely got his attention. Stiverne landed some nice body shots throughout the round and a solid right hand in the closing seconds but it wasn't enough to steal it, this was a clear Arreola round. There was some heated trash talk after the bell; these guys were not playing around.
In the third the crowd began chanting "Arr-Ree-Ooo-Laa" to support their fighter and Chris continued working intelligently behind the jab. Stiverne was rocked several times by flush combos from Arreola, yet never held. In fact Stiverne answered with several flush counter punches of his own, with a focus on thunderous body shots. Both fighters were throwing and landing HARD shots, this was turning into a really good heavyweight fight. Yet Arreola seemed to be ahead.
Stiverne seemed to settle into more of a rhythm in the fourth round, utilizing lateral movement to get off the ropes when need be, and controlling the last minute or so. When Chris worked behind his jab he would get Bermane on the ropes and land, yet Stiverne seemed to be slowing his man down with solid body work. This was a closer round, yet Arreola landed a nice combo early on that may have earned it for him in the judge's eyes.
By the fifth round Chris appeared slower and Bermane appeared to be evening up the fight. A pattern began to emerge that mimicked their first match, where Stiverne would back into the ropes, cover up while Arreola got off, then try to counter. The Haitian was talking trash to his opponent as he blocked punches, countered, and circled off the ropes. He appeared to be thinking in there, staying to a dedicated game plan. You could feel momentum changing.
Arreola stopped jabbing in the sixth round and was diving straight in. Stiverne had been setting a trap, and about a minute into the round the bait worked. Chris came in without a jab, hands low, and Bermane countered. A wicked left hook to Arreola's temple sent him flailing backwards onto the canvas; his legs were gone. Never short on toughness, the proud Mexican-American struggled to his feet. B WARE knew his opponent was badly hurt and immediately went back to work, dropping him again. Displaying his enormous heart, Arreola somehow got himself up again and tried to fight on. But the writing was on the wall, and only seconds later Stiverne was teeing off on his defenseless opponent, forcing referee Jack Reiss to jump in and stop it.
This match was bombs away from the start, both fighters showed determination, skill and heart. If anybody ever had questions about either man's chin, let them forever be answered. Officially it goes in the books as a TKO win for Bermane Stiverne at 2:02 of the sixth round, who is now the first heavyweight titlist of Haitian heritage. At the time of the stoppage the judges had it 48-47 twice for Arreola, and one judge for Stiverne 48-47. Undefeated American Deontay Wilder, who has been assigned as Stiverne's mandatory by the WBC, was in the crowd watching closely. This writer can't wait to see those two get it on. As for Arreola, this may have been his last chance. Where Chris goes from here, only he can say.
Questions, comments, hate mail? You know what to do.
monteroboxing@gmail.com