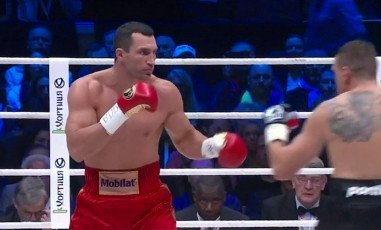 By Michael Collins: In a fight that was somewhat interesting to watch during portions of the action, IBF/IBO/WBA/WBO heavyweight champion Wladimir Klitschko (59-3, 50 KO's) defeated a way out of his depth Mariusz Wach (27-1, 15 KO's) by a 12 round unanimous decision tonight at the O2 World Arena in Hamburg, Germany. The only round you could possibly give to the 32-year-old Wach was the 5th when he landed a good hand to the head of Wladimir after backing him up agaisnt the ropes.
Wach unloaded everything but the kitchen sink on Wladimir trying to get him out of there. Unfortunately for Wach, he missed on pretty much every punch he threw. Had he landed at least one of the dozen punches he threw he might have been able to drop Wladimir. After that brief moment in the fight, it was Wladimir from then as he upped his workrate and punished the Pole with jabs and right hands to the head.
The 8th round was one where you can argue that the referee should have stopped the fight because Wladimir smacked Wach around the ring at will and it was pretty hard to watch because of all the punishment that Wach absorbed. However, he proved to have a strong chin and he was able to ride out the storm. Wladimir looked like he felt sorry for Wach after that, because he never did try and unload on him in the same manner for the rest of the fight. He really didn't need to because Wach just hung around offering up little, so there wasn't like there was any real need to take any chances just to prove a point.
It was pretty hard to watch fight, and I came away wondering why Wladimir had selected such an awful opponent to fight. He had to know how limited Wach was ahead of time, because this is how he looked in his other fights. He was slow, easy to hit and someone who didn't look like he belonged fighting for a world title.
Results from Germany
Rakhim Chakhkiev W 10 Andres Taylor
Rafal Jackiewicz Draw 10 Rick Godding
Tony Harrison W UD 6 Daniel Urbanski
Undefeated heavyweight Robert Helenius (18-0, 11 KO's) kept his unbeaten record intact with a 10 round unanimous decision win over Sherman Williams (35-12-2, 19 KO's) at the Ice Hall in Helsinki, Finland. The final judges scores were 99-91, 99-93 and 99-93. This wasn't impressive stuff to say the least from Helenius. I know it was the first time he'd fought since last December, but he looked horrible from start to finish in this fight and was almost knocked out in the 6th round when Williams caught him with a perfect right hook right on the chin that had Helenius' legs looking like jelly.
Williams hit Helenius over and over again with big shots for the remainder of the round. However, Helenius was able to regain control of the fight in the 7th and he was never really in danger after that.
Helenius predictable with his offense, throwing jabs, right hands to the body and chopping right hands to the head throughout. Missing from Helenius' offense was his right hand power. It looks like the shoulder surgery on his right shoulder wiped out his power because it wasn't there tonight. This is going to be a problem for Helenius because he's nothing without his right hand power. He'll get beaten by the other top heavyweights without that weapon, and I have a feeling that his power won't come back.
Helenius's handlers needs to take their time with him and not look to rush him into a fight against someone good, because if he fought a top contender like Kubrat Pulev right now, Helenius would get knocked out. He's so hittable and has nothing to worry any of the good heavyweights in terms of offensive weapons.
Results from Finland
Patrick Nielsen W UD 10 Jamel Bakhi
Andreas Evensen W UD 10 Philippe Frenois
Erik Skoglund W TKO 1 Gyorgy Marosi
Fitim Latifi W UD 6 Alexander Jacobsen
Micki Nielsen W TKO 1 Dzianis Vardomski