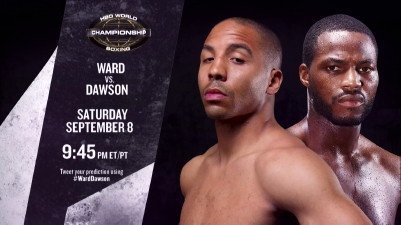 By Eric Roman Sr: April 6th, 1987: the date we got to see two of the greatest fighters of all time come together for a historical event that boxing fans around the globe still argue about day in and day out. Sugar Ray Leonard came out of retirement to face the defending Middleweight Champion of the world, Marvelous Marvin Hagler. The outcome of that bout has been debated in barber shops and boxing gyms for over two decades; come September 8th 2012, HBO will grace us with a "super" match up between two of the sports most outstanding talents, at a weight division only eight pounds heavier then 1987's original "Super Fight".
WBC Light Heavyweight World Champion "Bad" Chad Dawson will come down in weight to face the smaller Undisputed Super Middleweight World Champion Andre"S.O.G" Ward. Although these two combatants may not be at the popularity level that Leonard and Hagler were at that time, there are many eerie similarities to point out that make this one just as important as the one the Hall of Famers gave us a quarter of a century ago. Dawson, the bigger fighter and a southpaw like Hagler, didn't have a prestigious amateur background, he got his recognition as a pro, fighting big names and winning big fights. Also, like "the Marvelous One", Chad Dawson grew up in New England with a chip on his shoulder, which gives him the sense of being the meaner of the two. Ward on the other hand is a pure bred natural talent. His speed and focus got him a Gold Medal in the Athens Olympics much like Sugar Ray did in 1976, and he is a crowd favorite. A charming guy with a great smile. He got through the Super Six Tournament with ease, and showed the world that brains overcome braun in boxing on any given night, but thats what makes this fight so anticipating.
Chad's boxing IQ is just as good as Andre's, this fight is about who is the "smartest", not who is the "toughest". If your looking for an all out war, I would ask that you tune in to some weekly UFC crap thats going on that weekend, but if you want to see two future legends find a way to out-think each other, get ready for a bout that has the makings of becoming a classic chess match. If your a young kid starting out in the sport, your going to want to watch this fight religiously. Your going to want to keep your eyes on the small things, who gets the edge in foot-work, the inside game, who has the more controlling jab? The outcome of the fight will depend on all these things, unless of course I'm completely wrong and they decide to go balls to the wall nuts and start duking it out just for the hell of it. Either way, if Ward wins, his rise to super-stardom will begin on September 9th; commercials, endorsements, movie roles, you name it, the world will know his name! If Dawson wins, his name becomes synonymous with the names of the all-time greats. He will own the rights to his legacy, he can fight who he wants, wherever and whenever he wants.
This is as big as it gets for a couple of guys who made it to the top in different ways, but with the same mind set, focus and determination to make it there. Much like Hagler and Leonard, "Super Fight 2012" should be something a new age of boxing fans and regular everyday sports fans alike talk about for the next 25 years. Lets just hope it's for all the right reasons.