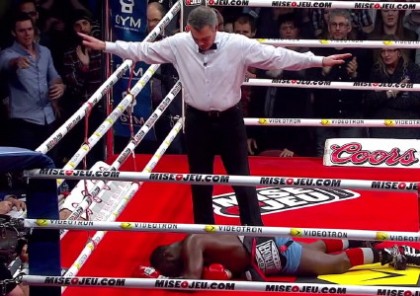 By Jeff Sorby: Adonis Stevenson (20-1, 17 KO's) was able to avenge his defeat against journeyman Darnell Boone (19-21-3, 8 KO's) by giving him a terrible beating and stopping him in the 6th round on Friday night at the Bell Centre, in Montreal, Quebec, Canada.
It's rare that you see a fighter ranked as high as the #1 IBF Stevenson dipping into the 2nd tier ranks to fight a journeyman like Boone, but for Stevenson it was personal because he had been knocked out in the 2nd round by Boone three years ago.
Stevenson paid him back on Friday night by giving him a furious beating that ended with Stevenson hurting Boone with a left uppercut to the head, and then knocking him out with a straight left hand finisher. The shot put Boone down face first on the canvas where he laid for some time before getting back to his feet. The fight was halted at 2:43 of the round.
Boone only landed shots from time to time. He was mostly just covering up on the ropes and looking to land shots in between Stevenson's salvos. However, Boone was able to land big shots on Stevenson, and he definitely showed weakness in his game that a top super middleweight like Carl Froch, Mikkel Kessler and Andre Ward would no doubt be able to exploit.
You can probably add Arthur Abraham to that mix because he'd trouble for Stevenson if he were able to land his heavy shots. Stevenson does not look good when getting hit. He doesn't look solid in getting hit, and one suspects he's still the same fighter that Boone took out with a hard right hand in the 2nd round in 2010.
Stevenson will now be fighting Chad Dawson next for his WBC light heavyweight title. As bad as Dawson looked in his losses to Jean Pascal and Andre Ward, you would have to give Stevenson an excellent chance of beating Dawson. That might be the best thing for Stevenson because he could extend his career dramatically if he can capture the WBC 175 pound title. The only thing he'd have to worry about is facing the hard hitting Tony Bellew.
If he can win that fight then Stevenson could hold onto the WBC belt for a long time. At 168, Stevenson would have problems against Ward, Kessler and Froch, and I doubt he'd beat any of those guys because they can punch as hard as him, but they're much more versatile. They don't just rely on one punch the way that Stevenson does. I could see all three of them knocking Stevenson out.
***
In undercard action, light heavyweight contender Eleider Alvarez (12-0, 8 KO's) looked impressive in stopping Nicholson Poulard (19-4-1, 9 KO's) in the 3rd round of a one-sided fight. Alvarez caught Poulard with a straight right hand and knocked him down. Poulard got back up, but the referee stopped the fight when he saw how hurt Poulard was. Poulard was never competitive, as he didn't have the size or the work rate to compete with Alvarez. He was just covering up and moving in circles the entire fight.
***
6'7" heavyweight prospect Hughie Fury (1-0, 1 KO's) made easy work of journeyman David Whittom (11-20-1, 7 KO's) in stopping him with a right hand to the head in the 3rd round. Fury, the cousin of unbeaten heavyweight contender Tyson Fury, softened up Whittom with jabs, left hooks and occasional right hands in the first two rounds before getting serious in the 3rd round with the heavy artillery. Fury landed a chopping right hand that sent Whittom crashing to the canvas. He got back to his feet, but he far too hurt to continue.
Only 18, Fury seems to have a lot of potential to be a future contender and possibly even a world champion if he can take a shot. Fury looks at least 10 years older than his 18 years. He's a very mature looking person for 18, and he fights like someone 10 years older as well. The only question is whether he can take a heavy shot. His right hand and left power looked decent, but not great. He knocked the guy out, but this was a journeyman who didn't look like he wanted to be in the ring with him.
***
Other boxing results:
Didier Bence UD 8 Jonte Willis
Hughie Fury TKO 2 David Whittom
Sebastien Bouchard UD 4 Adam Grabiec
Mian Hussain KO2 Basilio Silva
Marc Pagcaliwangan RTD 1 Jose Adan Fernandez