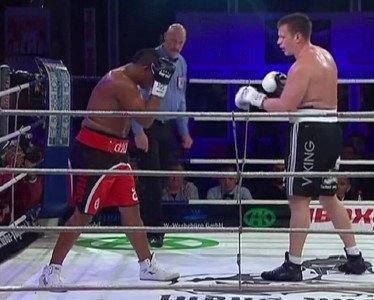 By Vladimir S: IBF Inter-Continental heavyweight champion Odlanier Solis (19-1, 12 KO's) successfully defended his title on Friday night in defeating previously unbeaten Leif Larsen (17-1, 14 KO's) by a 12 round unanimous decision at the Universal Hall in Berlin, Germany.
The action between the two fighters seemed to resemble more of a sparring session than an actual fight, as both guys looked slow and lazy from start to finish. Solis won the fight by the judges' score of 116-112, 115-114, 117-111, but he looked unimpressive.
Larsen was just slow, and focused most of his shots upstairs to the head rather than to Solis' soft looking body.
***
In undercard action, former World Boxing Association (WBA) heavyweight champion Ruslan Chagaev (31-2-1, 20 KO's) wiped out a badly over-matched Mike Sheppard (20-15-1, 9 KOs) by a 1st round knockout. Chagaev flattened Sheppared with a nice left hand to the head. The fight was then stopped. This was Chagaev's fourth consecutive journeyman-type opponent since Chagaev was beaten by Alexander Povetkin two years ago.
Chagaev needs to step it up and start facing better opposition because his tune-up fights have gone a little too long and he's wasting his career like this.
***
Junior middleweight Selcuk Aydin (24-2, 17 KO's) ended his two-fight losing streak by defeating an over-matched Giuseppe Lauri (53-12, 31 KOs) by a 10 round unanimous decision to capture the interim PABA light welterweight title. Aydin was able to stun Lauri on a number of occasions with hard right hands to the head.
However, Aydin was unable to finish him off, perhaps due to his tendency to throw only one punch at a time instead of combinations.
***
Uensal Arik (18-1, 18 KOs) defeated Francis Cheka (27-6-1, 15 KOs) by a 7th round stoppage to capture the vacant IBF Inter-Continental super middleweight title. Arik was down in the 5th, but came back to halt Cheka in the 7th after nailing him with a storm of punches in the 7th.