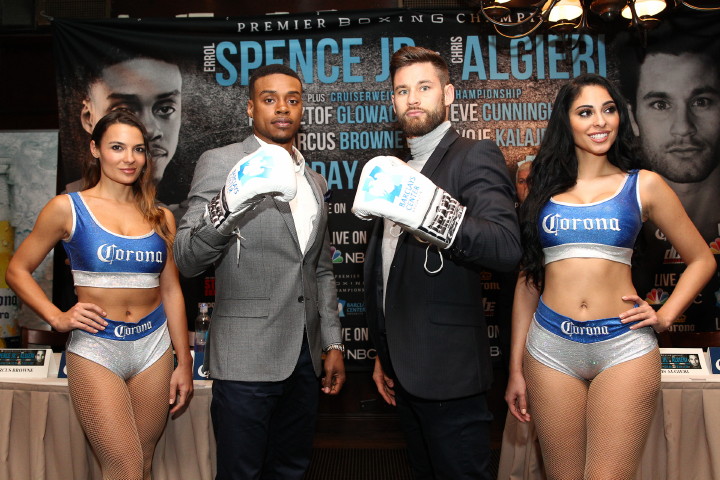 The Errol Spence and Chris Algieri bout will serve its purpose by tell us a lot more about each fighter when they meet in a 10-round main event live on NBC, at the Barclays Center in Brooklyn, New York. The co-feature pits Steve Cunningham against newly-crowned WBO Cruiserweight champion Krzysztof Glowacki in a potential barn-burner.
Two fights that make sense at the right time, a key ingredient the premier boxing champions has had some issues with.
Even if you don't like Al Haymon and you're the biggest anti-PBC person in the world, there's not much to complain about Saturday nights card. Errol Spence, one of the hottest prospects in the world is in tough against a talented and gritty fighter. In the last year or so it became increasingly hard to find an opponent. The old high-risk low-reward theme was playing out as he, and Floyd Mayweather last summer, told anyone who would listen that Spence wants a shot at a legit guy. The likes of Shawn Porter, Keith Thurman, and Danny Garcia, all thought Spence needed to prove himself before he could quality for such a fight.
The time has come to prove what Spence can do and Chris Algieri should provide a perfect litmus test to prove his worth at 147. Having faced Amir Khan last May and Pacquiao in 2014, Algieri has experienced hand speed at the highest level. The heart, will, and skill he displayed versus Ruslan Provondikov stamped Chris a hard-nosed warrior. In his last two fights versus Amir Khan and Erick Bone, Algieri fought with the kind of aggression we hadn't seen before. Under the tutelage of John David Jackson, Chris has added a layer to his game that he could apply on Spence.
Not known for his power, Algieri staggered Khan early with overhand rights and kept the contest nip-and-tuck throughout in a close loss. Blending aggression on the inside, with movement and an accurate jab on the outside, might just be too much for Spence to digest at this stage. Thus far in Spence's blossoming prospect career the Texas native has been content with walking his overmatched opponents down. His body punching is very impressive to go along with speed and fluid punching. However, we have yet to see him rushed or smothered on the inside to force him to exchange or take his game outside.
If in fact Algieri chooses to bull rush Spence that jab and head movement will be a must otherwise Spence's great reaction time would likely stop Chris in his tracks. Algieri might be better off trying to stay on his pivot forcing Spence to push forward. If Algieri can use both styles together in his game plan it could keep Spence guessing all night. At times Spence does fall in when he punches and has been open defensively to right hands. When set up properly, the right hand of Algieri is the perfect tool for facing a southpaw.
Errol's impressive jab to the head and body will be crucial no matter what style he fights with in Brooklyn, New York. It appears that he has good footwork on the outer part of the pocket, staying within range to punch but still able to dip out of to avoid. More than likely that's how the 26-year-old will fight, with patience keeping the action in the middle of the ring until he is able to hurt Algieri. At that point we could see a coming out party in the sense of him pushing for a knockout while cutting off the ring, which could payoff huge or get him off his game. Let us not forget it will be Spence's first time under the bright lights against a credible opponent.
If Spence stays under control and calm for the most part, he should get the victory. Will find out were Errol measures up to from Algieri's fights with Amir Khan and Manny Pacquiao. My guess is it will be somewhere in between. Spence will take several rounds to get fully comfortable because of the attack and retreat mode of Algieri will feature. By the midway point, Spence will time him with a right hook or left upper cut that sends Chris crashing to the canvas. But as we know from prior Algieri fights, that's when things could get very interesting and entertaining to say the least. Algieri will come up short but put up a competitive fight that will force Spence to make adjustments.
My official prediction is Errol Spence by Unanimous Decision.
The Co-Feature has fireworks written all over it once these two men warm up. Glowacki didn't need much time to rev his engines versus Marco Huck last August in a come from behind knockout victory. After the early frames, Huck found his groove with combination punching in route to dropping the polish fighter in the sixth. But that didn't stop Glowacki from landing a huge right hand that hurt Huck in that same round. Soon after Huck was controlling the fight once again until he pulled straight-backwards out of the pocket, a cardinal sin in boxing.
Glowacki rallied in the 11th hurting Huck, an ultimately knocking the long-reigning champion down and then out, to capture the title in dramatic fashion.
Steve Cunningham will be returning to cruiserweight after an 8-fight run at heavyweight. Cunningham got himself a few good opportunities, one being Tyson Fury, but was outgunned by Fury after scoring a surprising knockdown earlier. He also found himself in a familiar situation coming up short against Vyacheslav Glazkov and in a second fight with Tomasz Adamek that most thought he had done enough in both to get nod.
Cunningham's 82 to 75 inch reach advantage will no doubt come in handy along with a ton of experience in tough fights. It also could be said that those wars have caught up to him and facing a powerful punching fighter like Glowacki will come home to roost. Cunningham will be a tad more active with busy work and from time to time land flush on the aggressor. But will it be enough to keep Glowacki off all night long? Cunningham not known for his punching power does have a few stoppages at cruiserweight, one being a late TKO over none other than Marco Huck.
This scribe sees the bout as a poor man's version of Cunningham's first fight with Tomasz Adamek. Yes that's high expectations but the style-matchup screams a similar pace and even outcome. Cunningham will win many early rounds if not more overall, but Glowacki's power will make up for it in the end. U.S.S Cunningham will as always give it his all in an enjoyable fight that sees him on the canvas at least once.
My official prediction is Krzysztof Glowacki by Majority Decision.
Side Note: Turn the channel to Showtime for a doubleheader after the NBC card for the return of Gary Russell Jr. versus Patrick Hyland and Jose Pedraza vs. Stephen Smith. Also, Friday Night features a ShoBox card and on EstrellaTv/RingTV don't miss a war between Jesus Soto Karass vs. Yoshihiro Kamegai.
Written by Chris Carlson Host of Rope-A-Dope-Radio blogtalkradio.com/ropeadoperadio
Visit The Rope A Dope Report YouTube Channel & Follow on Twitter @RopeADopeRadio