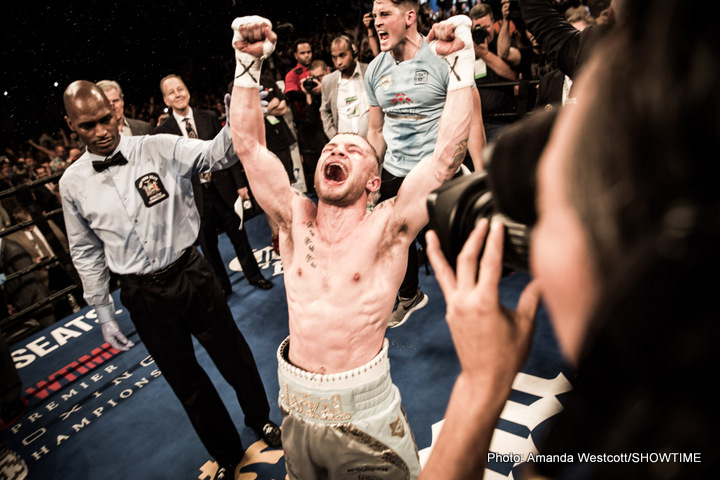 Sky Sports recently launched an online poll, asking fight fans to vote for who they feel is the best of the current British world champions. With an impressive 14 reigning world champions to pick from (an amazing achievement for British boxing; with champions at heavyweight all the way down to bantamweight) fans who voted had a tough task.
In the end, 400,000 fight fans cast their vote and the results came in as follows:
1: Carl Frampton
2: Anthony Joshua
3: Kell Brook
4: Anthony Crolla
5: Tyson Fury
6: James DeGale
7: Lee Selby
8: Tony Bellew
9: Liam Smith
10: Jamie McDonnell
11: Ricky Burns
12: Billy Joe Saunders
13: Terry Flanagan
14: Lee Haskins
Now, as to whether these fans were voting on who they think is the BEST or whether they were voting for their own personal FAVOURITE, is anyone's guess. But Joshua, yet to be really tested, is surely too high at number-2. Fury, in my view, is too low at No.5, while the underrated DeGale – a fighter who has done things the tough way, going abroad for his big fights and never being given the luxury of picking and choosing his opposition – should definitely be higher than No.6.
But any way you cut it, it's undeniable how great British boxing is right now. And with the likes of Brook, Smith, DeGale and others looking at massive fights in the near future, it could be even better in 2017.
As for the man who was voted in at No.1, Carl Frampton, the modest two-weight champ said he feels heavyweight king Fury should have won the poll.
"It's hard to look past big Fury," Frampton said. "He beat the man. He beat Klitschko and became the unified heavyweight champion of the world."
True enough, although some fans, it seems, forget what the unbeaten Fury accomplished last November.