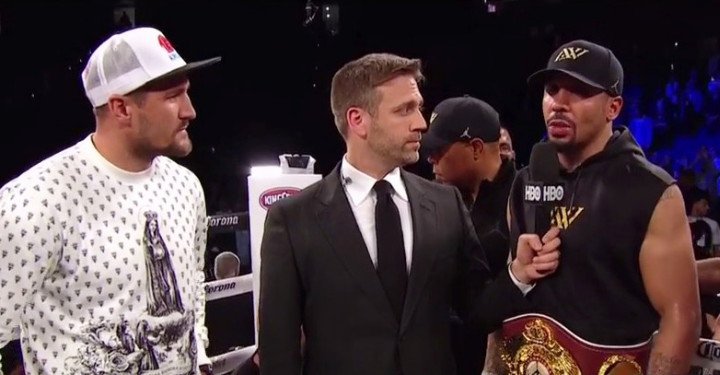 So Andre Ward has set up his fight Vs Sergey Kovalev for November, possibly in Las Vegas, certainly on PPV.
Ward set this fight up by outpointing the completely outclassed Alexander Brand. What exactly Brand was doing in the same building as Ward, never mind the same ring is the guess of anyone, at points during the fight I think Ward, Brand and even the ref Jack Reiss thought the same.
Ward totally outclassed his opponent Brand without being able to stop him and all three judges had it a total shut out after 12 rounds with the scores 120 – 108 on all three cards. It was Brand's first loss since fighting (current WBC Super Middleweight Champion), Badou Jack over 8 rounds in May 2012. Over 4 years ago, have a look at the names on Brands CV before you judge that record.
Reading between the lines, it seems Ward was very aware of his short comings Vs Brand – "We knew this guy was going to be really, really hard to knock out, he's a veteran. People got to realise that when a guy with his experience doesn't want to get knocked out, it's hard. He's throwing punches from crazy angles, he's got nothing to lose. I tried to press it, but it's good to get the rounds."
Hmmm, good to get the rounds against somebody several levels below you? I'm not so sure.
On the upcoming fight Vs Kovalev, Ward said – "I want to be light-heavyweight champion of the world. I had to get past this step. I've been doing this for 22 years, and if I'm not ready to fight the best now, I'll never be."
Ward has fought Smith Jr, Barrera and now Brand since moving "up" from Supermiddle to Light Heavy, so I don't think he is ready. He has taken the easy fights in my opinion in order to manipulate this fight. He hasn't fought anyone in the top 15 of the light heavyweight division and I fail to see how he could be ready. I understand the need for an "easy" fight Vs Brand with the Nov match being a big money fight, however I think he should have tested himself more.
Kovalev is the reigning WBO, IBF and WBA light heavyweight champion, basically the best in his division and (like Ward) is a top 10 P4P fighter who was quite subdued when asked about the "mega fight" in Nov – " I'm ready, He's ready. I want to say let's do this Nov. 19". Short and sweet.
To summarise and in case I didn't quite make it clear, I don't buy into the Ward hype. He's good, don't get me wrong, in fact he is elite class, however I think he has manipulated a lot of his career, especially when he was out of the ring for such long periods of time.
My view of the fight is, it will be very tough, a little nip and tuck and very cagey in the first few rounds, overall I think Kovalev will beat Ward, possibly on points, however I think he'll need to get the stoppage to ensure the win.
Where I do agree with Ward is with this – "The winner of this fight could possibly be pound for pound number 1".
Enjoy…"
John.