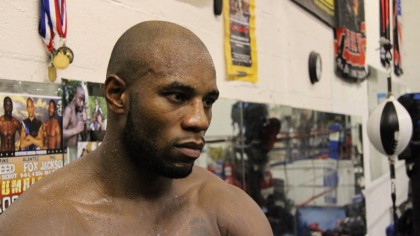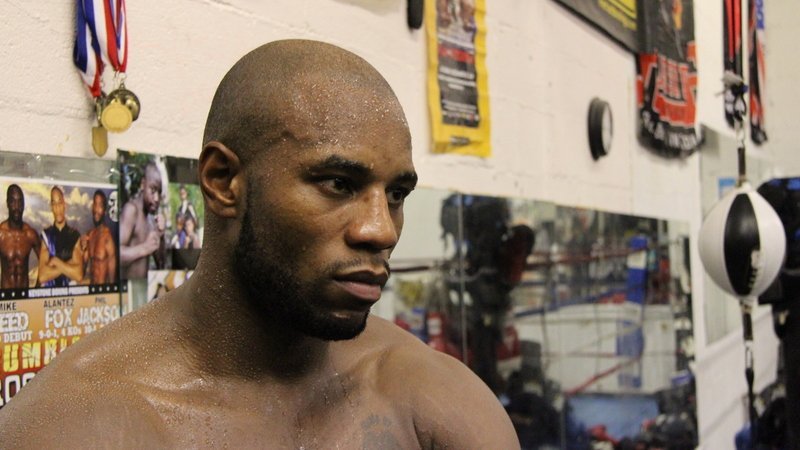 By Paul "Paparazzi" Jones & Justin Jones, Photo © Paul "Paparazzi" Jones– American Heavyweight titlist Seth "Mayhem" Mitchell (26-1-1, 19 KOs) held a closed media workout at the Dream Team Boxing Gym (MD) in preparation for his upcoming 12-round tilt against fellow U.S. contender Cristobal "The Nightmare" Arreola (35-3, 30 KOs).
The affable Mitchell and Arreola headline a Showtime Boxing – Special Edition® doubleheader on September 7th at the Fantasy Springs Resort Casino (Indio, CA). The telecast also marks the return of former World Champion Rafael Marquez (41-8, 37 KOs), 38, who battles the lesser-known Efrain Esquivias (16-2-1, 9 KOs) in a 10-round junior featherweight bout.
Mitchell appeared focused and fit—the leanest we've seen him to date—as he worked up a sweat while moving through a training circuit led by his trainer Andre Hunter. The session, which featured mitt and bag work, ended with questions from the media.
Mitchell is well aware that the hard-charging Chris Arreola is no easy out. "It's safe to say that (Arreola) is the toughest opponent that I've faced thus far," Mitchell said. Nonetheless, the Brandywine-native remains optimistic that he will win the match within the distance. "I don't think this fight is going to go to the scorecards. And I'm fully confident that I'm going to win."
Team Mitchell has also heard the criticism from naysayers, but remains unfazed. "I want to be in high stakes fights and this is a high stakes, high risk/high reward fight. People say this is a cash-out fight, but this is my cash-in fight. The winner moves on to another big fight and the loser starts over."
When asked about the barrage of trash-talk coming from his opponent's camp, he added, "I've heard all the talk, but I don't lose sleep over it. The only advantage I give to (Arreola) is experience. I don't concede anything else as far as speed, power, or boxing IQ."
Also intriguing is that Arreola, who fights out of nearby Riverside, will have the proverbial home field advantage for this bout. When asked about concerns over battling Arreola in his backyard, Mitchell said, "I'm not really concerned about it at all. If you do your research, you'll see that his three losses were in California. So he doesn't seem to fare well at home."
Mitchell is coming off a lackluster unanimous decision victory against Johnathon Banks (29-2-1, 19 KOs), which avenged a prior TKO loss to the Michigan-native. Arreola, who was soundly beaten by the elder Klitschko in a 2009 title fight, is looking to rebound from a unanimous decision loss to Bermane Stiverne (23-1-1, 20 KOs) in which he was floored in the 3rd round.
On paper, this match-up has all the makings of a fan-friendly scrap. Seeing how the powerful and athletic, but occasionally vulnerable Mitchell—who was stopped and wobbled in his bouts with Banks—deals with Arreola's pressure will be worth the price of admission. A more important subplot, however, will be how Arreola's surgically repaired nose responds to punishment from Mitchell. Recall that 'The Nightmare' fought a good portion of his April 2013 bout against Stiverne with a fractured nose. Though a testament to his toughness and durability, it remains to be seen whether Arreola will show any lingering effects from the surgery.
Both fighters aim to solidify their place in the Heavyweight title hunt for an opportunity to dethrone champions Wladimir and Vitali Klitschko (60-3, 51 KOs and 45-2, 41 KOs, respectively). The Klitschko brothers possess virtually all of the major titles in the division including the IBF, RING magazine, WBA (Super Champion), WBC, and WBO belts.
Though the loser of the Mitchell-Arreola clash will likely suffer a major setback in their quest for a major title, a rumored showdown with undefeated American Heavyweight Deontay "The Bronze Bomber" Wilder (29-0, 29 KOs) may await the winner. Wilder, an Olympic bronze medalist who has stopped all of his professional opponents, is coming off a chilling KTFO stoppage of former titleholder, Siarhei Liakhovich (25-6, 16 KOs). Reports indicate that the Alabama-native is open to taking on either fighter if the opportunity presents itself.