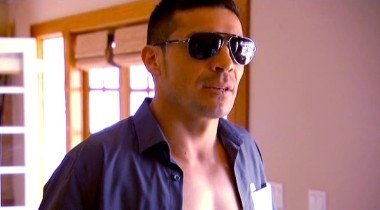 By Steve Mabbott: WBC middleweight champion Sergio Martinez (50-2-2, 28 KO's) doesn't see his opponent unbeaten British middleweight Martin Murray (25-0-1, 11 KO's) going the distance with him when they face off on April 27th at the Club Atletico Velez Sarsfield, Distrito Federal, Argentina.
Martinez said as quoted by the Sportsmole.co.uk "It's great that he should want to give his all and I was the same but the fight won't go past the eighth round."
Murray has good power and a lot of heart, but he's not special. He was staggered by Felix Sturm in their fight last year, and he's mighty lucky that Sturm didn't have more time to work on him in the 12th because he probably would have knocked him out. Most of the opponents that the 30-year-old Murray has faced in his career have been nothing special. The difference in experience against quality opposition between the two fighters is monstrous.
Murray faced really one good opponent during his entire five year pro career and that was Felix Sturm. The rest of the guys that Murray has faced have been domestic level opposition. In contrast, Martinez has been in with Kelly Pavlik, Antonio Margarito, Julio Cesar Chavez Jr, Matthew Macklin, Darren Barker, Sergiy Dzinziruk, Paul Williams, and Kermit Cintron.
Murray is going to try and slug with Martinez, because that's his style of fighting and that's not going to work out well for him. Martinez has the power, speed, mobility and the crowd in his favor for this fight. The only thing that Murray has going for him is his youth, and that's not going to be nearly enough for him to be able to do anything.
Martinez wants to get Murray out of the way and then go after the much more important bout against Chavez Jr. next year. That's going to be a real test for Martinez facing Chavez Jr. again because Chavez Jr. was able to hurt Martinez in the 12th round of their fight last September.