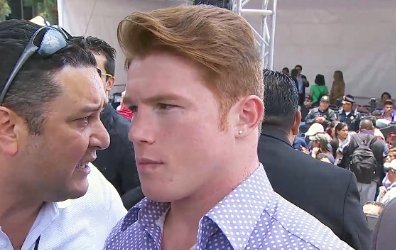 Golden Boy Promotions CEO Richard Schaefer sees the September 14th Floyd Mayweather Jr. vs. Saul "Canelo" Alvarez fight card as having a great shot at beating the 6-year old PPV mark of 2.4 million buys set by Mayweather himself against the original "Golden Boy" Oscar De La Hoya in 2007 near the end of Oscar's career.
Shaefer took a step in the right direction to break the PPV record with the addition of Lucas Matthysse vs. Danny Garcia to the fight card earlier today. That's going to help but I'm not sure if it's going to help enough.
When asked about the chance that Floyd-Canelo can break the 2.5M PPV record, Schaefer said, "I like our chances to break the PPV record."

— Dan Rafael (@danrafaelespn) July 18, 2013
The Mayweather vs. Robert "The Ghost" Guerrero PPV sales took a huge hit when Canelo chose to pull out of the card when he couldn't get Mayweather to give him a guarantee that he'd fight him next in September. Having Canelo on the card would have helped Mayweather-Guerrero do a lot better than it did.
The question now is whether the addition of Garcia vs. Matthysse will be a big enough plus to help set a new PPV record. It's a good but I'm not sure if that fight will be enough to break records. Golden Boy might need to add some other fights to the card to help beef it up for casual boxing fans.
Erislandy Lara vs. Austin Trout is one fight that's been mentioned record, but I don't see this fight as resonating with the casual boxing fans and with Canelo's fans. It might take another fighter like Victor Ortiz or Marcos Maidana to help generate more interest with Canelo's fans.
Lara isn't that popular in the U.S, and neither is Trout. It's a good fight though, but not likely one that will help bring in any additional PPV buys. Golden Boy needs to add some of their top Mexican fighters to the undercard and set up some good fights instead of the usual mismatches that PPV cards generally have.