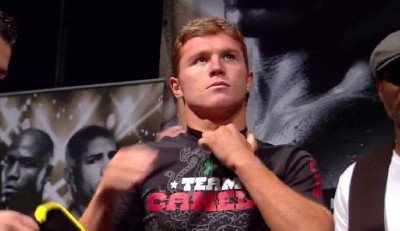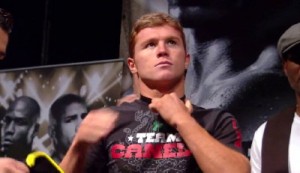 By Jeff Sorby: WBC junior middleweight champion Saul "Canelo" Alvarez (41-0-1, 30 KO's) has decided to pull out of the May 4th card on Showtime/CBS pay per view after failing to get Floyd Mayweather Jr. to agree to fight him on September 14th. That was the condition that the 22-year-old Canelo set for Mayweather Jr. in order to fight on his undercard and help pump up the PPV numbers.
So instead of Canelo fighting on May 4th, he'll be fighting on April 20th in a non-PPV bout on regular Showtime against WBA junior middleweight champion Austin Trout (26-0, 14 KO's), says Dan Rafael of ESPN. For boxing fans, this is a really good deal because they won't have to pay to see Canelo fight other than signing up for Showtime if they don't currently have it.
It's somewhat of a good thing for Canelo because he'll be seen a lot of boxing fans in theory, fans that might not want to pay $60 to see him fight on the Mayweather vs. Robert Guerrero undercard on May 4th. However, it's still a bad deal for Canelo because just by fighting on Mayweather's undercard on May 4th he would have been seen by millions of people around the world.
The visibility that Canelo would have received would have been absolutely enormous, and you can't get that kind of publicity the easy way. You can understand Canelo badly wanting to fight Mayweather, but it just looks like Canelo went about getting the fight the wrong way.
If Mayweather wants to fight him he's going to look to make the fight himself, but the way that Canelo was trying to get the fight by giving Mayweather an ultimatum was kind of wrong-headed. Mayweather isn't going to get pressured by anyone to do anything, least of all by an unproven 22-year-old fighter like Canelo, who has had things pretty easy due to Golden Boy's soft match-making for him his entire career.
Canelo had better hope he beats Trout on April 20th because if he loses the fight he's going to look silly in the eyes a lot of boxing fans given how he was trying to pressure Mayweather into a fight despite having proven nothing at junior middleweight other than the fact that he can beat welterweights and light welterweights.