Ryan Garcia came out swinging on Teofimo Lopez on Wednesday after hearing him talk some trash about him only being 'Hot on social media' but not in real life like him.
Ryan (21-0, 18 KOs) wanted to clear things up about his popularity being greater than his, and also letting fans know that Teofimo has been greatly exaggerating his win over Vasily Lomachenko, making it sound like he beat him up and dominated.
The reality is, Teofimo was in a worried state from the pressure that Lomachenko was putting him under, and he would have lost the fight if it were a 15-rounder, says Ryan.
As far as Ryan is concerned, Lomachenko (14-2, 10 KOs) deserves a rematch because the fight was close enough with Teofimo for him to rate one.
Ryan wants Teofimo to "Be a man" admit what really was happening in the Lomachenko fight, and say for real why you don't want to give him a rematch.
Ryan: Teofimo didn't beat up Lomachenko
"You beat Lomachenko, but did you destroy him? NO, you didn't," said Ryan Garcia to Fighthype on Teofimo's win over Lomachenko. "You didn't beat him how I would want to beat him.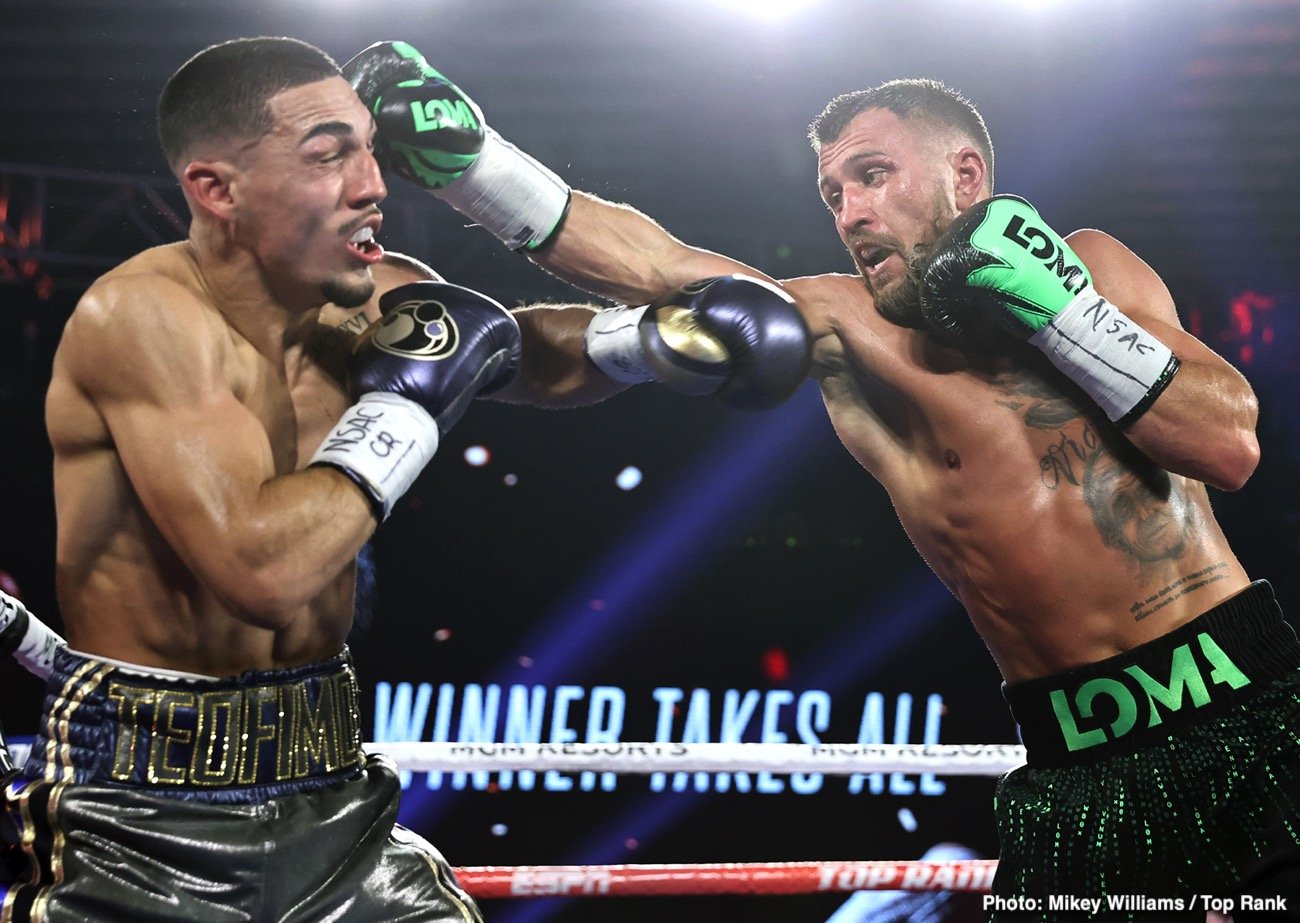 "I would want to knock him out. That's how I feel good about a victory, knocking you out or just outclassing your nasty. I honestly don't believe he did.
"I think that Lomachenko was gunshy for some reason. He got hurt twice [in previous fights]. He got knocked down by [Jorge] Linares, and he got hurt by [Luke] Campbell.
"So in that, he might have thought that Lopez was a harder puncher than even them. So he was gunshy in the beginning, which makes sense, but when he [Lomachenko] saw that it wasn't as bad as it seems, he started beating him up.
"Teofimo was getting beaten up in a couple of rounds, bang, bang, bang, bang. His head looked like reflex bag.
"His eyes were all swelled up, beaten up. So it's not like, so I don't like how he's trying to make it seem like he destroyed Lomachenko. And then say, 'He don't deserve no rematch.'
"Man, you didn't beat his a**. But you didn't beat him down to the point where it was undeniable, 'why would you give him a rematch.' If you're a real man, be a man. You didn't beat him down," said Ryan.
When Teofimo speaks about the Lomachenko fight, he might be preaching to the casual boxing fans that didn't watch it.
If they didn't see the fight, they'll receptive to the spin that Teofimo has put on the outcome, believing that he dominated. That clearly wasn't the case. Lomachenko got the better of Teofimo in rounds 8,9, 10, and 11.
Lomachenko deserves a rematch
"You did alright, but he does deserve a rematch in a way," continued Ryan Garcia about Teofimo's fight against Lomachenko.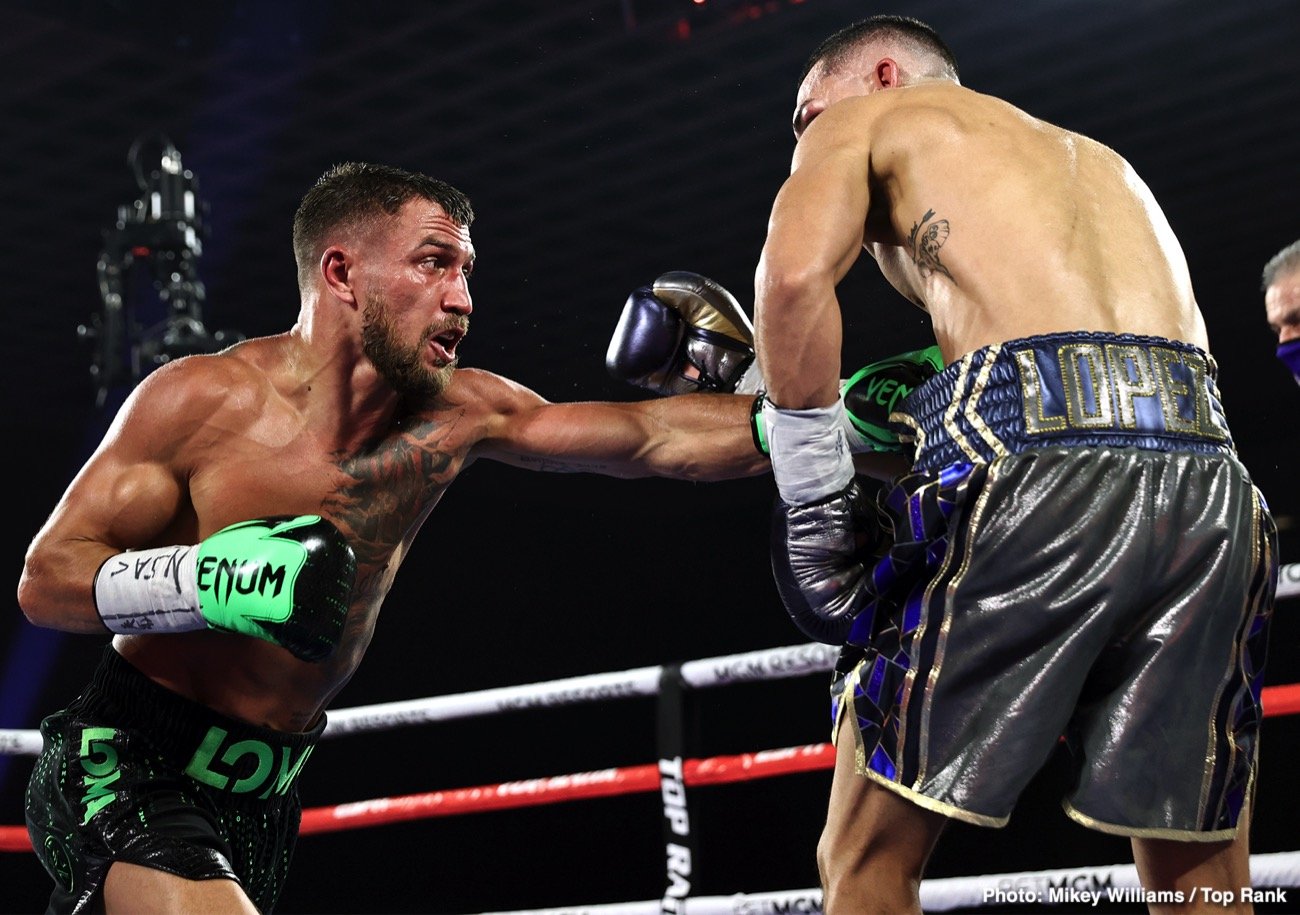 "If you don't want to give him one, I'll take him, but I'll go in to knock him out. I'll make it real clear," Ryan said.
"I'm not here to play. Whatever I got to do to last that good one, I will. I'll find a way to find it. That's just my mentality.
"Whether it happens or not, okay. But I'm looking to separate myself from him. I always feel like a man can make an adjustment to win, and I can make an adjustment to get further away.
"That's how I am, and that's what I want to say about that," Ryan Garcia said about Teofimo's habit of saying he dominated Lomachenko when in reality, he was really struggling. "
Lomachenko does deserve a second fight with Teofimo, but he's not going to get one and you read between the lines why that's so. Even though Teofimo would make more money in a second fight with Lomachenko, the risk would be too high for him.
Hence, we get to hear Teofimo say that he dominated Loma all the time, and how he's not going to give him a rematch between he didn't put a rematch clause in the contract.
That's not a great excuse for Teofimo not to fight Lomachenko again, but that's the only one he's got.
Teofimo would have lost if it were 15 rounds
"If this was 15 rounds, Teofimo is not winning that fight [with Lomachenko]. I don't care what anybody says," said Ryan Garcia.
"He wasn't in control that much. He knew it was the 12th round, and that's why he exploded a little bit.
"But if he knew it was 15, 'Ah, man, he's on me. He's on me.' He would have felt that coming at me.
"He knows the truly in his heart that he felt that pressure coming on. You can deny it all you want.
"We seen it in front of us, and that's just the truth of it. It's not a lie. This is actually what happened in the fight," Garcia said.
It's obvious that Teofimo was falling apart in the second half of the fight, and if it were a 15 rounder, he would have likely been knocked out by Lomachenko.
Shiny belts don't create a legacy
"I've already said this. Belts to me, they look good, they're shiny, they're gold and that's good," said Ryan Garcia when asked if the four titles Teofimo holds are important and mean anything.
"But they have no substance anymore, there's no wait on them. It's like buying jewelry, but there's no wait on it.
"It looks good but it has no substance. You really don't know who's champion anymore.
"I see it as that. It looks good, it looks sparkly. I can call myself a world champion if I want.
"I'm just Ryan Garcia, King Ryan Garcia, and that's what I want. Now we can fight whoever, that's it," Ryan said in pointing out the freedom he has as a contender and not being stuck fighting against no-name mandatory challengers that bring no value.
"That's all I see it. I don't see it as belts. People can say it all they want. 'That's legacy.' Legacy ain't that, legacy is what people remember.
"They don't remember Muhammad Ali because he was champ. They remember because he was Muhammad Ali.
"They don't know [what belts he had]. He was Muhammad Ali. It's yourself, which is what you leave for the people, the truth.
"You give them something. It takes a lot to reach that level. So you give them what you find out, what you know," said Ryan.
Teofimo seems confused by his belief system, which makes him think that having more titles will validate his career in the eyes of the fans.
The only fans that are aware that Teofimo holds four belts are the hardcore boxing fans, and they know enough about the sport to realize that he appears to be ducking Lomachenko and Devin Haney.
It's a waste of time and money for Teofimo to try and hold onto all four titles.
Ryan picks Haney to beat Teofimo
"They should get it on," said Ryan about his view that Teofimo should face Devin Haney. "I got Devin, not by a lot, but I got Devin Haney [beating Teofimo].
"You saw with Nakatani, Lopez was having a little bit of trouble with that right hand over the top.
"I think Devin is even a little more craftier, and obviously more crafty than Nakatani. Nakatani is a game fighter.
"I think Devin beats Teofimo. I think Teofimo has a great fight with Tank, but I still think Tank beats him. I feel that Devin beats Tank, and I beat Tank. I beat everybody," said Ryan.
WBC lightweight champion Devin Haney would have an excellent chance of beating Teofimo if that fight happened right now.
You can argue the real reason why Teofimo is taking the fight against George Kambosos Jr is to try and boost his own self-confidence because it's still got to be shaky due to the problems he was having against Lomachenko when he started taking the fight to him in the second half.
Teofimo still not super popular
"Let me talk about one thing that Teofimo said. 'They hot for social media, but I'm hot in real life,'" said Ryan Garcia.
"What are you talking about? You know how long I've been getting that? 'You're only big on social media.'
"Everywhere I go, I get stopped. I just beat Luke Campbell, so you can't really say anything about my boxing ability.
"Don't make a lie. It's one thing to say something, but don't lie. It don't sit right with me.
Don't lie that we're not hot. You're kind of hot," Ryan said about Teofimo. You're scratching the surface.
"To be honest, Teofimo is far behind to getting to the level where we're at. When I think of Teofimo, I think about acrobats doing the jumping," said Ryan Garcia.
Teofimo is still an unknown with casual boxing fans, and he's going to stay that way no matter how many interviews he gives. He's got to start fighting quality guys, and it looks like he's not eager to take on the best.