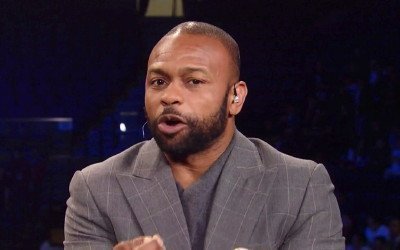 As he continues to fight on at 46, it would seem that future Hall of Fame Inductee Roy Jones Jr has again dipped his finger into training, this time helping to prepare Russian WBA (reg) champion Fedor Chudinov for his September 26th maiden defence against Frank Buglioni in London.
After a brief flirtation training welterweight contender Jessie Vargas recently, Jones, who boxes in England himself on September 12th, has turned his attention to the Eastern European fighter, perhaps owing in part to his close relationship with Chudinov's promoter Vlad Hrunov.
"Fedor is doing great right now and we're preparing to come over to England and win (sic) the world title," Jones said.
"Buglioni's a very good and very smart fighter and Fedor has to learn that although Buglioni is taller than him, he has to make Buglioni reach down with his punches to bring him closer to him to unload his own punches. If Fedor stays high then it will be easier for Buglioni to reach him."
Chudinov, who outhustled and upset Felix Sturm to win the belt earlier this year, has been accused of being slightly one-dimensional, and there are some aspects of his game that Jones wants to try and change, in hope of making him less hittable.
"What I want to do is to teach him left and right head movement to slip punches more, because right now he's a little straight up," Jones said.
"He's got great footwork. I love his footwork, mix it in with the left and right head movement, with the footwork so he can roll under Buglioni's punches and use his feet to get away. If he can improve his head movement he'll be in great shape."
Buglioni, who is getting a 'surprise' opportunity at the title, is going to be up against it in the eyes of most pundits, although in fairness, if he was to get a shot at anybody, then Chudinov – just a 13 fight pro himself – is the most winnable fight of all the champions at 168.
Jones however, claims he doesn't see anything to worry him regarding his man's chances.
"I believe that Fedor will win without a problem. I think he can catch him late with some good body work."
Twitter @Undilutedpoison