By Joseph Herron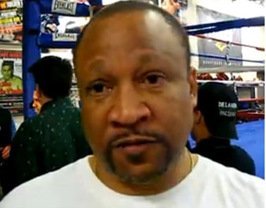 – On Thursday afternoon, October 27 th , the boxing world learned the tragic news of the untimely passing of boxing legend Emanuel Steward.
While every boxing pundit felt the loss of the all time great fight trainer, maybe none more profoundly than expert trainer Ronnie Shields. The lifelong boxing proponent initially met Emanuel when he was competing as an amateur boxer at age 13.
After their early encounter, the mutual friendship grew over several decades and was based on a genuine fondness and deep rooted respect for each other.
Ronnie shared his personal feelings on the air during Sunday night's episode of "The Pugilist KOrner's: Weekend Wrap".
"Thursday was probably one of the worst days I've ever experienced in my entire life," admits expert trainer Ronnie Shields.
"Emanuel was a very dear friend of mine and we talked all of the time about everything. We never think about the possibility of a person like Emanuel leaving us at any moment, because when you're around a person like him you take for granted their presence and think they're going to be with you always."
"I know a lot of people feel the way I do and will miss the person that Emanuel was because of how much he cared for everyone and how much he did for everybody around him. Thursday was a very bad day, but we have to celebrate his life and realize that Emanuel lived his life the way he wanted to and he was happy with what he did. That makes it a little bit easier to deal with."
Although Ronnie was hurt with the devastating news of Emanuel's passing, the prolific boxing coach recognizes why the loss was so impactful to so many people around the world.
"Everything about Emanuel was so good. When you hear about so many people who knew him and no one had anything bad to say about the man, that tells you what kind of person he truly was. Everyone who truly knew him wanted to be around Emanuel."
"The most important thing to Emanuel's heart was his fighters. That was everything to him."
Not only did Emanuel love his boxers, but he also had a passion for the culinary arts as well.
"Emanuel would also tell me that he would cook for Andy all of the time. He cooked for all of his fighters. If you really knew Emanuel, you knew that he loved to cook and he was good at it. I remember one time Emanuel told me that he cooked for Lennox Lewis and his mother, because Lennox used to bring his mother to camp sometimes. Don't get me wrong, Lennox's mama cooked a lot, but Emanuel cooked a lot of the time too because he was so good at it."
Ronnie recollects on a conversation he had with all-time great Heavyweight Lennox Lewis about the late Emanuel Steward and his impact on the former Champ's career.
"You know, I've spoken with Lennox a lot and he's told me that he realizes he would have never become 'The' Heavyweight champion of the world if it weren't for Emanuel Steward. He said that he knows he could have never recognized his true potential in the sport without Emanuel's involvement. There are so many testimonials like that from so many of his fighters. But that was the impact Emanuel had on the sport. Emanuel gave his entire life to boxing and the world of boxing owes him a lot."
"I've always said that Emanuel Steward was the best trainer in the sport. I meant it then and I mean it now. Without a doubt, Emanuel is the very best."
According to his friend Ronnie Shields, Emanuel was always fixated on finding ways to improve the sport of boxing. One faction of boxing that Emanuel was in the process of "humanizing" was the consistently scrutinized business end of the sport.
"One thing that Emanuel was very proud of was forming his own promotional group and creating regular shows for the Kronk Gym fighters. He was so knowledgeable about matchmaking, promoting, and really cultivating a fighter the right way. All of his fighters knew that they would always get paid what they were owed when fighting on an Emanuel Steward fight card."
"There's no doubt in my mind that Emanuel would have built his promotional company into one of the biggest and most well respected in the industry because he genuinely cared about his fighters so much. He simply ran out of time."
Not only did he leave his promotional company with unfulfilled plans, the future of the Kronk Gym and its fighters are quite uncertain at this time.
"He gave everything for his fighters," professes Ronnie Shields. "All of his money, all of his efforts, and all of his time went into developing his boxers at the Kronk Gym. He would pay to have them travel and compete all over the world in amateur competitions. Boxing took Emanuel off the streets and he felt passionately about giving the kids of the community the same opportunities to gain the same important values he learned in the gym; the same principles that helped make him the successful person that he was."
"Emanuel talked about this a lot. He knew that the competition and hard work in the gym gives young people the character it takes to be a success in life… not just in the gym, but in life. He stressed that all the time. He would put on seminars and clinics all of the time in different cities around the world. He always told me that we had to get these kids involved in boxing early and keep them off the streets."
"He knew how tough it was for some kids that didn't get the positive reinforcement at home. He knew that they stood a better chance of making it in this world after spending time in the gym, rather than being left alone on the streets. And he was right…he was always right."
"His number one thing in this world was boxing. He truly believed that boxing built character."
"You never heard Tommy Hearns, Hilmer Kenty, Milton McCrory, Jimmy Paul, Duane Thomas…none of those guys ever getting themselves into serious trouble, and that was because of Emanuel Steward. He loved each and every one of those guys like a father would love his children and he really took care of them."
"Most recently look at his relationship with Andy Lee. He let Andy Lee stay with him at his house. He would tell me that not only were they best of friends, but that Andy really respected him as a man and a trainer. Andy really listened to and trusted Emanuel."
"Emanuel was unbelievable…he really was. He did it all. He was more than a trainer, he was more than father, he was more than a promoter or manager…he was everything to all of his guys. The world of boxing is really going to miss Emanuel Steward."
With the uncertain future of the legendary Kronk Gym, fight fans can visit www.Kronkgymfoundation.org to make a charitable donation, and help continue the unfulfilled plans of the great Emanuel Steward. Help make a difference in a young fighter's career by contributing to the winning traditions of the world renowned Kronk Gym.