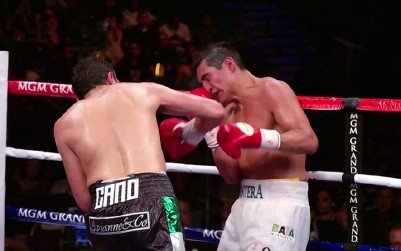 By Dwight Chittenden: Former four division world champion Erik Morales (52-8, 36 KO's) sees himself schooling unbeaten WBA/WBC light welterweight champion Danny Garcia (24-0, 15 KO's) in their fight on October 20th at the Barclays Center, Brooklyn, New York. Morales already fought Garcia last March and was decisively beaten by a 12 round unanimous decision by the scores of 117-110, 116-112 and 118-109.
Morales looked stiff, slow and old in that fight. The performance has since been partially blamed on Morales having recently come off of gallbladder surgery. While that sounds like a good excuse it doesn't take away from the fact that he was beaten by Garcia, and it's hard to see Morales improving enough from that fight to beat him in the rematch next October.
Morales said this about the Garcia rematch to Suljos.com "I think Danny Garcia is talking too much. He feels confident but I warn him I will defeat him. I will take him some boxing."
It would be a huge upset if Morales were able to defeat Garcia, because Morales hasn't been dominating anybody since making a comeback in 2010. Morales has struggled in all six fights he's had since staging a comeback, losing two of the fights and you can make an argument that he should have lost another one of the fights, this one against Jose Alfaro.
At this point the best I can see Morales doing is losing by a narrow decision if he's lucky. He can't pull the trigger with his shots like he once did, and his stamina and work rate are problems for him. To beat Garcia, Morales will have to be able to throw a lot of punches and not wear down late in the fight like he did in his last to Marcos Maidana last year in April.
Morales could retire if he gets beaten by Garcia. It'll be sad to see him go, but I don't see where Morales can make a difference at light welterweight. He's not going to beat any of the champions that's for sure. If his goal is to stick around to try and get a big money fight, then I think that's possible if he can take on some fringe contenders and pick up some wins. Maybe someone like Manny Pacquiao or Juan Manuel Marquez might show some interest at some point in fighting Morales, but then again maybe they won't. In that case, Morales would be better off retiring.