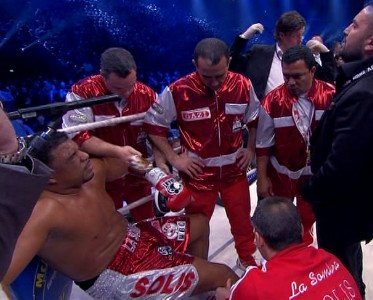 By Marcus Richardson: Former 2004 Olympic heavyweight gold medalist for Cuba Odlanier Solis (18-1, 12 KO's) will be fighting 37-year-old unbeaten Norwegian heavyweight Leif Larsen (16-0, 13 KO's) on October 12th at the Madrid Arena, in Madrid, Comunidad de Madrid, Spain in a scheduled 10 round bout. The 6'4″ Larsen played professional football with the Buffalo Bills from 2000 to 2001. He's been a pro boxer since 2003, but failed to fight 2008 and 2009.
Before he faces Larsen, Solis, 32, has an eight round fight scheduled on September 14th against Erkan Teper (8-0, 6 KO"s) at the Tabea-Areal, Halle an der Saale, Sachsen, Germany. This will be Solis' second tune-up fight after tearing up his right knee in a 1st round knockout loss to WBC heavyweight champion Vitali Klitschko in March of last year.
One of Solis' problems since turning pro in 2007 is his weight. Although only 6'1 1/2″, Solis has fought much of his career between 250 and 270 pounds, and the weight could have been a factor in Solis blowing out his knee. He's put on a great deal of weight since his amateur days when Solis fought at 200 lbs. You can understand Solis putting on a little weight after turning pro, but 50 to 70 lbs is just an incredible amount of weight to slap on.
The fact that Solis is still a fast heavyweight with a lot of talent just shows you how good he was as amateur. For him to be able to still fight at a high level despite caring around all that extra weight is just a credit to how good he was. However, it's too badly that he can't trim off 30 to 50 pounds and fight in the low 220s because he would be such a good heavyweight.
Solis will probably destroy Larsen with no problems in October, and and of course take care of the inexperienced Teper on September 15th. But Solis is going to have to get his weight under control if he wants to beat the better fighters in the heavyweight division.