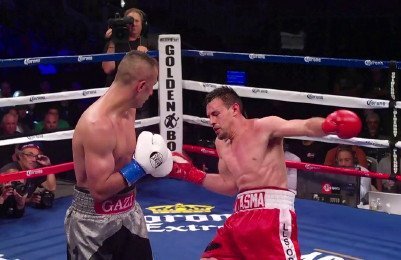 By Rob Smith: WBC interim welterweight champion Robert "The Ghost" Guerrero (30-1-1, 18 KO's) confronted former WBO super featherweight champion Adrien Broner (24-0, 20 KO's) during Friday's Chad Dawson – Andre Ward weigh-in in Oakland, California. Guerrero had a pack of his supporters behind him as he jawed at Broner trying to get him to step up three divisions to fight him 147 lbs.
Here's how the discussion went:
Guerrero: "Let's do it at 147. Let's do it at 147."
Broner: "I can come down to 147. You know what it is. The same s*** we've been talking about. I still got my O. I still got my O. I still got my O. I still got my O. Make it happen. Send the contract and I'll sign."
Guerrero: "We can do it at 147. We can do it at 147. Remember that, baby. He didn't want no eye contact, baby. He didn't want no eye contact."
To be sure, Broner wasn't making a lot of eye contact with Guerrero during their discussion and Guerrero appears to have took that for fear. He laughed about with his supporters after Broner had walked away. Broner didn't look as if he was ready for the confrontation, whereas Guerrero it appeared that he was ready to confront Broner. He had his lines ready to try and get a fight.
Later that night, Guerrero said this on his twitter page: "Had to step up to the young pup @AdrienBroner and let him know what's up. He walked away with his head down. 147 let's go! Its time these fighters stop hiding behind their promoters & managers! Its clear @AdrienBroner doesn't want none of the Ghost!"
Guerrero isn't exactly bending over backwards to try and make it an easier fight to be put together. If he's really serious about wanting to fight Broner then you'd think he would at least agree to some kind of catchweight. By telling Broner to come up three entire divisions to fight him it's as if Guerrero doesn't want the fight to happen, because there's no give at all with his negotiation attempt. Why doesn't Guerrero want to meet Broner at least at 142 to make the fight easier to be put together?
At the end of the day, Golden Boy Promotions, the promoters for Guerrero and Broner, will likely block this fight from taking place. If Broner beats Guerrero, which would likely happen because Guerrero has zero power at welterweight, Golden Boy would lose out on perhaps their only chance of landing a Floyd Mayweather Jr. fight. Believe me, they're probably not going to get Guerrero take this fight and get beaten by Broner. Guerrero can't punch and is just a tall, slow fighter at welterweight. He's not going to beat Broner and he definitely won't beat guys like Andre Berto. That's a fight that has been mentioned recently. Berto would destroy Guerrero no problem.