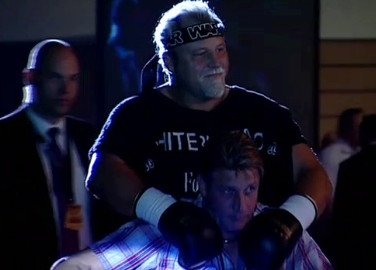 By Kevin Chittenden: Undefeated German based heavyweight contender Francesco Pianeta (27-1-1, 14 KO's) defeated soon to be 44-year-old South African Frans Botha (48-8-3, 29 KO's) by a 10 round unanimous decision on Friday night in a fight that almost more like a sparring match than an actual fight at the RWE Rhein-Ruhr Sporthalle, Muelheim, Nordrhein-Westfalen, Germany. The 6'5″, light hitting Pianeta swept the judges' score cards winning by the scores of 100-96, 99-92 and 97-93.
Botha was dominated in the fight but still was able to land the harder shots and the cleaner landing punches. Pianeta just does not have any power to speak and the best he could do was land weak left-right combinations that did little to slow down Botha's forward moving progress. Botha fought well in the 4th and 10th rounds, out-working Pianeta.
Botha did a lot of jabbing and would often fight with his back against the ropes to catch breathers. It was an ugly fight to watch.
It was pretty one-sided from start to finish and not because Pianeta is a good heavyweight. He's pretty basic and will no doubt lose to anyone good, but he seems to be getting groomed with weak opposition the same way that another German based heavyweight contender Manuel Charr is, so don't be surprised if you see Pianeta in with IBF/WBA/WBO heavyweight champion Wladimir Klitschko in the near future. That seems almost a given at this point and it'll be a sick mismatch, probably worse than Wladimir's easy wins over Tony Thompson and Jean-Marc Mormeck.
In his last five fights, Pianeta has beaten 43-year-old Botha, Zack Page, 39, Robert Hawkins, 42, Ivica Perkovic, 38, and Samir Kurtagic, 36. You have to wonder why Pianeta's management is matching him up against so older fighters.
It's only a matter of time before Pianeta is picked out by Wladimir for a title shot. It'll be a sad fight when that happens. It's too bad that heavyweight contenders aren't required to beat at least one other heavyweight contender before getting a title shot because we could then avoid some of the especially terrible mismatches like tonight's fight between Manuel Charr with his inflated record against WBC heavyweight champion Vitali Klitschko.