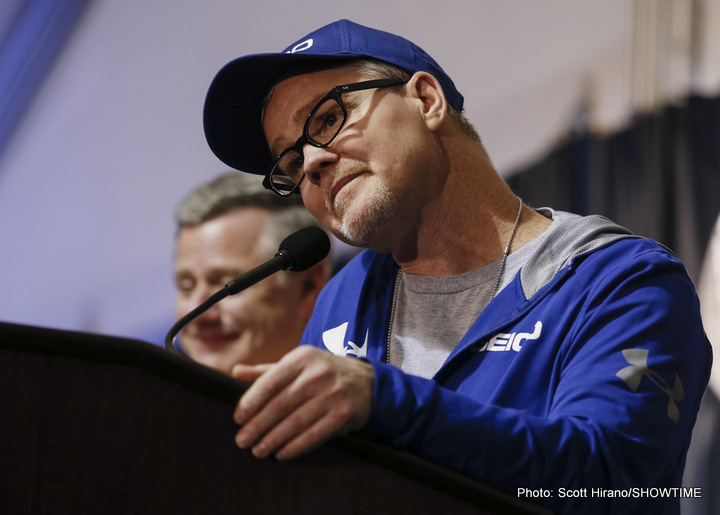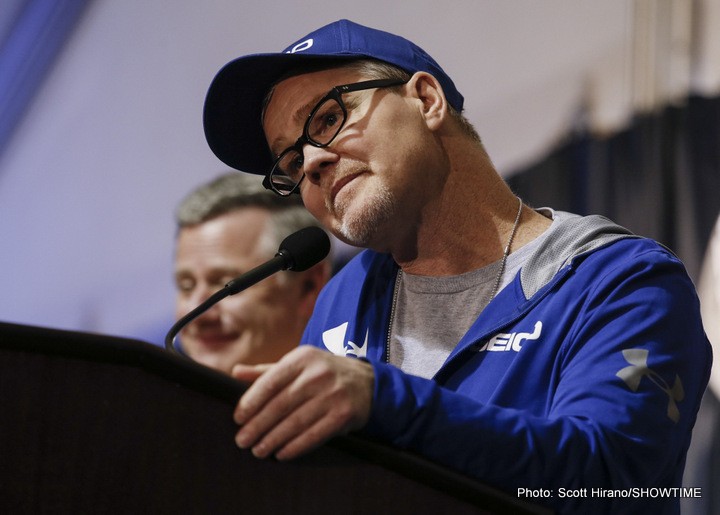 When he returns to the US in the next fortnight to meet with surgeon Dr ElAttrache and to begin rehab on "that" rotator cuff injury, Manny Pacquiao will no doubt be meeting with trainer and Wild Card gym boss Freddie Roach to discuss exactly "what's next?"
In what can perhaps be perceived as a thinly veiled dig at Floyd Mayweather's recent "Berto talk" regarding his September 12 opponent, Roach has spoken out to USA Today in a recent interview, to insist that when the Filipino star does indeed return to the ring, he wants him matched "tough."
Retirement it seems is not an option for Pacquiao, who was mocked by Mayweather in a widely circulated social media video last week that saw Floyd slapping around a dummy and poking fun at the shoulder injury.
Roach said of Manny and his attitude to the game;
"He's still having a lot of fun with it. He loves the sport. I think he's got a couple of fights left in him."
Promoter Bob Arum spoke to media last week to advise against any 2015 return, insisting that while he "wasn't a doctor", he'd leave it until next year to make a return, by which time Pacquiao will be 37 years old.
With the recent lawsuit filed by Top Rank against Mayweather's advisor Al Haymon joining that of Oscar De La Hoya's Golden Boy outfit, one can probably rule out the Mayweather return, yet Roach wants an opponent who will test Manny, saying he wants him to "go back into the deep water" with whoever is in the opposite corner.
Regarding him being tested rather than fighting a warm-up, Roach said;
"I think that's what we're looking for, so it's going to have to be a tough opponent."
"Is a rematch (with Floyd) possible? I'm not sure."
Bob Arum reportedly has designs on Pacquiao returning against the likes of 140 lb puncher Lucas Matthysse, IBF welterweight champion Kell Brook or Omaha's Terence Crawford – who himself recently moved to 140 and took care of Thomas Dulorme in some style.
It's highly likely that should Britain's Amir Khan fail to secure the Mayweather fight he desperately craves in September, then he will begin making loud "Pacquiao noises" also, and seek the fight with his former Wild Card stablemate as something of a "2nd best" option.
Khan left Roach in 2012, citing the trainer's devotion to Pacquiao and his Parkinson's disease as contributing factors in choosing to defect to Virgil Hunter, whose services he currently employs.
Twitter @Undilutedpoison