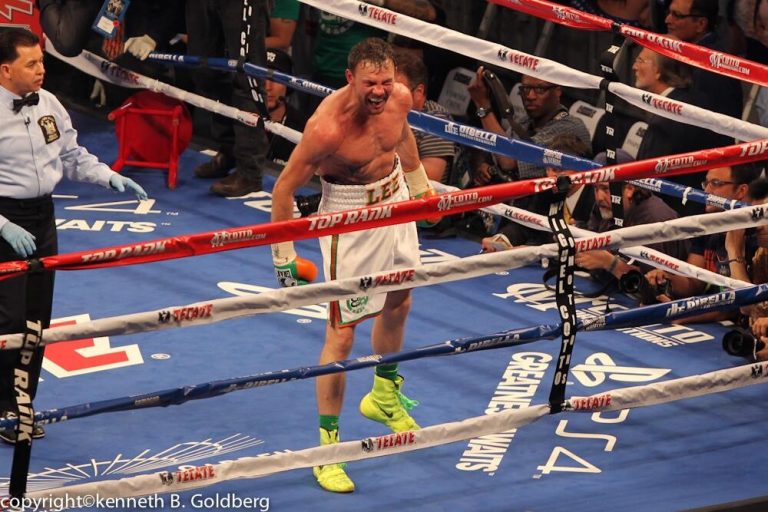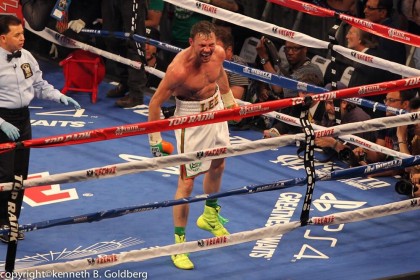 On September the 19th, WBO middleweight champion, "Irish" Andy Lee, will make the 2nd defence of the strap he won against Russian Matty Korobov in December of last year when he squares off against mandatory challenger Billy Joe Saunders at Thomond Park Stadium, Limerick, Ireland.
The history making fight will be the first time two men of traveller origins have contested a version of a world championship, and in a chat with Boxing News magazine, Lee not only asserts he will end the Hatfield fighter within 5 rounds when they do meet, after hand he wishes to correct a 2012 KO loss to Julio Cesar Chavez Jr.
In addition to Chavez, he claims to also be interested in another fight with Peter Quillin, against whom he drew back in April – but he is not looking past Billy Joe.
Lee expects fellow southpaw Saunders to bring skill and desire with him into the ring – but doesn't think it will be enough against his own toughness, strength and in-ring savvy;
"Everything he can do I can do to a better standard and I also have the power. He might win one or two early rounds – but by the fourth or fifth, I'll find the punch to end the fight."
Lee is used to coming from behind in a fight to find the "money-punch". Last year he did exactly that twice against John Jackson and Korobov after being under considerable pressure, and he was also down twice against Quillin in April before finding his way back into the fight and battling to a draw.
Saunders is not the puncher that both Jackson and Korobov were but he is arguably far more skilled being a former Olympian, and showed against Chris Eubank Jr last November what it takes to look good against a fighter with dangerous power.
Lee, is aware of this;
"Saunders is very talented, highly skilled but also fiercely competitive as well. I was impressed that against Eubank he went straight to work. He didn't allow Eubank to settle and that showed his experience."
"Saunder's biggest strength is that hunger, that personal pride. He can't allow himself to be beaten but that can only take you so far. I'm the better fighter all-round."
And Lee, once trained by former Kronk legend, the late Manny Steward, and now under the tutelage of Adam Booth, has one eye set on the future post-Saunders – all without looking past his Romani gypsy rival.
"I've got to beat Saunders. He's my mandatory challenger – but after that it frees me up. I wouldn't mind a rematch with Quillin – we have unfinished business – and it's also important for me to avenge my 2012 loss to Julio Cesar Chavez Jr."
Twitter @Undilutedpoison