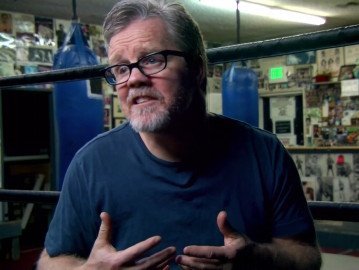 As far as trainer Freddie Roach is concerned, 34-year-old Manny Pacquiao (54-5-2, 38 KO's) is a do or die situation in his next fight against former WBA lightweight champion Brandon Rios (31-1-1, 23 KO's) on November 23rd at the Cotai Arena, Venetian Resort, Macao, Macao S.A.R., China.
Roach says he's going to tell Pacquiao to retire from boxing if he loses that fight because it'll have been Pacquiao's third straight loss and obviously a clear sign that he's over-the-hill as a fighter.
Roach said in an interview with ESPN "Yeah, if he loses I will tell him to retire. If you lose three in a row it's your time. He's up there in age, I've got to keep a close eye on him. I will do the right thing. I don't want him to be a stepping stone."
Roach will tell Pacquiao to retire but will he listen to him? What about Pacquiao's promoter Bob Arum? He's opening up new markets in China in pay per view. Will he be pleased that Roach is telling his Chinese market opener to retire? It could be a situation where Roach and Arum have different wishes as far as Pacquiao's future goes after his fight with Rios should he lose that one.
Can Arum open the Chinese markets without Pacquiao? Probably. He's got Zou Shiming, the Chinese former two-time Olympic gold medalist that he can sell toe Chinese markets. However, will Chinese fans be willing to pay $5 to see Shiming when he's only had 1 fight as a pro?
I don't know of any situation in the United States where boxing fans were asked to pay to see a fighter with only 1 pro victory, and I think Arum might have a hard time selling him to his Chinese fans unless he's got someone like Pacquiao to package along with him.
What would be a tragedy is if Pacquiao turns into a stepping stone for other fighters to get a name. We saw that Shane Mosley with Pacquiao and Saul "Canelo" Alvarez fighting him when Mosley was well past his prime. I guess it could happen to Pacquiao if he insists on continuing his career if he gets blasted out by Rios.