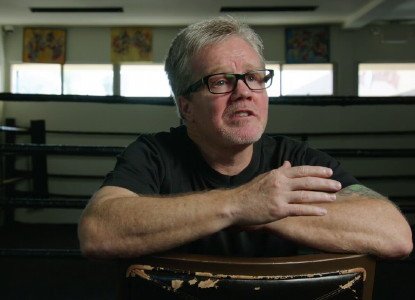 Share the post "Roach: If Pacquiao loses to Bradley, he might need to retire"
Trainer Freddie Roach is saying that his fighter Manny Pacquiao (55-5-2, 38 KO's) may need to retire from boxing if he loses his fight this Saturday night against WBO welterweight champion Tim Bradley (31-0, 12 KO's). Roach sees the fight as one that the 35-year-old Pacquiao can't afford to lose.
A defeat in this fight will be Pacquiao's third loss in his last four fights, and that obviously would have a major effect on his future earning power in terms of his pay-per-view fights.
"This is a 'must-win' situation on Saturday night, and if we don't win this fight we have to consider maybe retirement," Roach said to the Telegraph Sport. "So this is a big, big fight for him. We are in a 'must-win' situation, it's as simple as that. Some people think we are all done and we have to prove that we are not."
Right now, Pacquiao is still fighting on PPV despite having lost 2 out of his last 3 fights. His last PPV bout against Brandon Rios brought in just 475,000 PPV buys, which is the lowest total for Pacquiao for many, many years. His promoter Bob Arum blames the low figures on his decision to stage the fight in Macao, China, but it's also quite possible that boxing fans are starting to lose interest in paying to see someone with that many defeats. Will boxing fans still want to pay big money to see Pacquiao fight if he gets beaten by Bradley? I don't know.
If his promoter Bob Arum backs him off and starts matching him against the likes of Rios or Mike Alvarado, I see his PPV buys continuing to plummet. Pacquiao would have to try and line up an immediate rematch with Bradley if he loses the fight. But would the World Boxing Organization be agreeable to having Bradley fight back to back fights against Pacquiao? Sadly yes. With the sanctioning fees being big for that fight, they'll probably let Bradley fight Pacquiao as many times as he want consecutively.
As for whether Pacquiao should retire or not, I think it would be wise for him to do so if Bradley knocks him clean out the way that Juan Manuel Marquez did or if he beats him easily by another decision. I don't know where Pacquiao could go from here. With his promoter Arum matching him against mainly his Top Rank fighters, there wouldn't be a lot of options for him if he couldn't get an immediate third fight with Bradley.
It's possible Arum could match Pacquiao against someone like Mikey Garcia or Marquez, but you would have to think that the interest in those fights would be considerably lesser due to Pacquiao's second loss to Bradley.
Share the post "Roach: If Pacquiao loses to Bradley, he might need to retire"