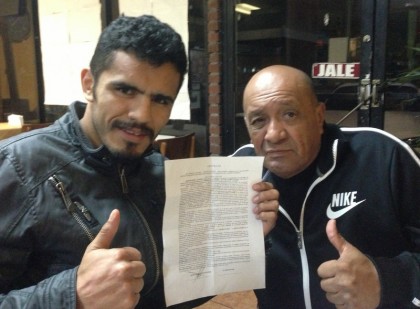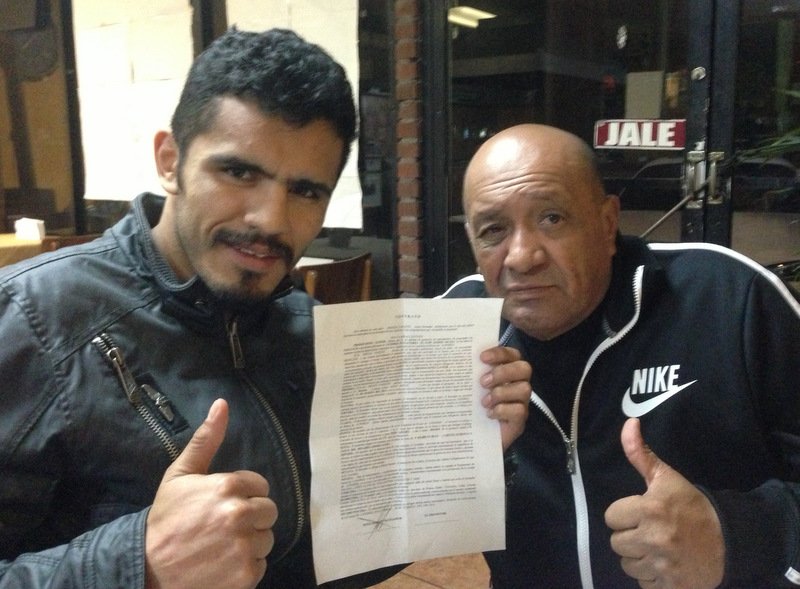 Photo: Vazquez with manager and trainer Javier Capetillo holding a signed bout agreement
By Jeff Sorby: Contrary to the news that came out yesterday about IBF lightweight champion Miguel Vazquez saying a fight between him and WBO lightweight champion Ricky Burns isn't a done deal for March 16th, Frank Warren Promotions, the promoter for Burns, is saying the fight is going to take place on that date.
East Side Boxing has obtained an a signed letter of acceptance from Vazquez's promoter Juan Carlos Torres of Zanfer Promotions that confirms the agreement for the Burns-Vazquez fight on March 16th. The acceptance was signed on January 10th, 2013.
East Side Boxing also obtained an e-mail from Torres to Frank Warren Promotions matchmaker Dean Powell on January 10th that confirms the fight four days prior to Mr. Warren announcement of the fight in a press conference in London.
Here's what Vazquez said in an interview with esnewsreporting.com this week: "Nothing is complete. We're waiting from the response from their promoter. If they can come to an agreement then probably there will be a fight between them."
It's a mystery why Vazquez is talking about the fight not being complete when it appears to be a done deal for that date. Was Vazquez putting the interviewer on or is this a case of him possibly getting cold feet with the time approaching fast for the fight? It's hard to say, but the interview Vazquez looked dead serious like he really did mean what he said about the fight with Burns not being complete.
The Burns-Vazquez fight is scheduled for March 16th at the Wembley Arena in London, UK. This is going to be an exciting fight because both champions bring a lot of skills to the table for this fight. Burns will have the crowd in his favor, but Vazquez is used to fighting on the road in front of hostile crowds.