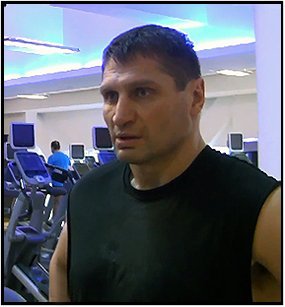 by Geoffrey Ciani – Andrew Golota is a poster boy for unfulfilled potential in boxing. His unique adventures through the heavyweight rankings were interesting, unpredictable, and sometimes downright bizarre—and apparently his journey is not yet finished. This Saturday, 45 year old Golota (41-8-1, 33 KOs) will step inside the squared circle for the first time in more than three years when he is pitted against fellow Pole, Przemyslaw Saleta (43-7, 21 KOs). Saleta himself turns 45 this March and has not seen action in over seven years, effectively rendering this into a pick'em fight between two old war horses both absent from the battlefield for quite some time.
The boxing history books will show that Golota was unsuccessful in four bids for portions of the heavyweight crown, one against each of the four major sanctioning alphabet organizations. These were bookended by devastating first round knockout losses at the hands of Lennox Lewis (WBC) in October 1997 and Lamon Brewster (WBO) in May 2005. In between he had a solid showing in a twelve round draw against Christ Byrd (IBF) in April 2004, and followed that up with a good account of himself in a somewhat controversial loss against John Ruiz (WBA) that November. Even though he failed to secure a title belt in '04, many observers felt that Golota did well enough to deserve a victory in both contests.
Despite his lack of success in four championship fights, Golota still remains best known for another pair of losses, those of course being back-to-back disqualifications against Riddick Bowe in 1996. The two Bowe matches are basically remembered for repeated low blows and the unfortunate incident that erupted into the Madison Square Garden riot at the conclusion of their first bout. Golota would forever become identified with low blows following the Bowe fights. His reputation was severely tarnished. He was a dirty fighter. Members of the media even began referring to him as 'The Foul Pole'. This reputation persists. To this day, any fighter penalized for repeated low blows during a match will inevitably have his name mentioned alongside Golota's. In fact, I specifically even remember watching Mares-Agbeko with several fans, one of whom was quick to quip, "Man! Mares just went all Golota on King Kong!"
What many people forget about the Bowe fights, however, was that Golota exhibited great skills that nicely complimented his physical attributes. Golota possessed a powerful right hand and a sharp left hook. He was fluid in his movement, decently agile on his feet, and had deceptively quick hand speed. Andrew was big, strong, and somewhat elusive. His best weapon was his jab, and around the time of the Bowe fights some in the media were even actually comparing it to that of the great Larry Holmes. Golota clearly had talent and was mixing it up and often getting the best of Riddick Bowe, who despite not being officially recognized as a world champion at that time was still widely regarded as the best heavyweight on the planet.
In retrospect many observers now look back and say that Bowe was a "shot fighter" when he faced Andrew. After all, Hall of Fame trainer Eddie Futch parted ways with Bowe following the first Golota fight. Fucth felt that Bowe was wasting his time and was perturbed that Bowe was not fully dedicated to his training and living the lifestyle of a champion. Futch had seen it coming. On the other hand, going into the Golota fight Bowe was coming off of a stoppage victory against Evander Holyfield (who would go on to defeat Mike Tyson the following year), and Bowe had already been showing a downward trend in his work ethic since first winning the undisputed championship (in a hard earned and well deserved victory when he first faced Evander).
Riddick Bowe's "prime" itself has become an interesting topic of conversation for boxing fans and historians. He essentially peaked on a single night. That was it! It was his first clash with Evander when everything came together, and on that night most agree that he would have been an extremely difficult opponent for any heavyweight who ever laced up the gloves, much like Buster Douglas the night of his extraordinary victory against Tyson. To be sure, Bowe's decline was apparent. Even during his second fight with Holyfield just one year after winning the title, 'Big Daddy' was already visibly not the same fighter. He was clearly not as fit or as effective. With regards to his fights against Golota, while Bowe was certainly by then even further removed from his prime, he was still a formidable foe who was among the very best in the division at that time. Following their two brutal bouts together, Golota and Bowe were simply never the same again—and Larry Merchant was quick to bring attention to this possibility before the conclusion of their rematch broadcast. It turns out Larry was right on the money.
Looking forward to Saturday, whatever happens between the two Polish pugilists will obviously not make any significant impact on the heavyweight landscape. Golota has been a complete non-factor since he was mercilessly bludgeoned by Brewster in '05, and Saleta was never a major player at any point during his career. Even still, seeing Golota's name silently slither under the radar has some fans talking. If nothing else Golota was always an interesting character with a loyal following. This of course helps partially explain why he received so many title shots, especially when you consider just one of his four opportunities came following a victory, and two of them actually came following back-to-back bouts without a victory. In fact Golota holds the rather unique distinction of receiving three title shots in consecutive fights, each for a different organization. But whether he was chomping into Sampson Po'uha's neck like a vampire inside the ring, or impersonating a New Jersey police officer outside the ring—Andrew Golota was a unique pugilist during his long but ultimately unsuccessful run as a heavyweight championship contender. While Golota failed to succeed at the highest level, he rarely failed to amuse, entertain, or intrigue.
Golota is living proof that it takes more than physical tools and talent to succeed at the highest level in a difficult sport like professional boxing. There is a certain championship mentality and warrior spirit that is essential for a world class boxer to succeed. It is an intangible, a 'special something' that in itself is as rare as being a physically gifted athlete who can compete and consistently succeed against others among the elite. The very best in boxing often tend to have both. Then there are those who are still standouts, adequate in one and exceptional in the other. In the case of Golota, mentally, he was a loose cannon. Strangely enough, though, this behavior and lack of discipline, these very same mental shortcomings, were part of the charm and appeal for those who followed him, affording him a certain 'human' quality that sometimes gets lost when spectators are viewing combatants engaged in the sweet science.
As for the fight this weekend it is extremely difficult to envision what might happen. Golota has aged poorly. His reflexes and hand-speed have deteriorated at an alarming right following the Brewster loss, and his ability to absorb and withstand well placed power shots is almost non-existent at this stage. This combined with the fact that he has not had a match since being stopped by Tomasz Adamek in October 2009 does not seem to bode well for him. Therefore it would not be surprising to see Saleta sneak in some quicker, shorter power punches that get through with enough frequency to cause Golota problems and possibly stop him. At the same time, the good news for Golota is that Saleta has been on the shelf even longer than he has. What could potentially make things interesting in this one is that there is a little bit of history here, and that each man may be driven by a sense of national pride. Although a Saleta victory could be a real possibility here, I feel that Andrew's more recent activity and higher overall pedigree should see him to victory.
OFFICIAL PREDICTION: Andrew Golota KO2 Przemyslaw Saleta
*****
To read more by Geoffrey Ciani you can visit Ciani's Corner:
www.cianiboxing.com
To contact Ciani:
ciani@boxing247.com