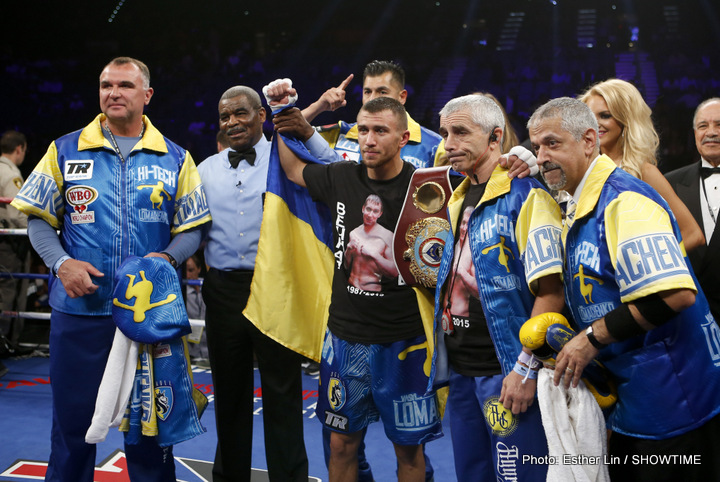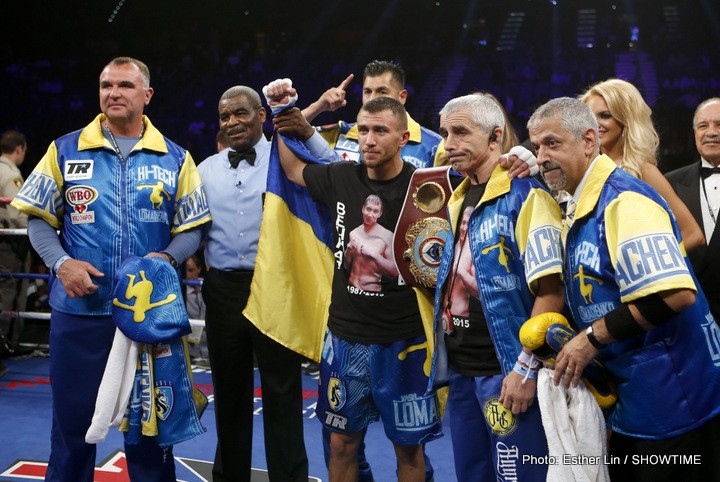 In a one-sided mismatch, Vasyl Lomachenko (8-1, 6 KOs) battered and beat down Jason Sosa (20-2-4, 15 KOs) in scoring a 9th round TKO to retain his WBO super featherweight title tonight at the MGM National Harbor in Oxon Hill, Maryland. The fight was stopped at the urging of Sosa's corner at the end of the 9th.
Lomachenko had beaten Sosa badly to the point where the contest needed to be stopped. Thankfully, Sosa's corner had the wisdom to stop the fight because it really needed to be stopped a round earlier in the 8th when he was badly hurt. Sosa's face was swollen from the punishment that he'd absorbed in this hopeless mismatch.
This fight was a bad idea from the start, as Sosa fought Nicholas Walters to a controversial draw 2 years ago. Seeing how easy Lomachenko had beaten Walters last year, it was easy to draw the line that this fight would be even worse of a mismatch and that's how it turned out.
Lomachenko was hitting Sosa at will the entire fight, as if he was beating a drum. Lomachenko was clowning Sosa, imitating him, and pretending he was a bull. The clowning made Lomachenko look mean-spirited because the fight was a mismatch the moment the contract was signed. Sosa was recently a world champion, but he was viewed by many boxing fans as a paper champion and not THE champion at super featherweight.
Lomachenko was in the ring with a fighter that was nowhere near the same class as him. There was no point in taunting him. It was enough that Sosa was taking punishment in a one-sided contest. No need to be made fun of by Lomachenko during the fight. I don't think it was a good look for Lomachenko to be doing that to Sosa. The fight wasn't close enough for that kind of behavior.
Sosa was ready to be knocked out in the 8th round after getting hammered by Lomachenko the entire round. He made it through the round, but he was badly hurt and barely made it.
Overall, you've got to give Sosa a lot of credit for taking a beating without quitting. He would have stayed in there until the bitter end if he were allowed to be his corner. As for Lomachenko, he looked great as usual. I think he needs to show more class when he's facing opposition that isn't as good as him.
Lomachenko probably needs to move up to the lightweight division. There's nothing more for him at 130. If he stays in the division much longer, he'll throw his career because there's nobody there for him to fight. I don't think Lomachenko's promoters at Top Rank will be able to make the kinds of fights that will be worth watching.
It'll be Lomachenko fighting obscure opposition that the casual boxing fans have never heard of in the U.S. If Lomachenko moves up 5 pounds, he can face Mikey Garcia, Jorge Linares and Terry Flanagan at lightweight. I think Lomachenko can beat all those guys. They'd be a little more competitive with him due to their size, boxing skills and power, but I think he could still beat them all.
"I came to show my "High Tech" style and to prove that I am the best fighter in the world," Lomachenko said. "I think I did my job."
2012 Ukrainian Olympic bronze medalist Oleksandr "The Nail" Gvozdyk (13-0, 11 KOs) beat Yuniesky Gonzalez (18-3, 14 KOs) by a 3rd round TKO in a scheduled 12 round fight in the co-feature bout. Gvozdyk knocked Gonzalez down in the 3rd, and then continued to hit him without stop until his corner had the fight stopped. Gonzalez never had a chance after being knocked down. His legs were gone, and he was bleeding from the nose. The official time of the stoppage was at 2:55 of the 3rd.
The victory for Gvozdyk wins him the vacant NABO light heavyweight title. More importantly, it keeps him moving forward for a world title shot in the future. Just how much longer the 29-year-old Gvozdyk needs to wait for his eventual title shot depends on which champion he's shooing for. If it's Adonis Stevenson, it could take many years before he's given a shot at his WBC belt. If it's the winner of the IBF/WBA/WBO titles, then he could get a crack at that title in a year or so.
"He was the best boxer I ever fought," Gvozdyk said about Gonzalez. "Once I hurt him, I just kept throwing punches."
I don't know if Gonzalez is better than Isaac Chilemba. That's who Gvozdyk beat in his previous fight. He had more problems against Chilemba than he did with Gonzalez, even though he was injured during their contest.
WBO cruiserweight champion Oleksandr Usyk (12-0, 10 KOs) had an off performance tonight in beating 2012 U.S Olympian Mike Hunter (12-1, 8 KOs) by a 12 round unanimous decision. Usyk was hit a lot in the fight, and he was fortunate that Hunter didn't have a lot of power. We got to see that Usyk's stamina level isn't so good. He was huffing and puffing through much of the fight, and he only seemed capable of fighting hard during a portion of each round. The scores were 117-110, 117-110 and 117-110.
Hunter controlled the first three rounds with his speedy, high volume punching. Usyk seemed utterly confused with the fighting style of Hunter, and he wasn't letting his hands go the way he needed to. When Usyk would throw punches, he found himself getting hit a lot.
Usyk took control over the fight in round 4 and never looked back. In the 12th, Usyk hurt Hunter and was hitting him without stop through the final 2 minutes of the round. The stopped the action at one point to give Hunter a standing 8 count due to him having been knocked into the ropes. The ropes held Hunter up, keeping him from falling. The brief timeout by the referee probably saved Hunter from being knocked out because he was getting worked over by Usyk at the time the referee stepped in to call a timeout.
Usyk had a power and weigh advantage in the fight over the smaller Hunter. The performance showed that Usyk doesn't have the power to move up to heavyweight. He might not even have enough power to win all the belts in the cruiserweight division.