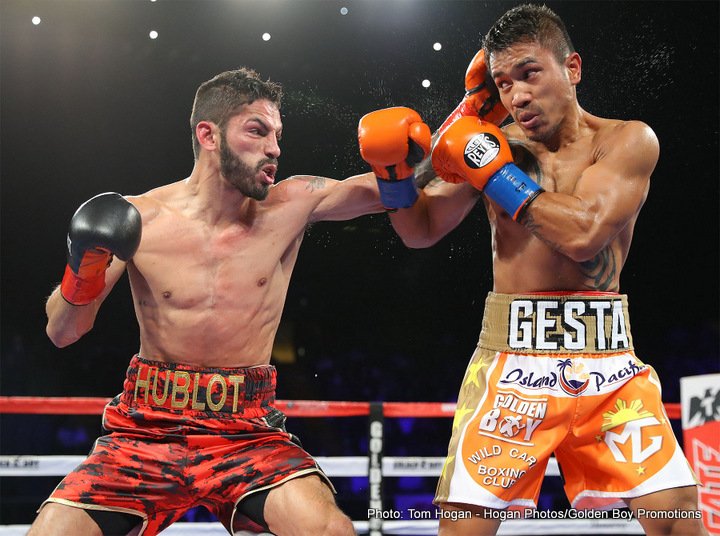 WBA World lightweight champion Jorge Linares (44-3, 27 KOs) had a harder time than expected in defeating #15 WBA Mercito Gesta (31-2-2, 17 KOs) by a 12 round unanimous decision in a stay busy fight at The Forum in Inglewood, California. The scores were 118-110, 117-110 and 118-110.
(Photo Credit: Tom Hogan – Hogan Photos/Golden Boy Promotions)
Linares, 32, was cut over his right eye in round 8 from a punch from the southpaw Gesta. Linares looked good until 10th round. That's when Gesta started coming on and landing big shots in rounds 10, 11 and 112. Linares still appeared to win the 11th and 12th, but they were close rounds. Linares took some big shots from the 31-year-old Gesta.
Earlier in the fight, Linares looked superb in connecting with 4 to 5 punch combinations. He was making Geasta look really bad in rounds 1 through 9.
The hand speed of the 31-year-old southpaw Gesta gave Linares problems in the first 3 to 4 rounds tonight. Linares had been doing well going into this fight in beating guys like Anthony Crolla, Luke Campbell and Kevin Mitchell, but those fighters didn't possess the hand speed of Gesta. This may have been a mismatch tonight in favor of Linares, but Gesta's hand speed was always going to be a problem.
Once Linares got comfortable with Gesta's speed, it became a lot easier for him. Linares made sure he took advantage of Gesta's leaky defense by nailing him with 5-punch combinations in the first 6 rounds. Gesta was getting hammered by Linares, and he was forced to take the shots. Gesta wasted a lot of time smiling at Linares to try and throw him off his game. It never worked, as he was always comfortable.
It wasn't all bad for Gesta after Linares adjusted his style. Gesta came on strong in rallying in rounds 10 through 12. Linares stopping throwing as many punches in the second part of the fight. It was only later that Linares revealed that he'd injured his right hand in round 4, and he wasn't able to use that hand as much he had earlier in the contest.
"I didn't really feel Gesta's power. I hurt my hand in the 4th or 5th round," Linares said after the fight. I threw my right hand without really putting too much power into it. I was just touching him. I don't want to mention names for my next opponent. They mention my name, but let's get them in the ring."
The names that Linares isn't revealing are WBC lightweight champion Mikey Garcia and Vasyl Lomachenko. Those are the top 2 guys that Linares wants to fight. Mikey is moving up to 140 to challenge for the IBF light welterweight title against Sergey Lipinets next March. After Mikey wins that fight, he'll be moving back down to lightweight to face Linares in a unification fight.