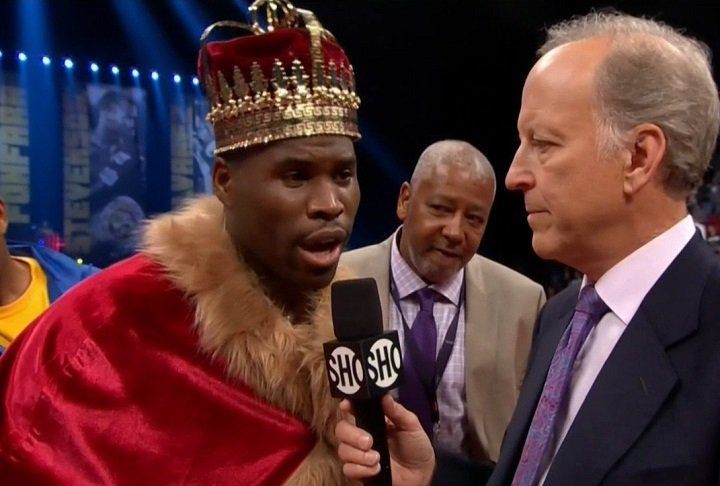 The over-matched Andrzej Fonfara (29-5, 17 KOs) gave it his best shot but he was no match for WBC light heavyweight champion Adonis "Superman" Stevenson (29-1, 24 KOs) in getting blown away in just 2 rounds in their rematch on Saturday night on Showtime Championship Boxing in front of a large crowd of Stevenson supporters at the Bell Centre in Montreal, Canada.
Fonfara was taking a beating in the 2nd round by Stevenson when his corner man Virgil Hunter wisely stood up on the ring apron and let the referee Michael Griffin know that his fighter had enough. Griffin then stepped in front of Stevenson and stopped the fight. Stevenson looked disappointed. He clearly wanted to finish off Fonfara.
"I know Fonfara is very dangerous. He's a very good fighter," said Stevenson after the fight. "I take my time and I finish the job. I'm the greatest at 175. I don't have to call out anybody," said Stevenson.
Believe it not, the Stevenson-Fonfara fight was initially competitive in the 1st round. Fonfara landed some nice jabs and fighting smart. Unfortunately, Fonfara stopped fighting smart almost immediately. Fonfara charged into a right hand from Stevenson that badly stunned him. Two punches later, Fonfara was on the canvas wondering what hit him.
Fonfara got back up and continued to fight. That was probably a bad idea on his part, because Stevenson then unloaded an avalanche of punches to the head of Fonfara. In closing seconds of the round, Fonfara was getting belted nonstop with left hands from Stevenson. I don't know why referee Michael Griffin didn't step in and stop the fight. I can think of a lot of different referees that would have stepped in and stopped the contest at that moment, as Fonfara was defenseless and just taking shots.
After the 1st round ended, Fonfara's new trainer Virgil Hunter instructed him to be defensive in round 2. Hunter told Fonfara to NOT throw any punches. Fonfara did a great job of doing that. What Hunter should have been telling Fonfara was to grab Stevenson and not let go of him. In other words, Hunter should have told Fonfara to mimic how Andre "SOG" Ward fought Sergey Kovalev last November after getting knocked down by him in the 2nd round.
When Ward came out for round 3, he promptly turned the fight into a wrestling match for the next 9 rounds. There was no way Kovalev could land punches with Ward holding and mauling him. Fonfara should have done the same thing, as long at the referee looked the other way and let him bend the rules.
Something can be said about rematches not always being a good idea. The Stevenson-Fonfara II rematch was a terrible idea, and that never more evident in watching Stevenson slaughter Fonfara tonight in stopping him in the 2nd round. Fonfara earned his title shot the way by getting knocked out in the 1st round by Joe Smith Jr. That made Fonfara a credible opponent for Stevenson, I guess.