Regis Prograis doubts that Gervonta 'Tank' Davis will be able to carry his punching power up when he moves to the 140-lb division to challenge WBA 'regular' light welterweight champion Mario Barrios in his next fight.
Prograis (25-1, 21 KOs) feels that Tank Davis (24-0, 23 KOs) is stepping out of his comfort zone in coming up to his division at 140, and he would like nothing better than to put him in his place.
Tank would gain more attention in the boxing world if he were to face Prograis than the little-known paper champion Barrios, but the downside of taking that fight is he might lose.
Mayweather Promotions isn't going to put Tank in fights they're not sure he can win, and with Prograis, there's a good chance he would lose. Tank's recent poor showing against Leo Santa Cruz showed that he's vulnerable.
With that said, Davis, 26, will likely be the favorite against the WBA secondary 140-lb champion Barrios (26-0, 17 KOs) when that fight takes place.
Barrios, 25, has never fought anyone notable in his eight-year professional career, and he didn't look impressive in his last fight against PBC undercard fighter Ryan Karl last October.
Karl, who is little more than a crude slugger, put hands on Barrios and made it tough on him before bowing out in the sixth.
"I think I f*** him up. I think if they make weight classes for a reason. Don't get me wrong; Tank is good, he hits hard and stuff like that, but I don't feel like he's going to carry that," said Prograis to Fighthype about Davis moving up to 140 to challenge WBA secondary champion, Mario Barrios.

"I don't feel like he can carry that punching power to 140, and then have a bunch of resistance on top."

It's obvious that Tank Davis is being an opportunist in choosing arguably the weakest link among the champions at 140 for him to become a three-division world champ with his pick of Barrios.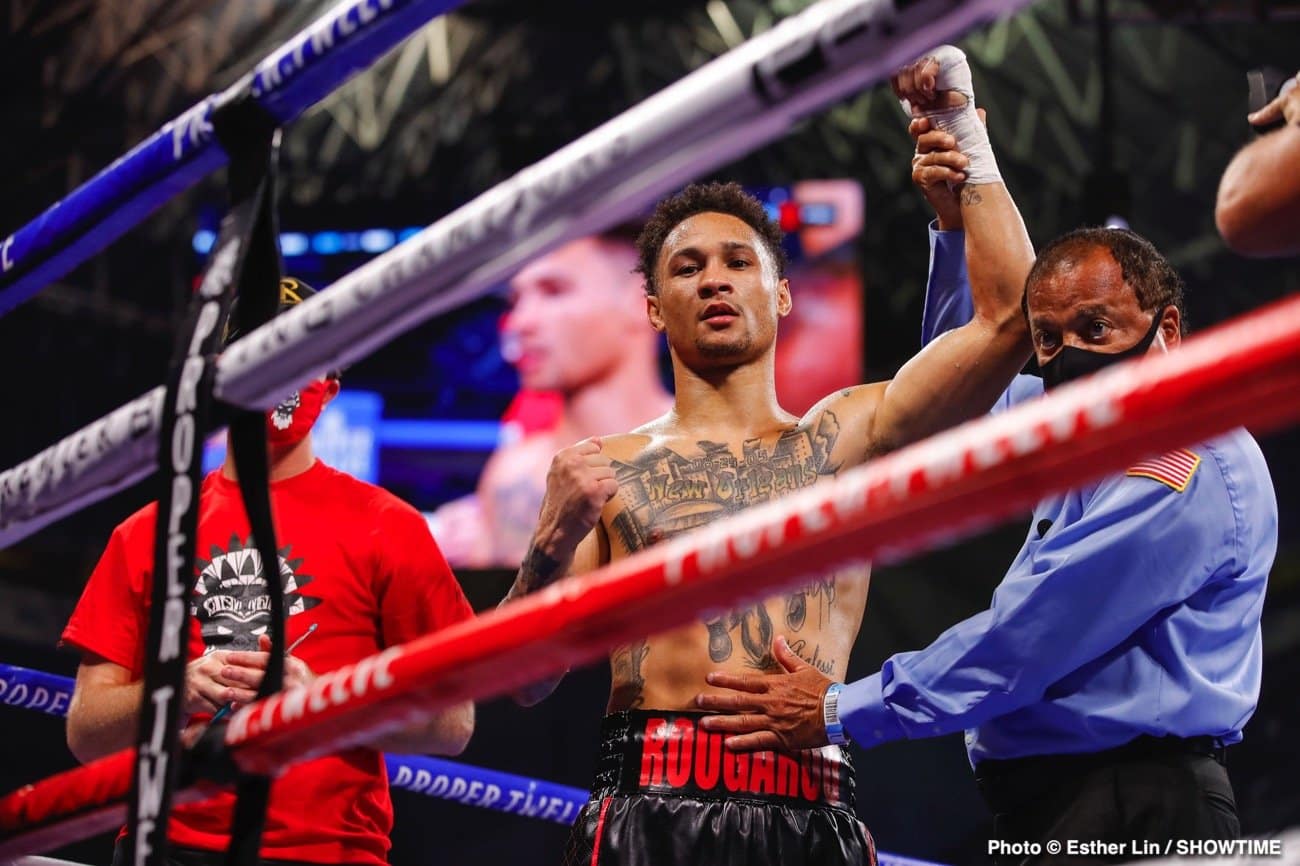 If Tank picked IBF/WBA light welterweight champion Josh Taylor or WBC/WBO champ Jose Ramirez, he would be in a world of hurt.
Well, it's doubtful that Tank Davis will take Prograis up on his offer to fight him. Even if Davis wanted to fight Prograis, his promoters at Mayweather Promotions would likely quickly veto that idea.
Davis is being matched carefully by Mayweather Promotions, who have chosen not to put him in with dangerous guys like Vasily Lomachenko, Teofimo Lopez, Oscar Valdez, or Shakur Stevenson.
Prograis is fighting next month against journeyman Ivan Redkach (23-5-1, 18 KOs) in a 10 round fight on the undercard of YouTuber Jake Paul vs. Ben Askren on Triller from the Mercedes-Benz Stadium in Atlanta, Georgia.
This isn't a great fight for Prograis, but it goes with the main event, which is a mismatch. Prograis has been calling out Adrien Broner lately, but with no luck.
The best chance Prograis has for a big fight is for him to potentially get a shot at the winner of the May 22nd unification match between Josh Taylor and Jose Ramirez.