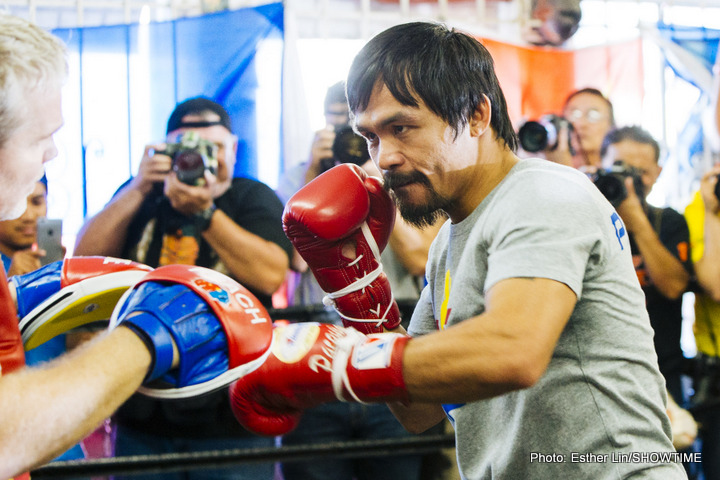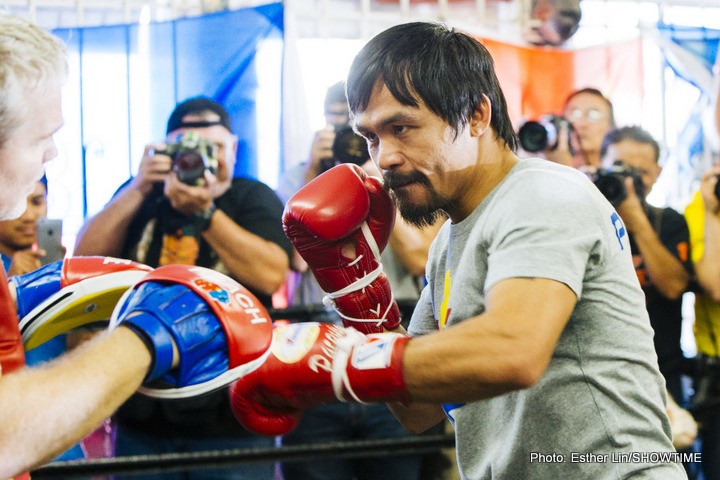 As we head into what could well be the final fight in the long career of the great Manny Pacquiao, we have no real idea how much the 39 year old has left. Lucas Matthysse may or may not be able to tell us.
It is surprising indeed that, all these years on from his dazzling, electrifying prime years, Manny is still fighting. There was a time when he looked to be all-but untouchable. This version of Pac Man, when he was operating at a weight far lower than he has fought at recently, was in the opinion of many a top-10 all-time great of the sport.
Here's a look back at five special performances from the peak Pac Man:
5: TKO4 Fahsan 3K Battery, December 11th, 2004.
Already a big name in his homeland by this stage in his career, Pacquiao met Thai southpaw Battery, in defending his Ring magazine featherweight title in Manila. The Thai may not be one of the best fighters in the world, and most of his fights pre-Pacquiao had taken place in his homeland, but in a pro record of 69 bouts he has only ever been stopped once – by Pacquiao. Showing his fearsome power in the 4th round, "Pac-Man" sent the wonderfully (re) named southpaw to the mat three times – a left uppercut lifting the Thai clean off his feet, ending the fight.
4: TKO9 David Diaz, 28th June, 2008.
Pacquiao's fight that saw him move up to win his fourth alphabet world title. Manny utterly destroyed big lightweight and fellow lefty Diaz. It wasn't so much Pacquaio's winning that earned him the plaudits, as he was the favourite going in; it was the manner in which he won. On the way to showing he had very much carried his power up to 135-pounds, Pacquiao put on a punch-perfect display. The ending of the fight, and the way the tough Diaz was left flat on his face, was stunning.
3: KO3 Erik Morales, 18th November, 2006.
Meeting Mexican great Morales for the third time at super-featherweight, Pacquiao won the rubber-match in devastating fashion. Okay, "El Terrible" may have been past his best, but he had beaten Manny in their first meeting and he'd hung tough into the 10th round of the return fight. This time, however, much to the shock and surprise of everyone, Morales was utterly blown away. Quite simply, what "Pac-Man" did to Morales in November of 2006, no-one else ever had.
2: W12 Juan Manuel Marquez, 15th March, 2008.
Boxing in a bout that would decide the WBC featherweight crown held by Mexico's Marquez, Pacquiao met "Dinamita" for the second time. Their first meeting, back in May of 2004, also at featherweight, ended in a draw, despite Pacquiao decking Marquez three times in an amazing opening round. This time, in again having a very tough night, Manny edged a split decision. A sweet 3rd round knockdown scored by Pacquiao proved to be all-important on the scorecards, with Manny prevailing by three points on one card and by just one on another. Once again, these two modern day greats had brought the best out of one another.
1: TKO11 Marco Antonio Barrera, November 15th, 2003.
The fight that made Pacquiao a global star. In ripping the Ring magazine belt off a peak Barrera, Pacquiao made a huge impact on not only the featherweight division, but in all of boxing. Giving "The Baby Faced Assassin" from Mexico a steady and brutal thrashing over ten shockingly one-sided rounds, Manny forced his opponent's corner to throw in the towel at 2 minutes and 56-seconds of round 11. Barrera, who had recently mastered Naseem Hamed, Erik Morales and Johnny Tapia, as well as going through 12 rounds of hell with Morales in an earlier meeting, had no answer for Pac-Man's speed, ferocity and power. There was now a new sensation in boxing.