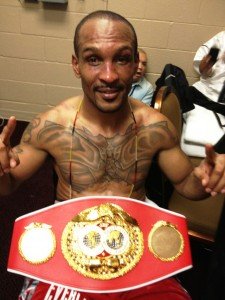 Former three-time, two-division world champion Randall "The Knock Out King" Bailey (46-8, 39 KOs) will look to collect another world title with the help of his new promoter, South Korean-based AK Promotions. Bailey's climb to the top of the welterweight division continued in the right direction on Sunday at the Sunhak Gymnasium in Incheon, South Korea, as he scored a devastating seventh-round knockout victory over Shusaku Fujinaka from a powerful left hook. At the time of the stoppage, he was ahead on all three scorecards, 86-84.
Bailey with the victory received the vacant WBO Asia Pacific welterweight title. The 19-year veteran orthodox pugilist from Miami, Florida has won three in a row, including two this year. Bailey's previous bout against Gundrick King ended a 19-month layoff for one of the most avoided fighters in boxing over the last couple of years. Sadly, Bailey's attempt to become the best fighter in his division won't be witnessed by his longtime manager, Si Stern who passed away last month.
His reputation for being one of the hardest pound for pound single punchers in the sport has contributed to Bailey defeating several top junior welterweight and welterweight fighters throughout his career including Mike Jones, Rocky Martinez, Carlos Gonzalez, Hector Lopez, Demetrio Ceballos, DeMarcus Corley, and Jackson Osei Bonsu. He was the WBO junior welterweight titleholder from 1999 to 2000, interim WBA junior welterweight champion in 2002, and IBF welterweight belt holder in 2012. Seven of his eight losses were to world champions and the other was to a two-time world title challenger.
Bailey was gracious enough to take time out of his busy training camp to discuss his latest victory, the impact Si had on him, his new promoter, his frustration on why no one wants to fight him, and much more.
James Stillerman: What are your thoughts on your performance against Fujinaka?
Randall Bailey: I fought decently. I injured my right hand in the fourth round which prevented me from being as aggressive and dominating as I wanted to be. I did land a big left hook in the seventh that ended the fight and demonstrated to everyone in my weight class that I still have devastating power that can knockout anyone.
James Stillerman: What did Si mean to you?
Randall Bailey: Si was so nice, caring, and a great friend. As my manager for the last ten years, he always fought for me and would do anything he could to help me out. We weren't making any money and it was extremely difficult on us, yet he stuck with me when most people would've left. Si was extremely pleased to get me my promotional contract with AK Promotions and was really looking to my fight against Fujinaka. This win on Sunday was dedicated to him.
James Stillerman: Why did you sign with AK Promotions?
Randall Bailey: Andy Kim, the president of AK Promotions, believes in me. He knows that I've what it takes to be a world champion and he'll do whatever he can to give me an opportunity at a world title. He also wants to keep me busy by having me fight every four months which is something I really want since I've not been as active as I'd have liked in the last couple of years.
James Stillerman: What's the reasoning for your long layoffs?
Randall Bailey: No one wants to fight me. Boxers are only comfortable fighting handed-picked opponents with bad records and soft opposition. I sent a letter to the top ten boxers in the welterweight division asking them to fight me and not one of them took me up on my offer. It's beyond frustrating. These fighters nowadays like Keith Thurman and Shawn Porter always say they'll fight anyone, but they are lying, because if it's true, then why don't they fight me especially since I'm better than the opponents they've fought.
James Stillerman: What are your goals for the future?
Randall Bailey: I want to win another world title and retire with at least 50 victories, if not more.
James Stillerman: Why do you think you'll be a world champion again?
Randall Bailey: I got a world-class trainer in my corner in Orlando Cuellar, which I've not had for some time. He's already making me a vastly improved boxer in every facet. Cuellar has helped me improve my power, jab, and left hook, which will make me a much more dangerous fighter than before. In addition, my promoter will keep me active which will allow me to be in the best shape possible. When I secure a world title bout in the future, I'll be more than ready.
James Stillerman: What's your biggest accomplishment in your career?
Randall Bailey: I don't know. I can't really reflect on that while I'm still fighting because there is a lot left for me achieve before I retire. When I'm done with boxing, then I can reflect back on my career and see what stands out for me.
James Stillerman: What do you think of your career thus far?
Randall Bailey: It has been pretty good. I've no regrets. I walked off the street and into a boxing gym and I had no amateur experience, yet I became a three-time world champion in two divisions. Boxing also played a significant role in keeping me out of trouble as a young child and set me on a path toward a successful future.
James Stillerman: What was your best victory?
Randall Bailey: Beating Mike Jones was my biggest win because I won the fight despite the fact that no one gave me a chance since he looked unbeatable coming into our fight. It was also a great victory for me because I defeated him via a brutal 11th round knockout from a right uppercut, which was one of the best punches that I ever threw. I was the first fighter to ever knock him down, let alone, knock him out.
James Stillerman: What have you learned from your loses that'll make you a better fighter in the future?
Randall Bailey: I need to let my hands go and be much more aggressive in the ring. Many of my losses came from me being too hesitant and defensive, which got me into trouble. If I'm more active in the ring, than there are very few fighters who can beat me.
James Stillerman: What is one thing that you would like to change in boxing?
Randall Bailey: I want boxing to force the best fighters in each division to fight one another and have them always match up against good opponents. Instead, nowadays promoters protect their fighters too much and boxers are more worried about their record than who they are facing, so there are not as many great bouts as there should be. This problem is bad for the sport, the fighters, and more importantly, the fans.
James Stillerman: Any closing thoughts?
Randall Bailey: KO King will reign again. Long live KO.
For more information on Bailey, please visit him on Twitter @ KOKing_Bailey or check him out on Facebook at KOKingBailey.