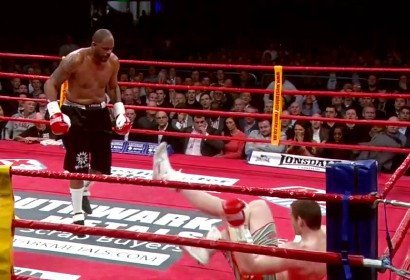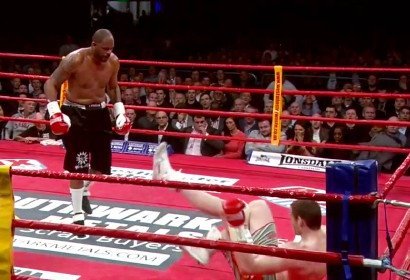 On July 6th UK Heavyweight hope David Price returns to the scene which derailed his express-like march through the lower to mid echelons of the Heavyweight division. Can the tracks be rapidly repaired or does the damage go beyond the tracks, is the fledgling Scouse Express already destined for the scrapheap?
Returning to the events of February at a packed out Echo Arena filled with his adoring home fans Price was a massive favorite with the bookmakers. Thompson represented a significant step up in quality for Price. Price coming of the back of relatively impressive performances had been kept active by the shrewd management of Frank Maloney. Price looked devastating against Audley Harrison and in particular against Sam Sexton-I believe Price's best career performance. However I thought Price looked untidy and surprisingly vulnerable against an ageing Mat Skelton, watching the fight it became clear that Price could do with developing his inside fight skills, Price certainly looked uncomfortable at times when Mat was applying pressure, maybe not hurt but I got the impression that a decent pressure fighter could cause all kinds of problems for Price.
I am a big Price fan and in no way would I have ever predicted a defeat for Price on that night. I was however surprised at just how big a favorite Price was. Considering Price's biggest win was against an as ever unpredictable Audley Harrison and facing a two-time challenger for the World Title with proven levels of endurance and resilience. Thompson was a calculated risk by Frank Maloney which on paper appeared to be perfect match making. Thompson is a 'name' in the division but is what I would describe as a good solid pro in the sense that he does nothing particularly spectacularly. Thompson is a sharp not concussive puncher, has decent hand speed, is not a pressure fighter, a decent boxer with a suitable jab, good movement and footwork he does nothing outstandingly well. I predicted a Price win within four rounds. Thompson looked out of shape not noted as a ripped fighter anyway but weighing in at a career heaviest with plenty of midriff excess, many questioned the ageing warriors hunger for this fight.
Price started relatively well in what was a cautious opening round in the fight, a feeling out process, Thompson displayed good movement and certainly showed he was not daunted by Price's presence and size or the fanatic home crowd backing for Price. Price stepped on the accelerator in the second round and noticeably his confidence levels increased after unloading a good combination whilst Thompson was on the ropes and Price had penetrated Thompson's defense with several solid right hands. It was clear at this point that Price felt in total command and had lost any respect for Thompson's power, neglecting his greatest asset of the jab and unloading right hands and trying to engage Thompson from any range. At no point did Thompson appear ruffled keeping his composure, nice and tight defensively blocking Price's work looking straight back and Price seeking out his own counters.
Although Thompson is not noted as a major banger any man of Thompson's size and weight who can throw a half-decent shot is capable of knocking someone out. There have been niggling doubts about Price's chin since his amateur days, as a professional Price has never been wobbled or hurt due to the fact that he has never been tagged, none of his opponents have had the quality to get beyond Price's huge levers or world class jab, the jury was still out, but no man would have predicted the end that transpired.
Price launched into a suicidal combination abandoning all basic principles of defense. There is no doubt in my mind that Price truly believed that Thompson did not have the armoury to hurt him, launching into such a risky onslaught and he paid the ultimate price, pardon the pun. Throwing a lead right uppercut from out of range against such an experienced tactician is risky, puncher or not, Price missed his mark and was left drastically out of position but instead of trying to cover up or negotiate his way out of the position Price attempted to throw a right hook from an audacious posture which would have had to travelled 180 degrees to find its mark, Thompson was ideally placed to throw a right jab come hook, the impact doubling somewhat due to Price's bodyweight rotation. Looking at the positive side of the KO Price was totally exposed and took an awkward looking clipping shot behind the region of the ear causing Price's legs to capitulate. Could Price be deemed as having been caught cold? Although it was the second round this was the first shot of the fight Price had to absorb, when in with a known puncher a fighter is more taught, more ready and more prepared in a mental and physical capacity to take solid shots Price had no such worries this fight and may have been more physically lax to take this shot. Price showed unbelievable heart to get up and his awareness seemed sound his legs however simply abandoned him.
Analyzing the KO from the pessimist's perspective does raise serious doubts about Price's resistance. It was not a huge shot akin to the monstrous right hands which dispatched of Lennox Lewis or the perfect left hooks which crumpled Amir Khan, the shot was a slow lazy looking clubbing kind of jab and the betrayal of Price's legs was shocking to see. Only time will tell if Price does have a genuine vulnerability here, although such is Price's tools that he can mask this if he uses his smarts in a Klitschko fashion.
Onto the rematch, personally I think this is the perfect fight for Price to jump straight back in with Thompson. This is certainly an intriguing bout with many factors to consider, how will Price's confidence be, how will Thompson's hunger be, will Thompson develop too much confidence this time round and how will Price react under what will be HUGE pressure back in his home city? I think Price's management have done brilliantly to steer clear of Dereck Chisora I believe this fight is all wrong for Price even if Price would have beat Thompson first time round never mind coming of a crushing defeat. Dereck is a teak tough pressure fighter with a solid punch, good experience and will be hungrier than ever and would but Price under intense mental and physical pressure after such a defeat Price's confidence need restoring, not testing to the limits.
My initial verdict on the fight still stands a comfortable Price victory. I believe Price will learn so much from the first fight. The most important lesson being to respect every man's power, every fighter is capable of being knocked out and hurt. I do not see Price taking any chances, working behind his excellent jab and picking his powerful right hands much more selectively and I feel a natural knockout will come in the middle rounds as Thompson slowly loses heart and generally fades out of the fight. Price does need to work on his inside fighting skills for future fights but this should not be a factor in this fight Price has more than enough to win this fight comfortably on his jab alone.
You have to admire Price's bravery to take this rematch as it will be a big setback if he was to suffer a similar fate as the first fight, I just cannot see this happening Price showed Thompson no respect first time round in the ring and maybe was guilty of being sucked into his own hype. Price appears a down to earth man with intelligence and I am certain will come back in devastating fashion albeit with a slightly more cautious approach