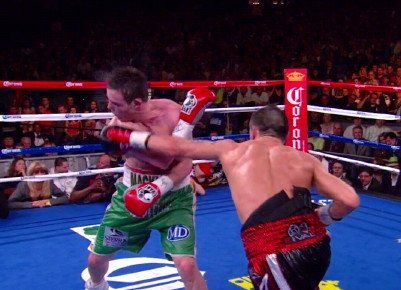 A fight between WBA middleweight champion Gennady Golovkin (26-0, 23 KO's) and Matthew Macklin (26-4, 23 KO's) is being discussed for the summer in June. Golovkin wants a high profile opponent and the 30-year-old "Mack the knife" Macklin fits that bill.
Golovkin's management wants the Macklin fight and it now remains to be seen whether Macklin will agree to the fight. He recently had nose surgery and he's only fought once in the past year, so there may be concern on his part that he might not be ready for a fighter in Golovkin's talent level by June.
Macklin stopped Joachim Alcine in the 1st round last September, and before that Macklin was stopped in the 11th round by Sergio Martinez in March of last year. It's good that Macklin rebounded from that defeat to destroy Alcine but that doesn't mean much because Alcine is up there in age and he's not in the class of Golovkin.
Macklin was given an easy fight to look good, and he did that but he's still no better off than he was after getting stopped by Martinez. If you put Macklin in with Golovkin right now it could be a slaughter unless Macklin plays it safe like he did against Martinez by moving constantly and trying to survive. I don't even think that would work against Golovkin. He's too good at cutting off the ring, and he'd likely butcher Macklin once he catches to him.
If Macklin chooses not to take the fight then Golovkin's opportunities aren't that great. Darren Barker is being lined up for a fight against former WBC middleweight champion Julio Cesar Chavez Jr. Former WBA Super World middleweight champion Felix Sturm has expressed interest in facing Golovkin, but it's doubtful that he'll agree to the fight, especially after the way that Golovkin destroyed Nobuhiro Ishida in only 3 rounds last month on March 30th in Monte Carlo. That knockout may have scared off the top contenders.