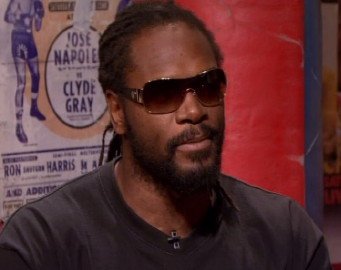 The British news over the last few weeks has covered a variety of subjects which the average Briton is most assuredly unrepentant towards. Having long lost faith in their government, bankers and those in positions of power Englishman feel almost hopeless, like a drowning rat in a sewer it once felt safe in. The feeling of tension throughout the busy streets of places such as Oswestry can clearly be witnessed. A once thriving high street is now mostly charity shops or cheap sports stores. Long gone are the local butchers and family run chippies. I didn't stop there long enough to really check as everyone looked related, slightly drunk and menacing. Nevertheless, I could see the anguish in their eyes, that distant gaze of peoples battered by less than fortunate circumstances (i.e living in Oswestry). This same look was once etched into the face of Audley Harrison, an Olympic Gold medalist whose destiny was surely to become the greatest British Heavyweight of the world. Environments often dictate whom a man will become and the environment Audley Harrison has been subjected to has indeed shaped him. Remarkably though not in the expected negative manner many would have expected, indeed many had even hoped for.
After dominating the early exchanges but being viciously knocked out at the hands of china-eared heavyweight David Price the career of Audley Harrison was deemed to be over. Yet, much like the crucified Jesus, Audley Harrison returned looking better than ever and went on to become the two-time Prize Fighter winner, a feat not accomplished by Patterson nor Ali. Audley was trim, muscular and more importantly he was focused. All this at an age when most fighters seem to be well past their best. It raised a few questions among the boxing community, was Audley finally past his demons which have seemingly held him back all these years? Could he really correct the many wrongs he had written in his disappointing career?
Perhaps the worst result in an unlucky career was against David Haye. A fight which Audley showed all of the determination and grit he displayed some months earlier when he singlehandedly knocked out Michael Sprott. Yet the world title still eluded him after three frantic rounds with Little Dave. He was only out done by a slip and premature stoppage by an over protective referee. I was there that night and as one of Audley's staunchest supporters something deep within me expired, that childish belief system that something impossible could be done, one often displayed by Liverpool fans who think they could still qualify for the Champions League. It wasn't just Audley who got knocked out that night but also the indistinguishable British spirit displayed by us brave Britons and real men, such as myself. It took us as a nation a long time to come to terms with that tragic loss, much like that plane crash in Emmerdale. After all the years we invested in Audley we are still not quite over it. The replay of his dressing room post fight interview still sits somewhere in our subconscious as a sign of a defeated man with nothing left to give. A reflection perhaps of Britain as a whole in recent times, sucked deeper into darkness with corruption and worse rampant in all institutions which seems to never end.
On the canvas we may be, but we are not done just yet. Neither is Audley Harrison. If a fight with undefeated American Deontay Wilder comes to fruition it might just be the jump start we all need to get us going again. In front of Audley will be a man bigger than he is, a man who is undefeated and a man who has gone up against more bums than Audley Harrison and Ricky Martin combined. Yet at the heart of it is a man who has not faced what Audley Harrison has, the crushing defeats and massive ridicule. He is not British and therefore doesn't have the David Icke-like courage and balls which makes up the very fabric of our DNA. Deontay Wilder for all intents and purposes is a fourteenth or so chance for Audley Harrison to do what he has always said he was going to do, become a World Champion. Make no mistake about it, a win over Deontay Wilder puts Audley right in the mix for a world title shot and the whole world should take notice.
Audley needs to win this potential fight which may not take place not just for himself but for each and every man, woman and child in Britain. Why? Because we need it. We need a hero in boxing who can take on the world. Much like Gotham needs Batman and the BBC, monarchy and British MPs need massive cover ups for paedophilia. He is one of us like him or not, he is someone we can call our own, look up to and be proud of. He represents the true spirit of Britain every time he steps into that ring. That never say die attitude which has won us many wars, ironically whilst killing people, and helped us conquer the world and enslave lots of countries which is what put the Great in Britain. As little as a few months ago the situation Audley finds himself in right now would have been deemed impossible, much like the relegation battle Stoke City find themselves staring at. The character and boxing mastery Audley displayed in his last outing is the reason why I firmly believe that 2013 will be Audley's year.
Yours in manliness,
Fantana