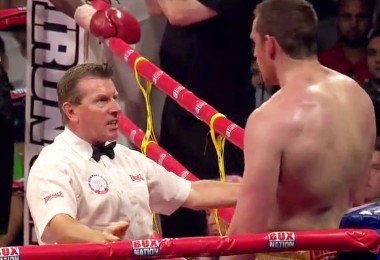 American heavyweight Tony Thompson (38-3, 26 KO's) destroyed David Price (15-2, 13 KO's) tonight by a 5th round TKO in Liverpool, England and he may have badly crippled his career in the process. Thompson said he wasn't surprised that Price was lured into a slugfest with him, because he didn't think Price's new trainer Lennox Lewis would be able to make enough changes to his fighting style in one camp to beat him.
Thompson said to Sky after the fight "Lewis is probably going to be a great trainer and teacher, but he only had one training camp with the guy. He's not going to get that style with one training camp. Lewis didn't get it one time when he was working with Emmanuel. I knew he wasn't going to get it using a second hand Emmanuel like Lennox Lewis."
If it Lewis' plan for Price to slug it out with Thompson instead of boxing him, I think Price should have focused on listening more to his promoter Frank Maloney instead because he said he wanted Price to box Thompson and not slug with him.
In fairness to Price, he did a good job of boxing Thompson in the 1st round. Price stayed on the outside and used his jab. However, that all changed in the 2nd round after Thompson began pushing the fight to him and landing a lot of short punches in close.
Price reacted the wrong way by letting his hands go and brawling. Price did hurt Thompson near the end of the 2nd round in knocking him to the canvas. Thompson got up from the knockdown and was able to get out of the round without getting knocked down again.
Thompson didn't even need to do anything to get Price to exchange with him in the 3rd round, because Price willingly did it, as it looked like he was trying to finish Thompson off. Price must have thought he had Thompson ready to go because he threw a massive amount of punches in the round while trying to get him out of there.
It was a big mistake because Thompson was able to dodge some of Price's best shots in that round, and take the rest that leaked through his defense. Price did clip Thompson with a hard shot that sent him flying across the ring to the ropes. The ropes prevented Thompson from hitting the canvas for a second time, and he's fortunate that the referee didn't call it a knockdown.
The thing is Price used up so much energy in the 3rd that he had nothing left for the 4th round. You could see how tired Price was because his legs looked rubbery in the 4th. Thompson hurt Price near the end of the 4th round after hitting him with a series of unanswered blows to the head.
Price was on fumes in the 5th round, and way too tired to keep fighting at the same level he had in rounds 2 and 3. Thompson was still in great shape though, and he was able to nail Price with nonstop punches until the referee stopped the action to give Price a standing eight round. The referee then stopped the fight after closely examining Price and seeing his condition. It wasn't that Price was really hurt; he just looked totally exhausted from the pace of the fight. He wasn't ready that kind of all-out fight.