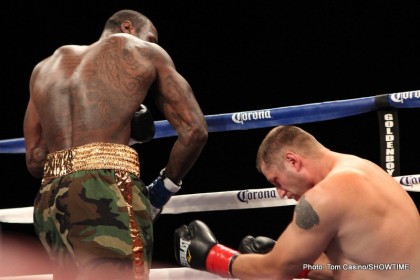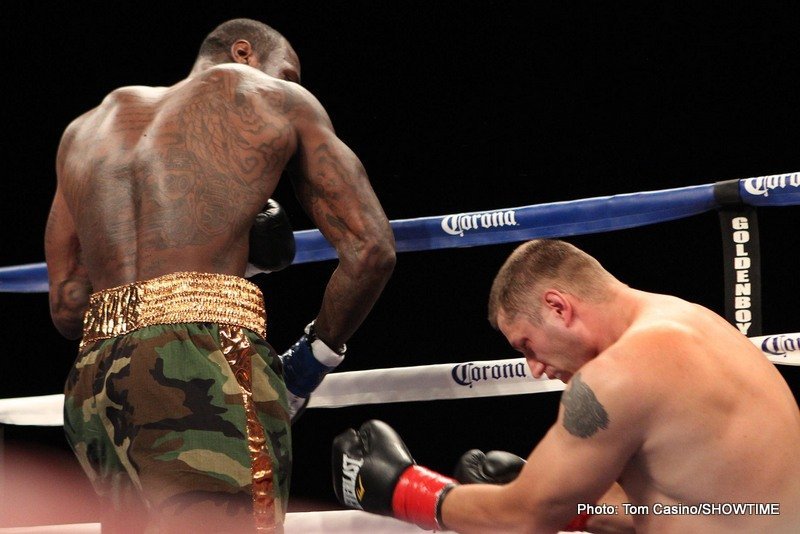 Undefeated Deontay Wilder says two prayers in his dressing room before a fight. One is a team prayer. The other, he says, is for his opponent.
"I know I'm blessed with God-given power,'' he said after annihilating former world heavyweight champion Sergei Liakhovich in Friday's main event on ShoBox: The New Generation from Fantasy Springs Resort Casino in Indio, Calif. "After our team prayer, I always pray that I don't hurt the guy I'm fighting, that if he has a family he will be OK enough afterward to continue to provide for them.''
Living up to his reputation as America's next great heavyweight, the 6-foot-7, 27-year-old Wilder, of Tuscaloosa, Ala., destroyed Liakhovich, stopping him with two overpowering right hands at 1:43 of the first round.
It was Wilder's 29th knockout victory in as many starts. Liakhovich, of Scottsdale, Ariz., by way of Vitebsk, Belarus, fell to 25-6 with 16 KO's.
For Wilder, who didn't start to box until he was 21, it was his 17th first-round knockout since turning professional in November 2008. Six of his fights were over in the second, three were done in the third and three were finished in the fourth.
He has yet to go four full rounds. Wilder is currently ranked No. 6 in the WBA and WBO, No. 15 in the IBF and No. 30 in the WBC, but he figures to move up in each of organizations after his latest, crushing performance. < In co-featured fights, Francisco Vargas (17-0-1, 13 KO's), of Mexico City, D.F., dominated southpaw Brandon Bennett (16-1, 7 KO's), of Cincinnati, Ohio, winning a collision of unbeaten junior lightweights with an impressive 10-round unanimous decision and promising unbeaten junior middleweight Jermall "The Hitman" Charlo (15-0, 10 KO's), of Houston, Texas, won his ninth in a row by knockout, flattening world-ranked Antwone Smith (23-4-1, 12 KO's), of Miami, Fla., at 2:23 in the second round. "The victims of the two knockouts had never been overwhelmed in that decisive a manner and that makes the wins of Charlo and Wilder noteworthy,'' ShoBox expert analyst Steve Farhood said following the telecast. "For contrast, Vargas' victory was a good ol' fashioned beat-down. For a fighter (Vargas) to go 10 hard rounds like that after suffering a terrible cut and going past the fourth round for the first time was in its own way just as impressive as the two devastating knockouts.''