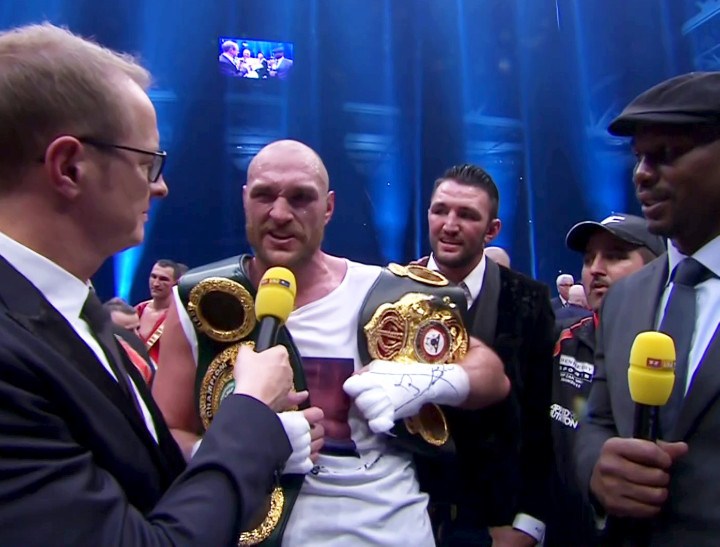 Peter Fury, trainer and uncle of troubled heavyweight champion Tyson Fury, said on BBC Sport that the two belts Fury still holds but is widely expected to be stripped of shortly due to his well-documented drugs and mental health problems, should "not be held up." Fury's WBA and WBO titles are expected to be declared vacant soon (although WBA President Gilberto Mendoza told BBC Sport that no decision has yet been made by he and his organisation) and Peter himself says "let people fight for them."
However, the trainer added how Tyson, upon his return, should be "held in regard so that when he does come back to box he should be available to move straight into position to fight for those world titles."
Peter says he fully expects his nephew to return to the sport, stating how he thinks he will return to training in the spring of next year.
"I see him being back in the gym in March or April. He'll resume his career," Peter said. "He has everything to live for but it seems he is on a self-destruct mission. I don't think he has got a drug addiction at all. Whatever he has taken will be a result of the depression. The titles shouldn't be held up. While Tyson is out for medical reasons, the titles should be freed up. Quite clearly this young man has got some mental issues and I ask the world to give this plenty of consideration. Other famous people have had these kind of problems and bounced back."
In the boxing world, we know how a great fighter, in Sugar Ray Leonard, and a very good fighter, in Tony Tucker, launched hugely successful and reasonably successful comebacks respectively – and they did it after having developed a cocaine habit. But Fury's biggest obstacle, one that must be overcome if he is to re-launch his career, is the depression he is suffering from. It could be a very long road back for the self-styled "Gypsy King."
Will Fury be able to rededicate himself to the sport and come back, say next summer, to face the likes of Joseph Parker, or Andy Ruiz Jr, or Anthony Joshua, or David Haye, or Luis Ortiz, to fight for one or both of his former titles? Perhaps Fury will be able to come back, and if he does, that Comeback of The Year award will be his for the taking.