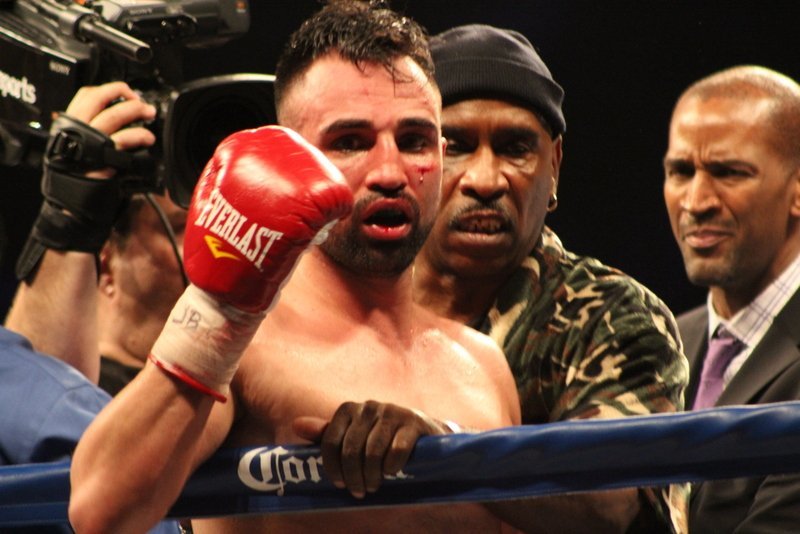 The end of Paulie Malignaggi's (photo by Paul "Paparazzi" Jones / ESB) pro career may well have come after last night's 4th-round stoppage defeat at the hands of a relentless Shawn Porter. The slick New Yorker can now earn a living as a fine analyst for Showtime – if indeed it is the end for a fighter who began punching for pay way back in 2001 and who captured world titles in two weight divisions.
During his long career Malignaggi, as brash and as cocky as they come, more than gave his all in attempting to back up his talk. Fast, clever and possessing a sturdy chin as well as a ton of heart and courage, Malignaggi was cursed with brittle hands and with them little to no venomous punching power to speak of. It was due to this that Malignaggi knew, each time out, he was unlikely to get an early night by way of a KO. The fact that he went in with who he went in with knowing he had bad hands for a large portion of his career (with multiple breaks and fractures suffered) illustrates the Brooklyn man's courage.
Wins over solid contenders such as Sandro Casamonica, Ramiro Cano and Donald Camareno got Paulie to a shot at the mighty Miguel Cotto. Malignaggi talked up the June 2006 140-pound title fight a storm, vowing to upset the odds and the Puerto Rican star. He came up short, but Malignaggi showed the stuff he was made of, winning over fans that had previously dismissed him as nothing more than a talker. Madison Square Garden rocked that night and fans witnessed a great fight.
A win over Lovemore N'dou a year later (a points win of course!) saw Malignaggi become a world champ, and retentions against good if not truly elite fighters Herman Ngoudjo and N'dou again followed. Then Maliganngi went in with British megastar and hard hitter Ricky Hatton. Pulled out late in the largely one-sided fight by his then trainer Buddy McGirt Senior, Malignaggi was written off by many. Instead, his greatest performances awaited him.
After being robbed of a deserved decision win over Juan Diaz, Malignaggi boxed brilliantly in the return; this time not even the judges (ever so often capable of turning in baffling scorecards – just look at the "expert" who somehow saw Beibut Shumenov defeating Bernard Hopkins last night) could take the win away from him. Never one to look for easy fights, Malignaggi then signed to face the ultra-fast and explosive Amir Khan. Too much for a near-30-year-old Malignaggi, Khan scored a TKO in the 11th, round, the same round Hatton had won in.
Time for retirement? Not for "The Magic Man." Malignaggi signed with Golden Boy and moved up to welterweight. Many people wondered how the "feather fisted" 30-year-old thought he could cope with the 147-pounders, but Malignaggi sure had some tricks up his sleeve. Travelling to Ukraine (adding this country to England and Canada when it comes to the away venues where Paulie fought as a pro), Malignaggi somehow scored the stoppage win of his entire career. Busting up and outclassing Vyacheslav Senchenko, Malignaggi won the WBA welterweight crown with a 9th-round TKO.
Now aiming, justifiably, to make as much big money as possible, Malignaggi faced three young guns with a clash against a fellow veteran sandwiched in between. An up from the floor win over Mexican banger Pablo Cesar Cano once again showed Malignaggi's grit, while some experts felt Paulie was unlucky not to have been awarded the verdict after his 12-rounder with Floyd Mayweather clone Adrien Broner (who got away with fouls he should have been penalised points for). Expected by many to blow Malignaggi away, Broner was instead exposed – leaving Marcos Maidana to complete the job in his next fight.
An all-Brooklyn showdown with Zab Judah saw Malignaggi walk away with bragging rights, and that would have perhaps been a great time for Paulie to walk away, his head held high. But, his successful analyst position aside, the lure of the ring proved too much for the 33-year-old (and may well do again). The fight with Porter, yet another risky assignment, proved to be one too many for Malignaggi, but he at least went down fighting, and against a young fighter who may well go on to become great.
Indeed, Paulie said post-fight that he told Porter to go on and be great, so he will not have been beaten by an "ordinary champion." As good as Porter has looked, against Malignaggi and against Julio Diaz (2nd meeting) and Devon Alexander, Malignaggi may well get his wish.
If it is the end for Malignaggi, on the dangerous side of the ropes at least, it's time to give the Italian/American warrior who overcame so much during his up and down career a big thank you.